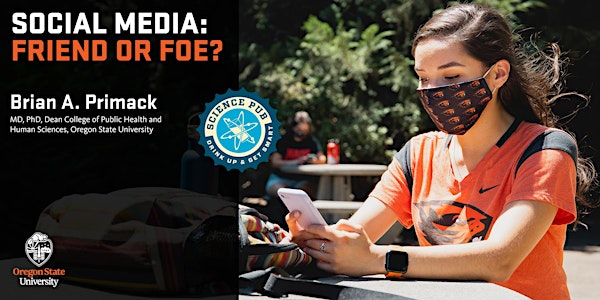 Science Pub Corvallis - Virtual
Social Media: Friend or Foe? Speaker: Brian A. Primack, Dean, College of Public Health and Human Sciences
About this event
Social Media: Friend or Foe?
Speaker:  Brian A. Primack, MD, PhD
Dean, College of Public Health and Human Sciences
Oregon State University
Everyone who's used Facebook, Instagram, Twitter, or TikTok knows that they're a double-edged sword. Some days, social media can catalyze connection, warmth, and generosity. But on others, it can breed feelings of depression, isolation, anxiety, and even hatred. So, how do we live in balance with social media in a complicated world? Come and join the discussion!
To attend this event in-person at Old World Deli, please use this registration link https://www.eventbrite.com/e/science-pub-corvallis-tickets-394366870927.
For more info visit Science Pub Night.
Science Pub is sponsored by the Oregon Museum of Science and Industry, the Old World Deli and Oregon State University.