Description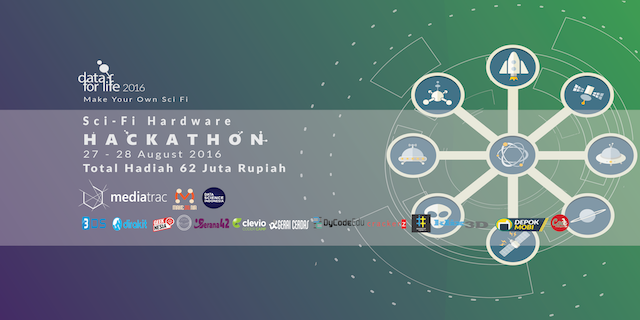 Banyak sekali inovasi teknologi yang kita temukan hari ini terinspirasi dari cerita fiksi ilmiah yang kita baca atau kita tonton, dan masih banyak lagi teknologi inovasi yang kita bisa buat dari fiksi ilmiah tersebut.
Kompetisi Inovasi Nasional ke 2, "Data For Life Sci Fi Hackathon" merupakan karya kolaborasi antar komunitas dengan berbagai macam latar belakang. Sebuah kompetisi nasional yang ditunggu-tunggu, khusus nya bagi kamu yang selalu mengikuti perkembangan teknologi dan ingin menantang imajinasi kamu membuat perangkat (hardware and software) teknologi canggih bertemakan fiksi ilmiah.
"Data For Life Sci Fi Hackathon,"dilaksanakan pada tanggal 27-28 Agustus, 2016, bertempatkan di Gedung SMESCO UKM, Jalan Gatot Subroto Kav 955, Pancoran, Jakarta.
Kompetisi ini menantang KAMU untuk menjadikan imajinasi kamu menjadi nyata dengan membuat perangkat (hardware and software) teknologi dari fiksi ilmiah favorit kamu, atau fiksi ilmiah hasil imajinasi mu sendiri. Apapun latar belakang kamu (pendidikan, pekerjaan, hobi, dan lain-lain), imajinasi bisa membawa mu kemana saja, dan BUATLAH IMAJINASI ITU MENJADI NYATA!
GRATIS Biaya Pendaftaran: Individu ataupun Tim
Gratis prototyping kit untuk pendaftaran tim yang berisikan 5-7 orang.
Info Selengkap nya:
http://makedonia.co/dataforlifescifihackathon2016/
---
This year's Data For Life Sci-Fi Hackathon, Mediatrac in collaboration with MakeDoNia Makerspace and Data Science Indonesia is proudly organizing this most anticipated event for innovation enthusiasts, the 2nd National Hardware Hackathon on August 27-28, 2016.
For years, Science Fiction has given us an imaginative glimpse of the technology that the future has to offer. Many of today's real life innovation has been inspired by iconic science fiction stories, even though right now many are still just a fantasy.
In this year's Data For Life Sci-Fi Hackathon we are challenging YOU to try to bring that fantasy into life, bringing an idea inspired by the technology you saw in your favorite comics or movies into a real technology,
whether it's hardware or software.
If the idea of this event is too crazy, then you're not the crazy inventor we're looking for.
FREE Registration and each participating team (minimum of 5 members) will receive a prototyping kit to develop your hardware projects with.