School of Physics Inaugural Lecture - Planets around other Suns
Actions and Detail Panel
School of Physics Inaugural Lecture - Planets around other Suns
Thu, December 8, 2016, 12:00 PM – 2:00 PM GMT
Event Information
Location
Schrödinger Lecture Theatre
School of Physics
Trinity College Dublin
Ireland
Description
One of the most important lessons learned from the discovery of more than 3400 exoplanets (and counting) is the very large variety of planetary systems encountered in nature. In this lecture, Prof Andrew Cameron (University of St Andrews) and Prof Aline Vidotto (TCD) will present different physical perspectives about the diversity of exoplanetary systems. Ultimately, the study of extra-solar systems can help us better understand our own solar system
Extrasolar planets that transit their host stars are highly prized, because we can measure their radii as well as their masses. In the first part of this lecture, Prof Cameron will describe some of the problems faced in extracting planetary parameters from the various types of astronomical observation needed to deduce planetary bulk densities, which offer clues as to whether planets are mainly rocky, icy or gaseous. A bewildering variety of planetary compositions is beginning to emerge, many of which are not represented in our own solar system. In particular, analyses of the planet population found by the Kepler space mission suggest that we may soon have an idea of the prevalence of Earth-sized planets around other stars.
In the second part of this lecture, Prof Vidotto will describe how exoplanets can be affected by their host stars. The dramatic differences in the Physical properties of the host stars compared to the properties of our Sun, in addition to the extreme architecture of most of the known exoplanetary systems, can give rise to physical interactions that might not even be recognised in the solar system. These interactions can generate observable signatures, thus providing other avenues for planet detection and assessing planetary properties, which would otherwise remain unknown.
Sandwiches and refreshments will be served afterwards in the Fitzgerald Library.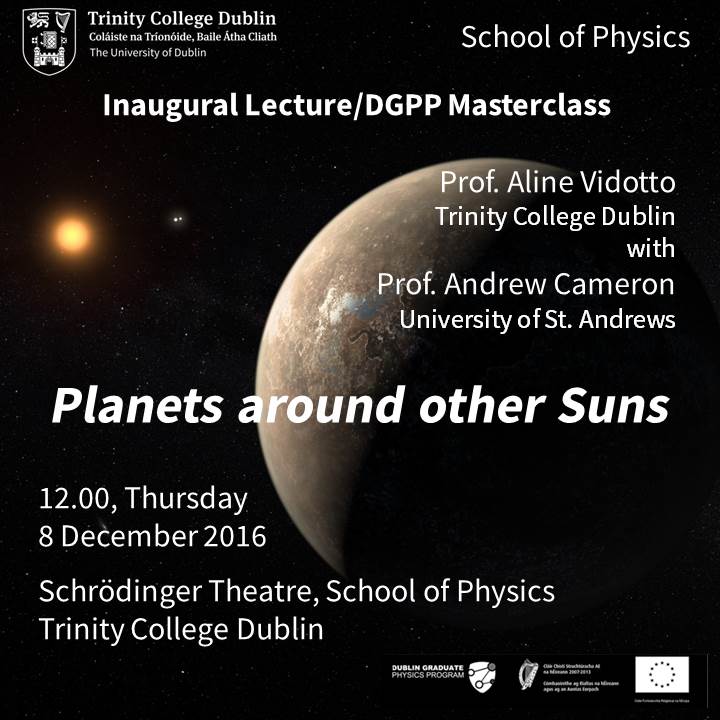 Date and Time
Location
Schrödinger Lecture Theatre
School of Physics
Trinity College Dublin
Ireland