SCGPM Bioinformatics Series Q2 2015

Thursday, July 23, 2015 from 3:00 PM to 4:30 PM (PDT)
Event Details
Bioinformatics Series
Thursday Jul 23, 2015
James H. Clark Center, S360, Campus Drive, Stanford
3:00 PM - 4:30 PM (LIGHT REFRESHMENTS PROVIDED) 
This event is for Stanford University researchers and staff only.
---
Designing an optimized clinical-grade genome processing pipeline

Speaker: Amin Zia, Ph.D. Senior Bioinformatician, Stanford
Abstract: Amin will present a benchmark driven design and optimization process for development of clinical-grade genome processing pipeline for Stanford Clinical Genomics Service (SCGS). These efforts led SCGS to collaborate with a number of bioinformatics companies including Genalice BV.
Speaker Bio: Amin Zia is a senior scientist at Stanford Center for Genomics and Personalized Medicine (SCGPM). He is responsible for Clinical Bioinformatics for Stanford Clinical Genomics Service. He obtained his Ph.D in Electrical and Computer Engineering with focus on Signal Processing and Information Theory at McMaster University in Canada. Prior to joining SCGPM, he was a postdoctoral fellow of molecular evolution and population genetics at the University of Toronto and later a postdoctoral fellow of cancer genomics at the Ontario Institute for Cancer Research in Toronto.
---
GENALICE MAP: Next Generation Read Alignment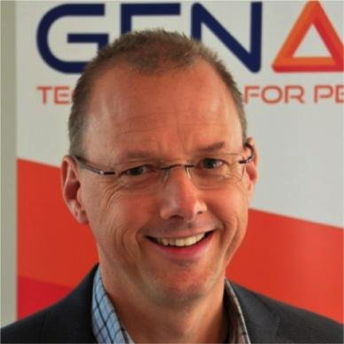 Speaker: Hans Karten, Founder GenAlice
Abstract: The advent of sequencing and the incredible speed at which platforms move to higher and more accurate data production requires a paradigm shift in genomics data processing. As the time to produce the data is drastically reduced, the systems processing this data must keep pace. Not only to be able to simply deal with the data in terms of management, but also to analyze the data at a speed, which has been unheard of. This presentation does address the practical fundamentals of dealing with Next Generation Sequencing (NGS) data such as quality, resource consumption (storage, network and compute), reliability and scalability. We will show that modern commodity hardware, when combined with an intelligent design, is easily able to deal with the amount of NGS data that is generated today and tomorrow and unlocks the information it contains. 
Speaker Bio: Hans Karten is the Co-founder and CEO/CTO at GENALICE B.V. He is specialized in the design and development of high-volume data management, high performance computing architectures and processing solutions; both hardware and software. During his 14 years career at Oracle Corporation, he received 11 patents on his name. 
---
When & Where

James H. Clark Center, S360
318 Campus Dr
Palo Alto, CA 94305


Thursday, July 23, 2015 from 3:00 PM to 4:30 PM (PDT)
Add to my calendar
Organizer
Somalee Datta, PhD
Affiliations:
Address:
School of Medicine Technology & Innovation Park, 3165 Porter Drive, Palo Alto, CA 
SCGPM Bioinformatics Series Q2 2015