SCD +Studio X BJ Talks // Adam Snow Frampton, Only If —
Event Information
Location
Shenzhen University College of Architecture and Urban Planning C205
Description
Tuesday, June 16, 2015
7:30pm @深圳大学
Shenzhen University College of Architecture and Urban Planning, C205
深圳大学建筑与城市规划学院C205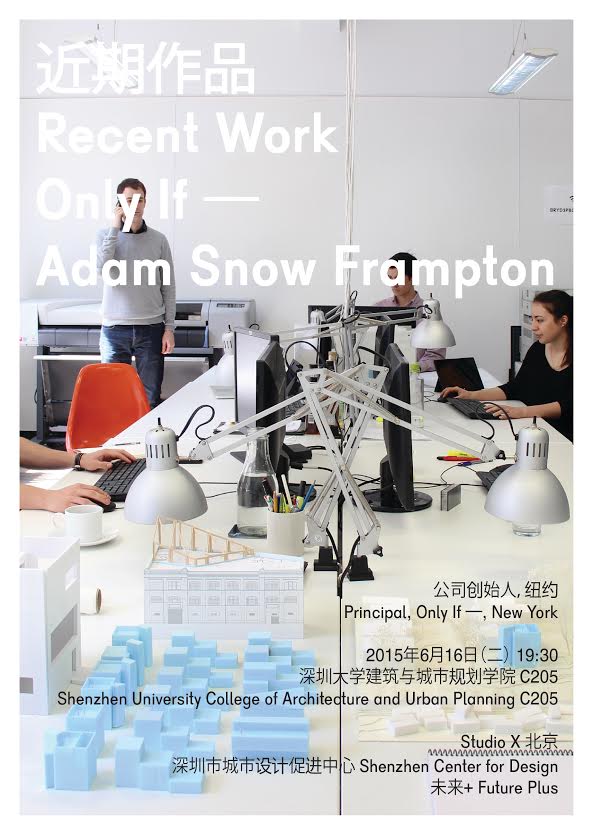 Adam Frampton
Adam Snow Frampton, AIA is an Architect and the Principal of Only If. He is also an Adjunct
Assistant Professor at the Columbia GSAPP. He previously worked as an Associate at OMA in
Rotterdam and Hong Kong for seven years, and led several phases of the design and construction
of the Taipei Performing Arts Center from 2008-2013. His independent research on Hong Kong
urbanism has been published as the co-authored Cities Without Ground: A Hong Kong
Guidebook, which maps the city's three-dimensional networks of pedestrian circulation and public
space.
Adam Snow Frampton,AIA注册建筑师,同时也是Only If的负责人。Adam也是在哥伦比亚
建筑规划学院的兼职教授。此前,在OMA鹿特丹和香港工作室工作七年,并领导了台北艺
术中心2008-2013年建设的几个阶段。他关于香港城市规划的独立研究成果已经出版成书
:Cities Without Ground:A Hong Kong Guidebook。它反应了城市的立体行人交通和公共空
间网络。
Recent Work
Only If, a New York City-based design practice for architecture and urbanism, was founded in
2013. The office currently consists of 6 architects and designers and is engaged in a range of
projects, from the design of a single-family housing prototype to larger-scale urban planning,
research and speculation. Despite differences in context, size and type, in each project Only If
seeks to distill simple yet unexpected solutions within complex situations and constraints. This
lecture traces the threads and internal coherence within the first projects produced in the year and
a half of Only If's practice.
Only If,是在纽约市为基地来做建筑和城市设计实践的工作室,成立于2013年。目前,工
作室共有6位建筑师和设计师,并设计了一系列项目:从单一家庭住宅原型的设计到较大规
模的城市规划、设计和研究。尽管周围环境、大小和类型不同,Only If的每个项目试图提
炼出在复杂情况下简单而又出人意料的解决方案。本次讲座将会回顾Only If工作室当年做
的第一批实践项目。
Date and time
Location
Shenzhen University College of Architecture and Urban Planning C205