Description
Scaling your MAT Sustainably: How, when & if to centralise
With some MATs facing financial pressure to scale fast, and others cutting back on scaling to focus on quality of provision, Arbor Education is bringing MAT CEOs and Senior Leaders together at the Battlebridge Room in London to discuss different strategies for achieving sustainable growth. The conference will build on the success of our previous MAT conferences in London and Manchester last year, attended by over 200 Executive Leaders representing 150 MATs nationally.
You'll hear from MAT CEOs & Senior Leaders about how they've scaled their strategy, operations, central team process, systems, reporting, governance & culture. Also on the program will be a series of group discussions between MAT CEOs who will share their experience of scaling different sized MATs, as well as a talk from Ofsted on what inspectors look for in a MAT's ability to provide school improvement. You'll leave with a series of relevant, practical and implementable steps to take back to your MAT to help you grow sustainably.
With over 100 delegates from MATs across the country expected to attend, it'll be a great chance to meet other like-minded MAT CEOs and Senior Leaders. There will be lunch and plenty of breaks during which delegates can network, exchange good practice advice and discuss how they've scaled their Trusts.

This event is provided free by Arbor.
Hope to see you there!


Confirmed speakers include: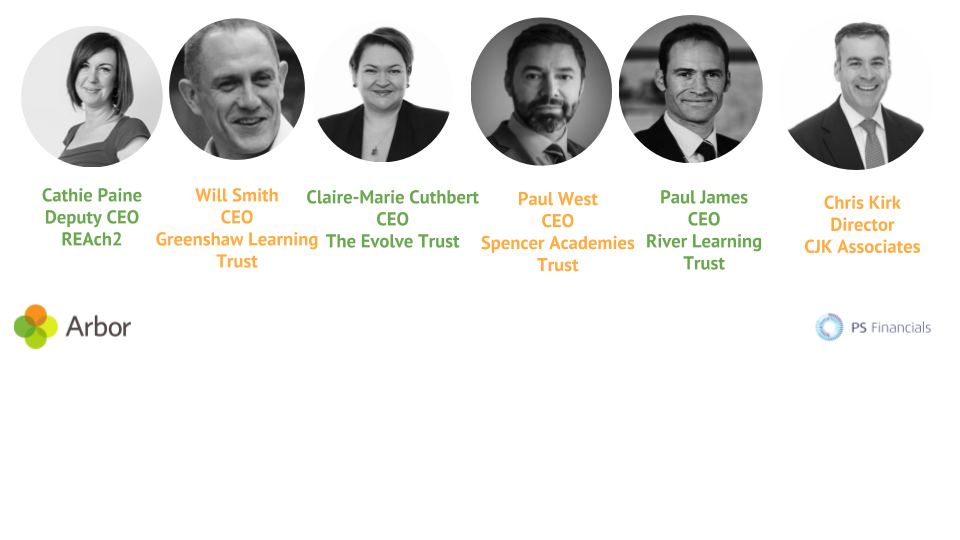 Order of the day:
09:45-10:00 - Introduction
by James Weatherill (CEO of Arbor Education)
10:00-10:30 - The Greenshaw school improvement strategy
by Will Smith (CEO of Greenshaw Learning Trust)
10:30-11:00 - How to scale culture across a MAT whilst giving schools individual identity
by Cathie Paine (Deputy CEO of REAch2)
11:00-11:30 - Networking break (tea & coffee served)
11:30-12:00 - How to improve collaboration within your MAT and across school phases
by Claire-Marie Cuthbert (CEO of The Evolve Trust)
12:00-12:40 - COO Roundtable Discussion
with Jonny Wathen (COO, Wellspring Academy Trust), Micon Metcalfe (COO, Langley Park Learning Trust) & other participants TBC - Chaired by Chris Kirk (Director, CJK Associates)
12:40-13:30 - Lunch
13:30-14:00 - Navigating the complexities of centralised & school-led leadership in a MAT
by Paul James (CEO of River Learning Trust)
14:00-14:30 - School & MAT Mergers: what to do right and what to avoid
by Paul West (CEO of The Spencer Academies Trust)
14:30-14:45 - Networking break (tea & coffee served)
14:45-15:15 - How & why we created MAT Summary Evaluations
by Matthew Haynes (SMHI, Ofsted)
15:15-15:30 - Achieving economies of scale through evolving the "back office" into a fully centralised business unit
by Martin Holyoak (Education Specialist, PS Financials)

15:30-16:00 - Final networking break (tea & coffee served)