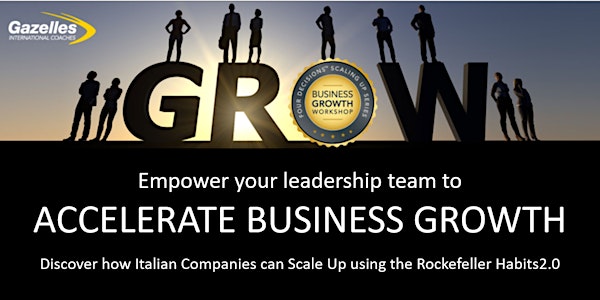 Scaling Up Business Growth Workshop *use code SCALEUPBO for 75% discount*
When and where
Location
Just Bologna 4/C Corte Isolani Piazza Santo Stefano 40125 Bologna Italy
Refund Policy
Refunds up to 7 days before event
Description
ARE YOU READY TO GROW YOUR BUSINESS?
The world-renowned Scaling Up Business Growth Workshop empowers you to accelerate profitable growth using a time-tested and results-driven methodology. Through this exclusive learning experience, Gazelles Coaches has empowered more than 20,000 executives and their leadership teams with proven tools and strategies to scale up smarter. It can help you:
ALIGN: Get faster results with less effort by developing organizational clarity and accountability.
ACCELERATE: Develop a strategic advantage over the competition. Position your brand as a market leader.

ADVANCE: See your company's reputation and revenues soar as employees understand and fulfill 100% of your brand promises.
---
WHO SHOULD ATTEND
This course is open to all those interested in amplifying their success and scaling up their businesses via a proven course trajectory. We welcome lifelong learners and those hungry for best practices and cutting- edge thought leadership. We welcome leaders who want to develop their team—and know they can't do it alone – and are willing to invest in an outside resource for help. To maximize results and return on investment, we encourage leaders and senior teams to attend together.
Led by Ed Capaldi, a Gazelles International Certified coach with 15 year experiencees of supporting high octane visionary entrepreneurs across Europe, Africa and Asia, this workshop introduces attendees to the power of the Four Decision framework. Please, reach out to us if you have any questions regarding our process or are interested in exploring a coaching relationship.
---
WHAT YOU GET
In just one day, you will learn how to accelerate profitable growth leveraging the Rockefeller Habits 2.0 best practices through engaging lectures, videos, hands-on exercises, group discussions, and coach demonstrations. We will focus on the four critical decisions that all businesses face:
Attract and keep the right PEOPLE
Become a magnet for

high performance

A Players

Discover

how

Moonshot Thinking

accelerates

business

growth

Align your team around

core

your core

values

Increase accountability and results
Create a truly differentiated STRATEGY
Clarify your

unique

brand promise

Discover your SWOTs and trends

Determine your 3-5 year key strategies
Drive flawless EXECUTION
Learn and apply the Rockefeller Habits 2.0

Create a culture of accountability

Fine-tune

Contino

usly improve

processes to

run

maximise your value chain

without drama
Have plenty of CASH
Accelerate cash flow to fuel your evolution

Improve your sales cycle

Ensure you are never short on cash
---
HOW
By working through case studies and concrete takeaways, visually engaging examples and hands on exercises, you will learn how Moonshot thinking and agile frameworks can be applied without disrupting your culture and existing leadership in times of change.
---


AGENDA
The Morning concentrates on People and Strategy, organized around the highly regarded One-Page Strategic Plan document. Topics covered include:
Cash Model – a tool to double your operating cash flow in twelve months.
People – a tool to select and hire A players and build a culture of accountability.
Moonshots & BHAGs (Big Hairy Audacious Goal) – The difference between incremental 10% and 10X growth.
Finding Frank – define the customer you must attract in the quantity required for optimal profit and growth.

V

alue

P

roposition

C

anvas

-

–

Better understand customers, design

value propositions they want and differentiate from the competition.
The Afternoon centers on Agile Execution. Topics covered include:
Rockefeller Habits Checklist – ten essential habits that reduce the executive time needed to manage the business from 50 hours/week to less than 15 hours.
Meeting Rhythm and Scrum Boards – the daily, weekly, monthly, quarterly, and annual meeting rhythm to drive discipline, accountability, alignment and focus.
Metrics – define your CEO Strategic Dashboard with the metrics that matter drive the business on a daily and weekly basis
Priorities – the 90-day planning cycle that helps you manage complex and uncertain markets and win.
---
REGISTER NOW and use code SCALEUPBO to get 75% discount on all ticket types!
*Offer valid until July 8th.
---