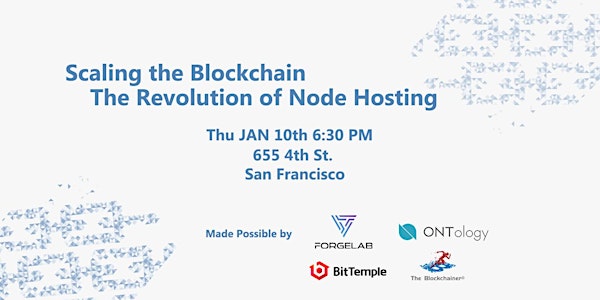 Scaling the Blockchain - The Revolution of Node Hosting Panel with Ontology
When and where
Location
BitTemple 655 4th Street San Francisco, CA 94107
Refund Policy
Contact the organizer to request a refund.
Description
Building a decentralized future is about more than tokenomics or cryptography, institutional adoption or even regulation. For the entire blockchain ecosystem to grow, it falls on the community to build the infrastructure components that keep the network running. With an ever-growing blockchain, keeping a local node synced and up to date has traditionally presented challenges that typically relate to a combination of storage, bandwidth and memory usage. Therefore, a very essential component to blockchain applications is Infracture-as-a-Service(IaaS) products which connects apps and exchanges to Ethereum network and other decentralized platforms.
Among all solutions, Infura has done a great job to simplify access to Ethereum data. Many of the blockchain space's most remarkable projects — Metamask, CryptoKitties, UJO, Radar Relay, Cipher Browser, uPort — utilize Infura's APIs to connect their applications to the Ethereum network. Although the success of Infura, many other challeges still exist. ORA
Background Read:
The Race Is On to Replace Ethereum's Most Centralized Layer by Rachel O'Leary at CoinDesk
Time:
6:30 PM - 9:30 PM Thursday, Jan 10th 2019
Address:
BitTemple
655 4th St San Francisco, CA 94107
Schedule:
6:30 PM - 7:00 PM Networking
7:00 PM - 7:15 PM Presentation - Vipnode
Vipnode is an economic incentive to run Ethereum full nodes. We provide a protocol and open source implementation of an agent that allows your full node to earn money by serving light clients who are paying for premium access. https://vipnode.org/
7:15 PM - 7:35 PM Presentation - Ora
Ora team will show a demo explaining problems with the current method of centralized architecture, what they see as a solution, and a demonstration of Ora's solution.
7:35 PM - 8:00 PM Presentation - Ontology
Ontology provides new high-performance public blockchains that include a series of complete distributed ledgers and smart contract systems. Its blockchain framework supports public blockchain systems and is able to customize different public blockchains for different applications. Ontology supports collaboration amongst chain networks with its various protocol groups. Ontology will constantly provide common modules on the underlying infrastructure for different kinds of distributed scenarios, such as those for the distributed digital identity framework, distributed data exchange protocol, and so on. Based on specific scenario requirements, Ontology will continue to develop new common modules.


8:00 PM - 8:45 PM Panel
Chris Li - Forge Labs (Moderator)
Chris Li is founder of Forge Labs, a decentralized blockchain accelerator headquartered in San Francisco, and specializes in tokenomics and governance design. Before, he was software architect at Bodhi Prediction Market in charge of smart contract and backend development. Prior to blockchain, he was a serial entrepreneur and backend software engineer at Microsoft, where he worked on Exchange, a gigantic distributed system with over 400M MAU.
Jun Li - Founder of Ontology
Jun Li is a senior blockchain architect and blockchain solutions professional with 16 years' work experience in IT and fintech. Li previously provided technical architecture, management, and planning support for top international IT firms and major Chinese financial exchanges. He has taken part in the architecture design and technical management of many major systems, and has built up multiple technical teams and systems from scratch. Li also has a profound knowledge of the finance industry, excelling at internal management and external communication.
Alex Rusnak - Ora
Marc Blinder - AIKON.com
Marc Blinder is the co-founder and Chief Product Officer for AIKON. AIKON makes it easier for developers to build blockchain apps and for people to use them. AIKON is best known for their identity service called ORE ID that connects non-technical people to Dapps using Oauth logins. Blinder ran his first company at 28 years old, a social network called Mobileplay (which he sold to Good Technology) and became Creative Director at Context Optional which sold to Efficient Frontier for $50M. At Efficient Frontier, Marc set up the social business across EMEA before the company was acquired by Adobe for $400M.
8:45 PM - 9:30 PM Newtorking


About the Meetup
Forge Labs aims to host a series of bi-weekly blockchain tech meetups throughout the new year. As ICO craze fades away, we believe 2019 will be the time of builders. If you'd love to join us and present your ideas to our community, please contact us via info@forgelab.io
Host: Forge Labs, BitTemple
Co-host: Ontology, Blockchainer