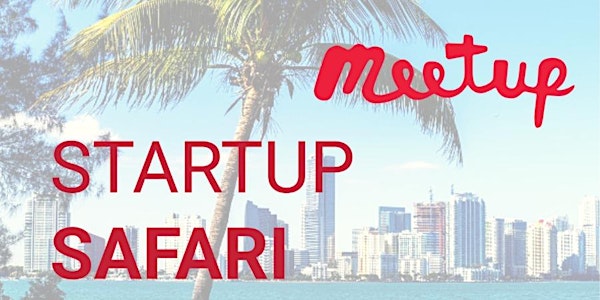 SCALE IT UP - Meetup for StartUps - Why Few Make It. and Why The Rest Don't
When and where
Location
General Provision FATVillage 525 NW 1st Ave FORT LAUDERDALE, FL 33301
Description
TOPIC TRACKS
FINTECH/EDTECH/ADTECH/URBANTECH/BIOTECH/HEALTHTECH/INSURTECH/REALESTATE-TECH/
Scale IT Up is a Meetup designed to assist startups entrepreneurs in learning from another founder's amazing experiences, specifically what it takes to build an even more successful company. connect with other like-minded people and discover new ways to scale up your business!

StartUPCON.org community members get together to soak up the advice of the best entrepreneurs, founders, specialist, consultants, investors, and local influencers in our city.

Our speakers have learned from experience and mentors as they built successful companies, investment portfolios, and products, and now pass their time on freely to mentor the communities in which they live.

Scale IT UP Meetup event isn't a keynote or a product pitch. It's a personal fireside chat with our director or another local founder that will ask the guest speaker about his or her life, in business, and the transferable lessons learned in building companies. These talks should inspire a room full of founders, business owners, chief officers and educate them to challenges they will encounter in their business. Every talk ends with audience interaction: our director welcomes the crowd to ask about 15 minutes of questions to compliment the 45 minutes of fireside
discussion.

Agenda

6:00 PM Welcome/Registration and Welcome to host venue.
7:00 PM Fireside Chat Discussion with Founder(s) or Special Guests.
7:45 PM Q & A Session with Attendees.
8:15 PM Network and Connect to Build Collaborations.

BLOCKCHAIN, FINTECH, DEEPTECH, A.I, IoT, CYBERSEC, DIGITALHEALTH, INSURETECH, MARKETMEDIA, EDUTECH, SMARTCITY, URBANTECH, TRAVELTECH, HOSPITALITY, AND MANY OTHERS..
Get INVOLVED!
interested in collab? 

Host a session! Plan a workshop!
email to info@startupcon.org
Become a Speaker!
email to speaker@startupcon.org


We got many Partnership Opportunities.
As a sponsor, you have the perfect platform to position your brand and company and connect with the leading technology players in the city.
We offer a wide variety of attractive opportunities as well as the chance to exhibit at the Event.
for more information email sponsor@startupcon.org
or send a text to +1(954) 399-0665.


Andres or Diana

StartUP SAFARI Miami.