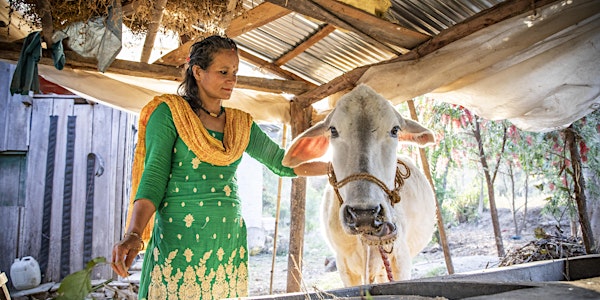 SCALE Award Resources Showcase Series Part 2: Markets & Livelihoods
Join part 2 of the SCALE Award's 3-part Resources Showcase Series for an overview of what we did and learned over five years!
About this event
Join the SCALE Award's 3-part "Resources Showcase" Series for an overview of what we did and learned over five years of working with the food security community on seed systems, markets & livelihoods, and resilient agriculture. We'll make sure you leave each session knowing the tools, training materials and research studies we created, what we learned, and how you can continue to find and engage with these resources going forward.
All events will be held in English with French interpretation.
Resource Showcase 2: Markets & Livelihoods | November 2, 2022 | 9:00-10:15am ET
Given the multiple overlapping crises that many countries are facing, aid practitioners need to be prepared to adapt their livelihoods and market programming and move beyond standard models. SCALE created tools to help USAID's implementing partners to apply familiar concepts to new contexts and populations. In this webinar we will discuss four of the most popular resources for markets and livelihoods programming around youth, employment, emergencies, migration, and access to finance. If you missed any of them, this is your chance to learn about these new tools and approaches, and ask questions of technical advisors on how to contextualize them.
We will highlight:
See more in the series below:
The SCALE Award is a USAID/BHA-funded capacity strengthening, research and learning award ending in November 2022. Over the past five years, SCALE has supported BHA-funded agriculture, natural resource management, and alternative livelihoods activities in emergency and non-emergency contexts to enhance their impact, sustainability, and scalability. SCALE is implemented by Mercy Corps in collaboration with Save the Children.
---
Rejoignez notre série en trois parties « Présentation des ressources » pour un aperçu de ce que nous avons fait et appris en cinq ans de travail avec la communauté de la sécurité alimentaire sur les systèmes de semences, les marchés et les moyens de subsistance, et l'agriculture résiliente. Nous veillerons à ce que vous quittiez chaque session en connaissant les outils, le matériel de formation et les études de recherche que nous avons créés, ce que nous avons appris et comment vous pouvez continuer à trouver et à utiliser ces ressources à l'avenir. Cet événement se déroulera en anglais avec interprétation en français.
Série de présentation des ressources 2: Marchés et moyens de subsistence | 2 novembre 2022 | 9:00-10:15am ET
Compte tenu des multiples crises qui se chevauchent et auxquelles de nombreux pays sont confrontés, les praticiens de l'aide doivent être prêts à adapter leurs programmes relatifs aux moyens de subsistance et aux marchés et à aller au-delà des modèles standard. SCALE a créé des outils pour aider les partenaires de mise en œuvre de l'USAID à appliquer des concepts familiers à de nouveaux contextes et populations. Dans ce webinaire, nous discuterons de quatre des ressources les plus populaires pour la programmation des marchés et des moyens de subsistance autour des jeunes, de l'emploi, des urgences et de l'accès au financement. Si vous avez manqué l'un d'entre eux, c'est l'occasion d'en savoir plus sur ces nouveaux outils et approches, et de poser des questions.
Nous mettrons en évidence :
Voir la suite de la série ci-dessous :
Le prix SCALE est une bourse de renforcement des capacités, de recherche et d'apprentissage financée par l'USAID/BHA qui se termine en novembre 2022. Au cours des cinq dernières années, SCALE a soutenu les activités d'agriculture, de gestion des ressources naturelles et de moyens de subsistance alternatifs financées par la BHA dans des contextes d'urgence et de non-urgence afin d'améliorer leur impact, leur durabilité et leur évolutivité. SCALE est mis en œuvre par Mercy Corps en collaboration avec Save the Children.