Location
Golden Gate Park - Music Concourse
50 Hagiwara Tea Garden Drive
San Francisco, CA 94118
On this Father's Day weekend, walk to Save Soil and secure the future of our children.
About this event
This June, join thousands of people across North and Latin America, in over 60 cities, and walk to raise awareness for Save Soil. The next decade is our chance to overcome the soil crisis, and we can do it. Let us walk together to save soil.
52% of the world's cultivatable soil is degraded
Over 2 billion people suffer from nutritional imbalances
A tablespoon of soil contains more microbes than there are humans on the planet.
Our future, our children's future, and this planet's future very much depend on soil health.
About Save Soil Movement :
Save Soil is a global movement launched by Sadhguru to create awareness about soil degradation and bring policies to safeguard soil health by increasing the organic content in soil to a minimum of 3-6% across all nations. The movement aims to:
Educate and raise awareness about soil extinction
Advocate for policies to safeguard soil health
Inspire over 3.5 billion people to support these policies
Save Soil has garnered support across the globe including:
Dr. Jane Goodall, Alice Waters, Rosario Dawson, Jelena Djokovic, Toni Garrn, Jean-Claude Van Damme, Tom Brady, Maluma, Jesse Williams,Tony Robbins, Will.i.am, Brian Eno, Ed Begley and more.
Organizations: (UNCCD), (UNESCO), (WFP), (UNEP) ,(IUCN), EarthDay.org, Partnerships for Change, Global Citizen Forum, and more.
For more information : savesoil.org
About Sadhguru:
Sadhguru is a global leader and visionary, known over the last 4 decades for his colossal initiatives to foster human wellbeing and global harmony.
"By 2045, it is expected we will be producing 40% less food than what we are producing right now, and our population will be 9.3 billion people. That is not a world you want to live in, and that is not a world you want to leave our children." - Sadhguru
3-Pronged Strategy to Save Soil
At UNCCD COP15, Sadhguru Presented a Practical 3-Pronged Strategy to Save Soil
Highlights from Save Soil Journey
To raise awareness, Sadhguru has been on a 30,000 km journey as a lone motorcyclist covering 24 nations over 100 days, which began on March 21st.
Walkathon details
Length:
5K (3.1 miles)
3K (1.8 miles) - For people joining after 9:15 am the Walk will be reduced to 3K, to accommodate city road closure requirements.
There are music events and other kids activities planned from 9am-11:30am.
Please note the following with regards to the walk:
Check in time is 7:45 am at the Bandshell stage in the Music Concourse, Golden Gate Park, 50 Hagiwara Tea Garden Dr, San Francisco, CA 94118
There are options for both 3k and 5k walks. Both the walks will start and finish from the same point.
The Walkathon will be flagged off at the Bandshell stage In the Music Concourse, Golden Gate Park at 8 am sharp.
The Walkathon ends by 9:45 am. as JFK Drive needs to cleared at 10 am.
For people joining late, the course route will be shortened from a 5k to 3k to accommodate this street opening by 10 am.
There will be live music performance, guest speakers and other events planned at the Bandshell stage in the park until 11:30 am.
Public are welcome to stay back and enjoy the park afterwards.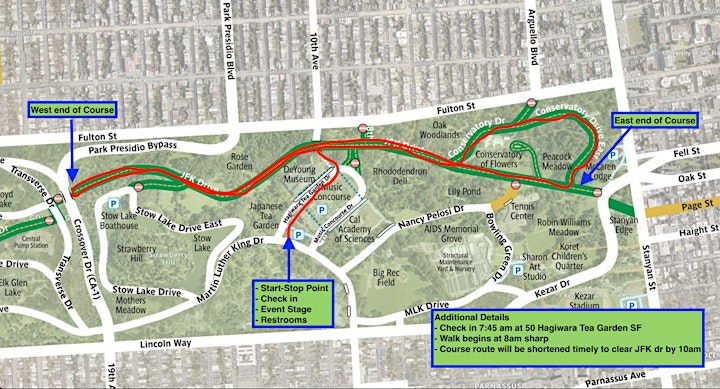 Parking instructions
There are 2 parking garages at the venue.
Note: Both parking garages open at 7AM. If you are planning to arrive before 7 AM, you can find street parking around the first Parking garage option below.
Music Concourse Underground Garage
Address: 55 Hagiwara Tea Garden Dr, San Francisco, CA 94118 .
This is the South Entrance: Martin Luther King Jr. Dr.
Street parking is available around this garage
Impark Music Concourse Parking Garage
Address: 50 Hagiwara Tea Garden Dr, San Francisco, CA 94118
This the North Entrance: Fulton at 10th Avenue
Opening Hours Mon, Tue, Wed, Sat, Sun - 7:00 AM - 7:00 PM
Website: http://goldengateparking.com
Hourly rate: $6.25 weekends, $33.00 maximum
Music guest and speakers:
Sounds of Isha( Bay Area Chapter)
Sounds of Isha is Sadhguru's own home grown, anomalous group of 'musicians' - inspired by their deep yearning and sense of gratitude. Dabbling with and melting into their instruments, their work is a subtle fusion of the rich and diverse beings that they are. Their melodies are a fusion of music from different parts of the world - traversing effortlessly and seamlessly across boundaries and cultures. Whilst the music of these songs sooth our minds and the melodies enthrall us, the true potential of the songs is in their capability to instill in us an element of the eternal silence that touches the core of the human being. The performances of Sounds of Isha are set apart to deliver a potent and intoxicating ethereal concoction, transporting those who listen into subtler states of being - becoming the basis for inner exploration.
Daniel Hirtz
Daniel has been a teacher for drumming, conscious breathing and energy work for 4 decades. He has facilitated drum circles hundreds of times both in Europe and the US. He produced the "Breathe for Peace" album and initiated "Music for the People". He just moved from Phoenix to San Francisco and is thrilled to be part of Save the Soil. Please visit: danielhirtz.com
Additional events:
Kids acitivites - Face painting and Henna
Letter writing and Coloring
Soil information booth
Drum circle
Check in address:
50 Hagiwara Tea Garden Dr, San Francisco, CA 94118
Note:
For each child accompanying you, the parent or guardian must sign and agree to the consent here . Please bring the soft copy or print copy of the confirmation email upon submission of the Parental Authorization Consent form.
Save Soil Merchandise
If you wish to purchase a Save Soil T-Shirt, cap, or mask for the walk, please visit https://www.ishalife.com/usa/collections/save-soil.
Contact Info
Contact no: (408) 409-6436
Email: sf@ishausa.org
Partners
The Save Soil Movement has joined hands with these distinguished partners to spread the importance of soil health and ensure we leave our children a better world.
Dr.Elaine's Soil Food Web
SF Zoo
San Francisco Parks and Recreation
Sloat Gardens
Harmony connects