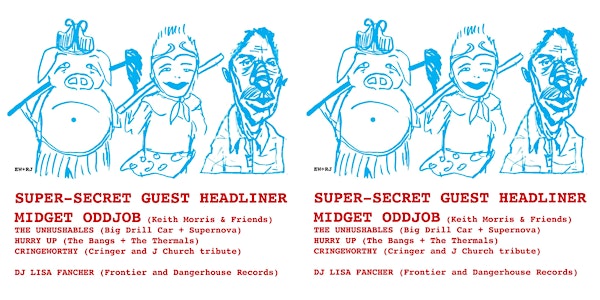 Save Music in Chinatown 15: Midget Oddjob, Hurry Up, The Unhushables, Cringeworthy, and a super-secret special guest
By Save Music in Chinatown
When and where
Date and time
Sunday, May 20, 2018 · 1:30 - 6pm PDT
Location
Grand Star Jazz Club 943 Sun Mun Way Los Angeles, CA 90012
Refund Policy
Refunds up to 1 day before event
Description
This is the fifteenth in a series of fundraising concerts organized to pay for the underfunded music education program at Castelar Elementary School. Established in 1882 and sitting right in the middle of Chinatown, the inner-city public school serves mostly immigrant kids who don't get much exposure to performing arts or creative outlets. Chinatown has an unbeatable musical past (mostly punk) and rad art scene in the present (post punk). Neither subculture crosses paths often with the residents in Chinatown but we're trying to create a bridge for them to help out the local kids.
This lineup will mix up friends from Portland, Orange County, and the Bay Area with pals and originators of Los Angeles punk.
•

Super-secret surprise guests (Shh!) - Turns out these ROTR-approved punks don't hate children after all.



• Midget Oddjob - A renamed and rare appearance by the world-class combo with members of Claw Hammer, Spain, Geraldine Fibbers, Detox, Lutefisk, etc. coupled by unhinged spoken word by Keith Morris (OFF!, Black Flag, Circle Jerks).
•
The Unhushables
- First show by a brand-new band with Frank from M.I.A. and
Big DRILL Car
and Dave and Art from Supernova.
•
Hurry Up
- Garage punk and roll from Portland with Maggie from The Bangs and Westin and Kathy from
The Thermals
.
•
Cringeworthy
- Cringer and J Church tribute from the Bay Area
featuring members of Cringer, Kamala & The Karnivores, The Love Songs, RAD, and Sick Burn.

• In-between jams courtesy of DJ Lisa Fancher of Dangerhouse and
Frontier Records
.
That's a lot of great music for 12 lousy bucks (and maybe some raffle tickets).
Subject to change but just to give you an idea of how the day will go:
3:30 - 4:00 The Unhushables
4:15 - 5:00 Midget Oddjob

5:15 - end Super-secret guest headliner
In addition to donating for admission, guests will be able to donate money toward raffle tickets for a chance to score prizes. $1 = 1 ticket. So far, and it's still early, prizes include the following:
• Vinyl from Frontier Records
• Gift certificates from Scoops Chinatown
• Gift certificates from Pho 87
• Gift certificate from Mono Records
• Gift certificate from Vacation Vinyl
• Rock 'n' roll goodies from Berndt Offerings
• Save Music in Chinatown: The Second Two Years zine
• Printed goods from Allister Lee
Check this site regularly for additions as the show draws nearer, and contact us if you'd like to donate something cool to the cause!
There is free metered parking on the streets (try going north on Broadway) and pretty cheap parking on College.
All ticket proceeds minus Eventbrite surcharges will be donated directly to FACES (Friends and Alumni of Castelar Elementary School, a registered nonprofit organization) to be applied specifically to the music education program.
About the organizer
Wendy Lau and Martin Wong launched Save Music in Chinatown in 2013 when they learned that the music program at their daughter's school had been defunded. All benefit concert proceeds will be forwarded to FACES (Friends and Alumni of Castelar Elementary School), a registered nonprofit group.