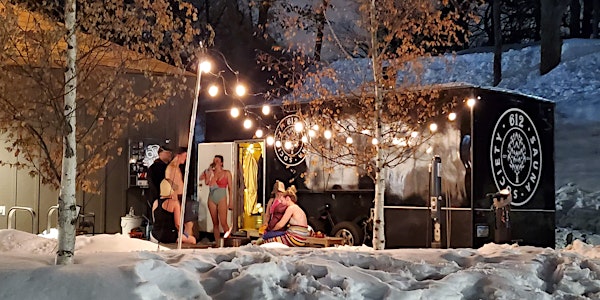 Sauna Benchtime Reservations for the Trailhead at Theo Wirth Feb. 1 - 12
612 Sauna Society Cooperative and the Loppet Foundation have teamed up to offer reservable sauna sessions at the Trailhead.
By 612 Sauna Society Cooperative
Date and time
Wednesday, February 1 · 5 - 6:30pm CST
Location
Trailhead at Theodore Wirth Park 1221 Theodore Wirth Pkwy Minneapolis, MN 55422
About this event
Each session is capped at 8 people with no overlap in between sessions.
The sauna will be located next to the Trailhead building.
Mill Valley Market is open daily in the Trailhead building serving breakfast, lunch, and dinner daily, and offers specialty coffee drinks, beer, and wine.
Skis and snowshoes are available for rent in the Trailhead if you want to make your sauna session into a full day winter adventure!
Locker rooms are closed this year.
Restrooms are available in the Trailhead or plan on either coming ready to sauna or you can change inside the Forge.
Footwear, and shirts are required inside the Trailhead building
Transportation:
**Feb. 4 & 5 is the Loppet Festival weekend. Parking will be limited. Before 2pm on these days, please plan on parking in the Mortensen lot off of Hwy 55, or on the neighborhood streets and enjoy a lovely 15 minute walk through beautiful Theo Wirth Park to arrive at the sauna. Street and Trailhead/Chalet parking lot closures will be in effect until 2pm, please allow extra time to arrive and park.
Parking is available in the Trailhead or Chalet lots. Plan on extra time as it's very busy this time of year and parking can be difficult.
Metro Transit stops right in front of the Trailhead.
Bike parking is available in front of the sauna.
Walk, hike, ski or snowshoe to the sauna--the park is beautiful!
What to bring:
- Bathing suit (required)- Water bottle & water - 2 Towels - one to sit on and one to use after your session. Your sitting towel should be long enough to place your feet on the towel as well. There are hooks in the hot room to hang your sitting towel between rounds. - Flip flops 
Covid-19 Protocols:
612 Sauna Society is committed to providing a safe and healthy environment for all members, guests, and staff. Our goal is to mitigate the potential for transmission of COVID-19 within our facility and our community. This will require cooperation of guests, members and staff to comply with protocols to keep the sauna safe.
Stay home if you're feeling sick or if you've been exposed.
Please arrive no more than five minutes before your time slot and wait outside until directed by a host.
You must use your own towel and water, and a towel is required for sitting on the bench inside the hot room.
Staff cleans and sanitizes equipment per disinfecting checklist between each reservation.
Each session is capped at an 8 person maximum.
SAUNA SOCIETY CODE
The Sauna Society Code has been identified to ensure that all guests have an enjoyable sauna and can be immersed in the health benefits of the activity, and can be summarized as follows:
At the 612 Sauna Society, our intention is to support a welcoming, respectful, and inclusive space to enjoy the health and community benefits of sauna.
We are aware of ourselves, each other, and our surroundings to ensure a safe environment for all sauna guests. We are aware of our own health and safety, and we are also aware of the health of other guests.
We and our guests believe that everyone is equally worthy of love, respect, and dignity. We believe that differences of race, age, culture, religion, politics, sexual orientation, gender, gender variance, body shapes and sizes, nationalities, (and beyond) are simply part of being human and all are welcome here.
In short, we endeavor to treat each other as a family—one that loves and respects each other. Thank you for helping us create a safe and comfortable space for all. 
SAUNA TIPS
Please arrive hydrated so you can enjoy the full benefits of your time on the bench.
Sauna promotes healthy blood flow by activation of the thermoregulatory system. Practicing full "rounds" will provide the full health benefits. A round consists of 10-20 mins in the hot room (your body will tell you when your time is up), followed by a cool-down period outside. Letting your body cool down between rounds by relaxing and cooling off at the rinse station will increase your circulation and provide the full physical and mental benefit of the experience. A typical sauna session consists of 3-4 rounds of this hot-cold treatment.
Learn more about the health benefits of Sauna here.
AND MORE
- Alcohol is not permitted.
- The Sauna will be staffed by a trained host. If you have further questions about Sauna, The Forge or the 612 Sauna Society, please ask a member of the Stoker Team, or email us at jessica@612saunasociety.com.
- See you on the bench! 
About the organizer
We are a member-owned co-op enjoying and sharing the Sauna tradition with the Twin Cities community.