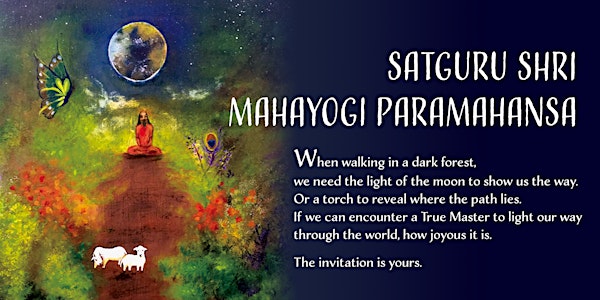 Satsangha by Satguru Shri Mahayogi Paramahansa: Direct Guidance through Q&A
When and where
Location
Still Mind Zendo 37 W. 17th St. #6W New York, NY 10011
Description
Satsangha by Shri Mahayogi
Satsangha means "sacred gathering with the Truth." It is an opportunity in which spiritual seekers gather with Shri Mahayogi, who spontaneously awoke into the ultimate state of Yoga, the One Eternal Truth, at the young age of 8 years old, and seek his guidance. Shri Mahayogi graciously answers from his own experience of this ultimate state all questions that are bound to arise as one strives to live life—from the practicalities of daily life to the intricacies of the inner workings of the mind to the subtle layers of meditation.
Two Dates:
February 2 & 23, 2019
3-4:30pm
$120 fee
Anything additional will be considered contribution.
(sales end 24hrs before prior to each class)

Space is limited.


ADVANCE REGISTRATION:
1. In Person: Cash or Check before or after class at Still Mind Zendo in NYC
2. Online: Credit of Debit Card through this page - additional processing fees apply.
Printed ticket is not required.
FEE NOTICE:
Advance Registration fees are Non-Refundable, Non-Transferable to others,
and will not be credited toward future dates, unless natural disasters or medical emergencies prevent participation.

By registering, you are committing to attend the class.
Mahayogi Yoga Mission is a non-profit spiritual organization. All contributions above the amount of the registration fee are welcome and encouraged. Contributions are tax-deductible to the extent allowable by law.
LOCATION:
To be announced
NOTE:
Arrive at least 15 minutes before the event.
No food and drink in class, unless medically required.
No cameras, recorders or any other electronic devices allowed.