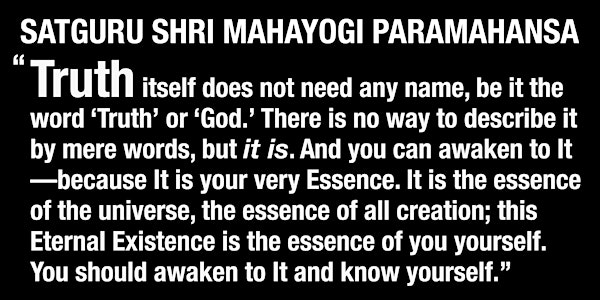 Satguru Shri Mahayogi Paramahansa in NYC June to Sep 2018 - Yoga Asana and Meditation Classes directly taught by the Master
When and where
Date and time
June 17, 2018 · 7pm - September 9, 2018 · 9pm EDT
Location
Still Mind Zendo 37 W. 17th St., #6W New York, NY 10011
Description
"Truth itself does not need? any name, be it the word 'Truth' or 'God.' There is no way to describe it by mere words, ?but it is. And you can awaken ?to It—because It is your very Essence. It is the essence of the universe, the essence of all creation; this Eternal Existence ?is the essence of you yourself. ?You should awaken to It and ?know yourself."?
— Words of Satguru Shri Mahayogi Paramahansa? from the book Satori: Awakening ?
---
NOTE: Online Registration closes 48 hours before each class whether the class is full or not. To register at the door, please call 212-807-8903 first to check space availability. Ticket cancellation is possible up to 48 hours prior to class only. After that, it is non-refundable.
---
Asana and Meditation for Self-Realization
Direct Guidance from
SATGURU SHRI MAHAYOGI PARAMAHANSA
From the physical practice of asana to the most subtle inner workings of the mind, ?Shri Mahayogi guides seekers from all backgrounds and faiths from his own direct ?experience of the Eternal Existence within one and all. Being established in the state of complete Awakening since the age of 8, everything he teaches comes from his own spontaneous experience and practice, without external instruction, and provides ?a unique opportunity for seekers to experience the essence of Yoga for themselves!.
Sundays 7-9PM
June 17- September 9, 2018
$65 Advance Registration
(sales end 48hrs before prior to each class)

$75 At the Door (cash or check only)
Space is limited.

Class Schedule and Location

See Calendar


ADVANCE REGISTRATION:
1. In Person: Cash or Check before or after class at Still Mind Zendo in NYC
2. Online: Credit of Debit Card through this page - additional processing fees apply.
Printed ticket is not required.
FEE NOTICE:
Advance Registration fees are Non-Refundable, Non-Transferable to others,
and will not be credited toward future dates, unless natural disasters or medical emergencies prevent participation.

By registering, you are committing to attend the class.
Mahayogi Yoga Mission is a non-profit spiritual organization. All contributions above the amount of the registration fee are welcome and encouraged. Contributions are tax-deductible to the extent allowable by law.
LOCATION:

Still Mind Zendo
37 W. 17th Street, #6W, Manhattan


NOTE:
Please bring your own mat or towel.
Do not eat 2 hours prior to class time.
Arrive at least 15 minutes before the event.
Wear loose comfortable clothes.
No food and drink in class, unless medically required.
No cameras, recorders or any other electronic devices allowed.
About the organizer
The Mahayogi Yoga Mission of New York City was established by disciples in 1996 to disseminate the Universal Teaching of Yoga—the Realization of the True Self—as preached by a living Master, Satguru Shri Mahayogi Paramahansa, and by sages and saints throughout time immemorial.

Shri Mahayogi is the rarest of Masters, the one who spontaneously awakened at the age of eight and has continuously abided in the state of absolute Truth ever since. Through his living example, personal instruction, and boundless grace and compassion, he guides seekers toward the Realization of Yoga. Sri Mahayogi is the inspiration behind all the activities of the Mahayogi Yoga Mission.
WHAT IS YOGA?

Yoga, properly understood, is the state of absolute Self-Realization or "Awakening." From time immemorial there have been people whose exhaustive inquiry into the existence of the Self has led them to the experience of this ultimate state. It is this inquiry, and the wisdom revealed through it, that is the very essence of religion, Sanatana Dharma or Eternal Truth. Those who abide in this state, which is beyond the comprehension of the mind and can be realized only through direct experience, are recognized as Masters. It is said that it is as difficult to find a real Master as it is to find a diamond in the sand. Even so, those who wish to follow and dedicate themselves to the path of Yoga seek out these Masters, for it is only through such guidance that they can reach beyond the mind and awaken to the True Self—the Eternal Truth.
Click Here to See Mahayogi Yoga Mission's website for more details and teachings.