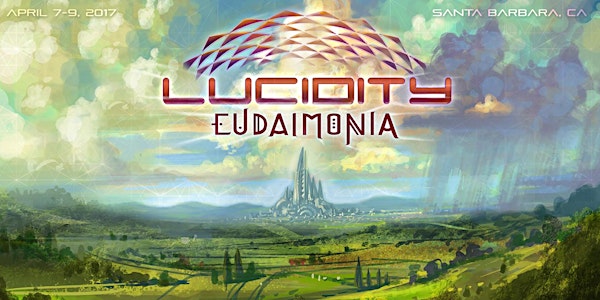 Santa Barbara: Lucidity Festival 2017 - Live Music & Art Camping Weekend
Date and time
April 7, 2017 · 9am - April 10, 2017 · 12pm PDT
Description
Lucidity Festival is stepping into the 6th and final chapter of its epic saga of personal and collective transformation. In this year, we look to our collective human future and see a potential reality in which all beings are thriving in loving connection with self, community, and planet. And to answer the question... is this really the end...?, remember that every ending is the beginning of something new. The future is yet unwritten and we're committed to keep co-creating it with you, Lucid Dreamer.


The Festival

Lucidity is an open-source transformational arts and music festival. We call it open-source because we co-create this festival experience with YOU! We invite you to come play with us, get involved with one of our seven themed villages, call together your star family, bring art, lead a workshop, spark a spontaneous flash mob, embody a character from your dreams, be silly and wild and free!

When we become lucid in our dreams, we realize ourselves as infinite potential, we let go of fear, and we are free to create that which we want to see in the world. Bring those visions, those possibilities, and that delicious conscious energy with you to Lucidity and wake up in the dream.

Year 6: Eudaimonia

We understand that every great cycle must come to its eventual conclusion. Luckily, the final chapter of this tale has a bright and exuberant ending! Eudaimonia means "having a good indwelling spirit," and as it signals a communal happiness rooted in the virtues of interconnected awakened individuals, it is the culmination of all we've been striving for. Our expanded family is overflowing with optimistic yet grounded utopian joy that has risen through many long years of searching, contemplating, delving, climbing, and centering. As we enter this golden age of human flourishing, we give massive gratitude for the guides who have shown us the path, for our children who reminded us to laugh and play, for our brothers and sisters who walk beside us, for our ancestors who teach us the way, and for our higher selves who shine light through our being! Nothing dies, nothing is created. Energy simply changes frequency and form. Together as one tribe, one nation, one family, one community, one humanity, one universe, one consciousness, we shift to the light and live in love forever. And for those who remain in slumber, the cycle returns to where it began, as all signs and omens nudge you to Awake in Your Dreams.

Be sure to check out our website for more information, especially the FAQ / Event Details Page. And just so we're clear - No refunds, all sales final.
FAQs
When do applications open?
Check out the website on November 22nd to find all our applications to participate. Also released on the 22nd is the Low Income ticket Program, and our Volunteer Program.
What are my transport/parking options getting to the event?
We offer Car Camping and RV Camping Passes (for two sizes of RV's) for sale NOW (amounts are limited), and you can always carpool and leave your car in the General Parking Lot. Additionally we are proud to partner with a local shuttle company to offer rides from a few locations (more info TBD later), and as we get closer to the event, there will be a link for RickyRides, a great rideshare program where you can find rides from pretty much anywhere.
Can I bring my furry friend to the party?
NO PETS. Unless your dog is a certified service animal, leave all pets at home. Our festival is not a suitable environment for creatures; it is loud and there are lots of people - this is for all our safety.
Check out our website FAQ for a pull what to bring / what not to bring list!
Is my registration/ticket transferrable?
You can always transfer your ticket to a friend by logging into your order through the Eventbrite website or through your order confirmation. If the person who you have sold your ticket to chooses to sell it again, the original purchaser is the only one who can edit the information a second time.
You cannot transfer your ticket from one type to another. All purchases are FINAL.
Can I update my registration information?
Yes, just log into your order through the Eventbrite page or through your email confirmation.
What is the refund policy?
WE DO NOT OFFER REFUNDS FOR PURCHASED TICKETS. If you made a mistake in your purchase, email us immediately. If you have an emergency, we will explore what can be done on a case-by-case basis, but we always encourage finding a friend who will take the ticket off your hands at face value.
About the organizer
Lucidity Festival LLC is a collectively owned organization dedicated to creating transformational experiences for individuals and communities; we are a production company, a creative lifestyle for expanding consciousness, and an interconnected community of friends and family. Our decisions are made through a heterarchical model of consensus as opposed to other top-down hierarchical approaches. Everything we do revolves around the mission of advancing the following values in the world:
Core Values
1. Participation and Immersion in the Artistic Process
2. Personal Growth and Global Healing
3. Awake and Aware Consciousness
4. Environmental and Social Responsibility
5. Family Fun and Creative Play
6.Communal Reciprocity
7. Transparency