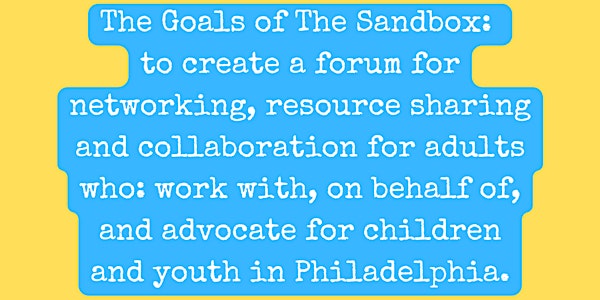 Multiple dates
Sandbox Networking for Youth Development Professionals
Join youth development professionals for 'not your same old, same old' professional development & networking!
Date and time
February 16 · 9:30am - May 18 · 11am EST
Location
IL Sorriso Cafe 2400 North Howard Street Philadelphia, PA 19133
About this event
"Not your same old same old professional development"
Between 2013 and 2020 we provided nearly 70 FREE networking and professional development offerings for youth development professional in Philadelphia through a monthly event we called the Sandbox. Not including our special activities like movie screenings and special topic gatherings, that comes to just about 100 hours of networking, training and professional development.
The goals of those initial Sandbox meetings were to bring youth development consultants together to increase collaboration and reduce competition, and to share resources. The group grew and the focus shifted to also include other youth development practitioners, educators, teaching artists, community members, and advocates.
Over the seven years, attendees have: secured contracts, developed arts projects, collaborated to create new projects, tested new workshop content, facilitated (a) Sandbox meeting(s) and more.
We hope you'll join us!
Frequently asked questions
How much does this event cost
Why a coffee shop? Tha'ts not very professional
Do I have to attend all of them to benefit?