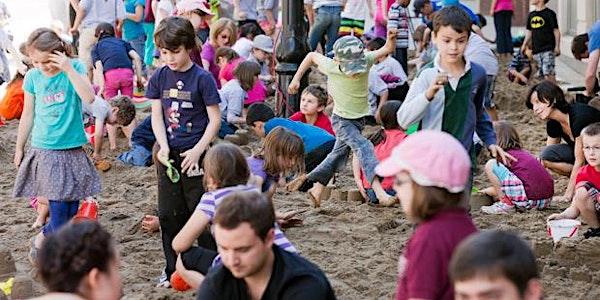 Sand Zone! Pop Up Playground
When and where
Location
Habitot Children's Museum Pop Up Playground NE Parking Lot at Adeline and Alcatraz Berkeley, CA 94703
Refund Policy
Contact the organizer to request a refund.
Description
Habitot Children's Museum Builds Pop Up Playground!
Habitot Children's Museum is transforming a 3,600 sq ft parking lot at Adeline and Alcatraz in Berkeley into a giant sandbox installation, Sand Zone!, for one week, January 18-24, 2016, open for play from 10am-6pm, and on Friday from 10am-8pm.
Lorenzo Alexander, linebacker for the NFL's Oakland Raiders, will toss around a soft football with kids and families in the SandZone! on Monday between 9:00am-11:00am. Lorenzo, Berkeley native, played football for Cal and is the parent of three young children.
The 40' x 40' pop-up playground installation, Sand Zone!, features 1,152 cubic feet of sand, over 8" deep, with rain protection, and themed sand activities. Enormous foam blocks, sand tools, costumes, and play props, with daily themes, such as "Construction Zone," "Treasure Island," and "Dinosaur Days," engage families and children to increase learning and family bonding through play. Food trucks, performers, face painters, and early childhood educators, are joining the museum's pop-up play activities during the week, with a special late night Friday night event, January 22nd, featuring a luau party.
This free and open to the public pop-up playground, Sand Zone!, is made possible by a generous "PLAY 60, Play On" grant to Habitot Children's Museum, a collaboration between 50 Fund—the legacy fund of the San Francisco Bay Area Super Bowl 50 Host Committee—NFL Foundation, and KaBoom!.
Beyond this one week, Habitot is distributing the Sand Zone! materials to low-income preschools in the East Bay, as part of Habitot's nonprofit mission to increase learning through play for all children regardless of their ability, income, or life experience, to raise curious, creative, and confident children.
SandZone!'s themed activities each day:
Monday MLK DAY with (NFL Play Lorenzo Alexander) - "Construction Zone"

Tuesday - "Dinosaur Dig"

Wednesday - "Gold Rush"

Thursday - "Moon Mission"

Friday - "Luau Party" (until 8pm)

Saturday - "Treasure Island"

Sunday - "Sand Castles"