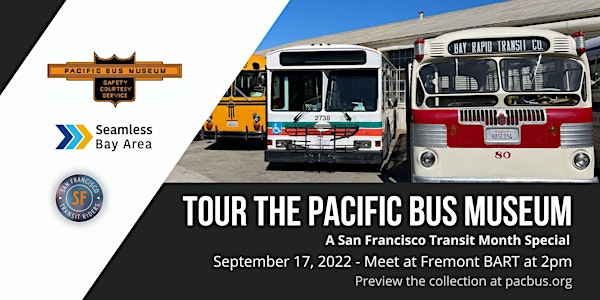 San Francisco Transit Month Special: Visit the Pacific Bus Museum
Do you take BART or Muni? Would you like to go deeper into the history of the Bay Area's transit agencies? Then this tour is truly for you!
When and where
Location
Pacific Bus Museum 37974 Shinn Street Fremont, CA 94536
About this event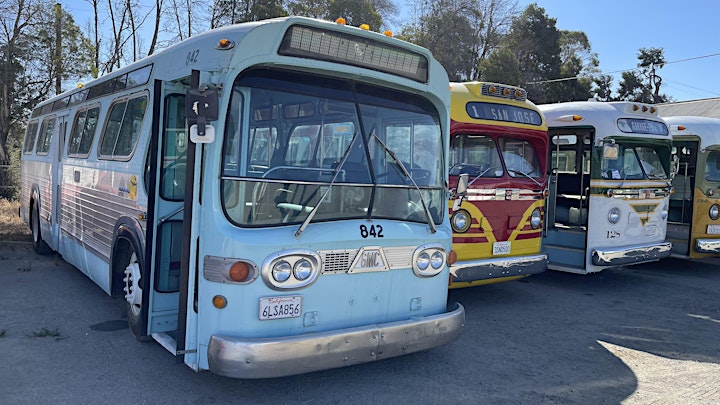 As part of San Francisco Transit Riders' and Seamless Bay Area's Transit Month festivities, we give you, for the first time in its seven years' existence, a tour of the Pacific Bus Museum in Fremont. While the museum is typically open on the first and third Saturdays of the month from 10am to 2pm, the wonderful volunteers at PBM will lend a helping hand in showing you historic buses that have graced the region's roadways and highways.
Your hosts for this tour include:
Anthony, San Francisco Transit Riders volunteer
Chance, Pacific Bus Museum volunteer
Lorne, Pacific Bus Museum President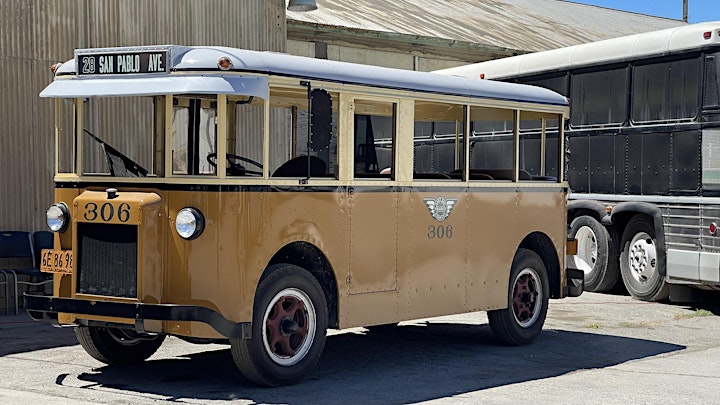 During the tour of the Pacific Bus Museum, you will tour various historic buses that operated around the San Francisco Bay Area and beyond. (You can even board these buses as well!) Some highlights include:
Gillig 30/102TB ("Phantom") number 2738 from AC Transit (1992)
GM TDH 4801 number 2103 from Key System Transit Lines (1958)
GM TDM 4512 number 246 from Peerless Stages (1955)
GM T6H 4523N ("Fishbowl") number 842 from Santa Cruz Metropolitan Transit District (1976)
GM T8H 5305 ("Fishbowl") number 3270 from San Francisco Municipal Railway (1970)
Twin Coach number 306 from Key System Transit Lines (1932)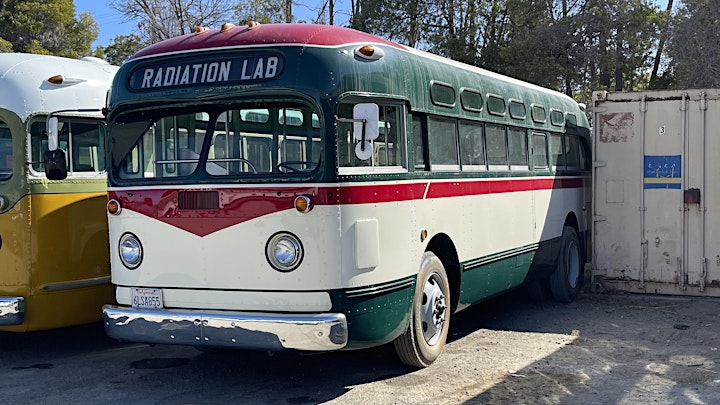 You will also visit the museum's Archives Room, which houses historical maps and schedules from multiple transit agencies in the San Francisco Bay Area and beyond. And an impromptu museum shop will be open during our visit, in which you can purchase transit-related memorabilia, from model buses to old system maps, transfer ticket books to individual transit schedules.
All purchases made during the museum shop sale benefit the museum's continued operations, including bus maintenance and restorations.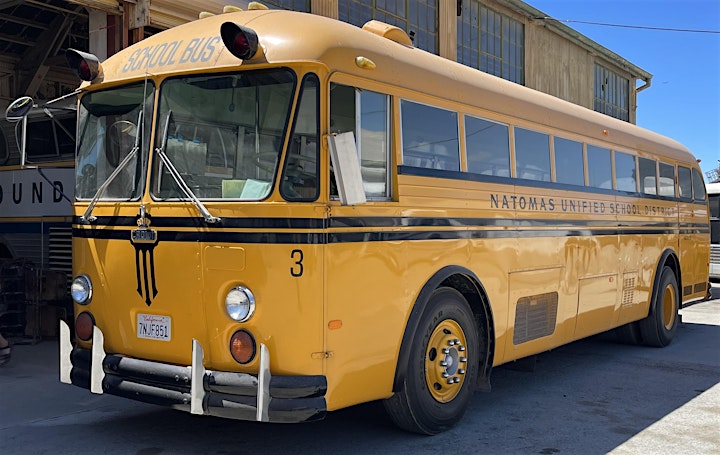 Some important notes you need to know:
Donations: A $5 donation is suggested.
What to Bring: money, Clipper card (if you haven't gotten one, get one at a ticket vending machine, Walgreens, Whole Foods, or install the Clipper card app on your phone), and a drink to keep you hydrated
Meeting Up (Updated 9/13/2022): We will meet at the Pacific Bus Museum, starting initially as two separate groups described below:
Chance will meet up with folks coming from the South Bay and those not attending the East Bay Rally at Fremont BART from 2pm. This group will board the AC Transit Line 216 bus out of Fremont BART at 2:30pm and get off at Mowry Avenue & Bonner Avenue where we will be walking the rest of the way to the museum (12 to 15 minutes).
Anthony will form a group of folks coming from the East Bay Rally at Downtown Berkeley BART station, boarding the 1:01pm Orange Line train to Berryessa, arriving at Union City at 1:46pm. This group will board the AC Transit Line 216 bus out of Union City BART at 2pm and get off at Mowry Avenue & Guardino Drive where we will be walking the rest of the way to the museum (12 to 15 minutes).
Our initial plan was to have a shuttle service between the museum and Fremont BART. Due to no available volunteer operators who can do that service, we will be relying on AC Transit's Line 216 to get us to and from the museum. As a result, instead of boarding the 1:31pm Berryessa train from Berkeley BART and meeting up with Chance and the others at Fremont BART, we have decided to let Anthony's group board the 1:01pm Berryessa train, giving us ample time to transfer at Union City BART and getting to the museum at around 2:30pm.
For visitors from out of town or with strollers in tow: We encourage you to form a carpool and drive to the museum, located at 37974 Shinn Street, Fremont, CA. Ample parking is available on either side of the railroad tracks. If you wish to take transit, board AC Transit Line 216 from either Union City BART or Fremont BART, operating hourly. (Line 216 leaves Union City BART on the hour from 7am to 7pm; the northbound 216 leaves Fremont BART at 30 past the hour from 7:30am to 7:30pm.) Get off the 216 at either Mowry Avenue & Guardino Drive southbound or Mowry Avenue & Bonner Avenue northbound and walk the rest of the way to the museum.
For visitors bringing their bicycles or electric scooters to the museum: There is no designated bike parking around the museum premises. We highly encourage you to bring a sturdy lock so that you can lock your bike next to the museum's main gate, or you can park your bike and or scooter inside the office immediately to the left side of the main gate.
For visitors requiring wheelchairs, scooters, or other walking aids to move around due to a physical disability: This is a mostly walking tour. Consider riding AC Transit Line 216 (above) or booking a ride with East Bay Paratransit or rideshare. At the museum, there is no elevator that will take you to the Archives Room on the second floor. And all buses have no functioning ramps to view their interiors. If you need assistance, please inform Lorne at lornethompson@ups.com and he and his fellow volunteers will assist you.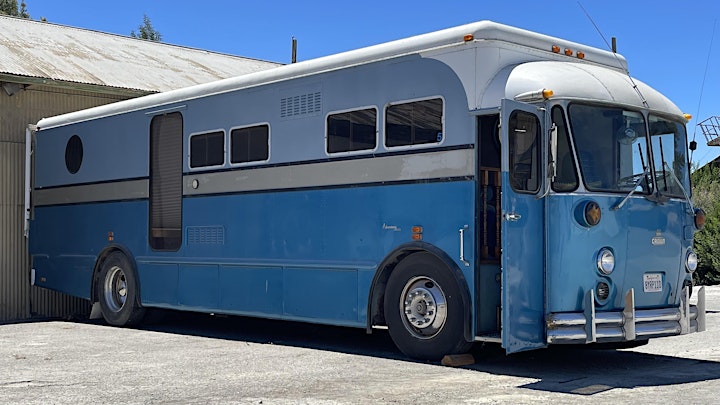 For more information, contact:
Anthony at (415) 488-7995 or anthony.nachor@gmail.com
Chance at (650) 520-9419 or chancetvonb@gmail.com
Also check out the Pacific Bus Museum's roster and information at https://pacbus.org/ and consider becoming a member there, too.
Updates and changes will be posted on this page and on social media as the event date nears.
See you at the Pacific Bus Museum!