Samuel Arbesman at The Interval: 
Technology at the Limits of Comprehension
Actions and Detail Panel
Samuel Arbesman at The Interval: 
Technology at the Limits of Comprehension
Tue, August 23, 2016, 6:30 PM – 8:30 PM PDT
Description
Long Now welcomes Samuel Arbesman (author of Overcomplicated: 
Technology at the Limits of Comprehension) to The Interval at Long Now.
Check-in begins at 6:30; talk will start at 7:30 sharp
The book Overcomplicated will be on sale and there will be a signing after the talk.
"Read [Overcomplicated] to get over the idea that we can make technology simple. Arbesman will convince you we have only one choice: to indirectly manage ever increasing complexity."
— Kevin Kelly (Long Now board member, author of The Inevitable)
As technology grows more complex, its behavior mimics the vagaries of the natural world more than it conforms to a mathematical model. In Overcomplicated, complexity scientist Samuel Arbesman offers a field guide to living with complex technologies that defy human comprehension. By embracing and observing the freak accidents and flukes that disrupt our lives, we can gain valuable clues about how our algorithms really work.
Samuel Arbesman returns to speak at The Interval having last spoken for us in 02012 (prior to our opening The Interval) about his previous book The Half-life of Facts.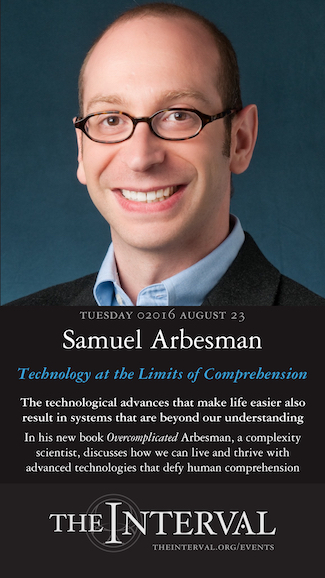 Long Now members can view a free livestream of this event online. Join Long Now for access to live streams of our Seminars and Interval events.
Samuel Arbesman is a Scientist in Residence at Lux Capital, a science and technology venture capital firm. He is a Senior Adjunct Fellow of the Silicon Flatirons Center for Law, Technology, and Entrepreneurship at the University of Colorado and Research Fellow at The Long Now Foundation. His writings on science, mathematics, and technology have appeared in the New York Times, Wall Street Journal, and Wired. Arbesman's first book The Half-Life of Facts looks at how knowledge changes over time.
"A powerful, concise argument about how to grapple with the mystery and wonder of twenty-first-century technology. It's exactly what we all need."
— Carl Zimmer (former SALT speaker, author of Evolution)

Long Now members hear about Interval events first: become a member today