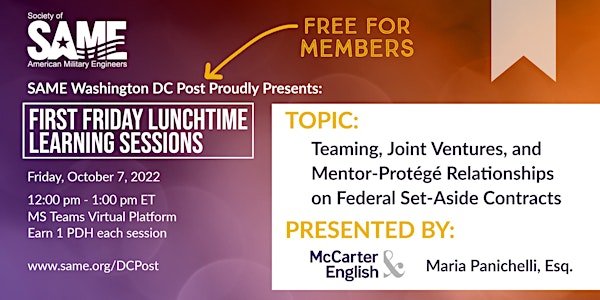 SAME DC - Oct 7 - First Friday - Teaming, JVs, Mentor-Protégé Relationships
Join the SAME DC Post for our virtual program "First Friday Lunchtime Learning Session" on Teaming, JVs, and Mentor-Protégé Relationships
Refund Policy
Refunds up to 1 day before event
Eventbrite's fee is nonrefundable.
About this event
First Friday Lunchtime Learning Sessions
Friday, October 7
12:00 pm – 1:00 pm EDT
MS Teams Virtual Platform
Earn 1 PDH each session
Through a commitment to offering effective training, development and networking programs, SAME DC Post is helping sustain the future of the profession with monthly education-focused sessions to deliver topical and relevant content to our industry.
Our program offers a one-hour educational professional development opportunity on the first Friday of each month via a virtual platform, hosted by the SAME DC Post. Lunch is NOT included in the ticket (but you may eat your lunch while watching the session). Follow up questions by chat or video are encouraged.
This program is free to SAME members and students, and $25 for non-members. Please note, you must attend the live session to receive a one (1 HR) PDH certificate from the SAME DC Post. Registration required.
Registered ticket holders will find the event link in their registration Online Event Page. The link to the session will also be emailed 24 hours before the program begins. Please add samedcprograms@gmail.com to your safe senders list. The email you use to register will be the email that receives the link.
REFUND POLICY
Paid ticket holders may request a refund up until 1 day before the event, on Thursday, October 6, noon ET. Eventbrite fees are non-refundable.
Please note that not all jurisdictions or organizations accept PDH certificates for continuing education.
Teaming, Joint Ventures, and Mentor-Protégé Relationships on Federal Set-Aside Contracts
Who HASN'T heard about teaming, joint ventures, and the mentor protégé program at this point? It's been one of THE hot topics in government contracting for years now. But, however often these concepts are discussed, they are just as often misunderstood. While these strategies can greatly increase both large and small contractors' access to contracts, when used incorrectly, they can also get contractors in a heap of trouble.
It is critically important to understand the differences (and interplay) between teaming, joint venturing, and the mentor protégé program. It is also vital to understand how to form compliant relationships that will not destroy or otherwise negatively impact small business eligibility. This requires an in-depth understanding of the rules, and the nuances relating to these advanced contracting strategies. In this webinar, experienced government contracting attorney Maria Panichelli will explains the ins and outs of Teaming and Joint Ventures and the Mentor Protégé program, so that you can learn how to properly utilize these strategies, while protecting small business status. .
Learning Objectives
Identify the differences between Teaming, Joint Venturing, and the SBA's Mentor Protégé Programs and when you should use which
Contemplate key strategies for forming a successful team
Understand ways to draft enforceable teaming agreements
Understand how to form a JV that is compliant with the regulations
Get familiar with the requirements and limitations of the SBA mentor protégé program
Learning Units
This virtual session offers one (1) Professional Development Hour (PDH) certified by the SAME DC Post for live participants.
About the Presenter
Maria L. Panichelli, Esq.
Maria L. Panichelli, Esq. is a partner with the law firm of McCarter & English LLP, in the Government Contracts and Global Trade practice group. She focuses her practice on federal government contracting and small business procurement, and represents both prime and subcontractors performing work on federal projects. Those clients do business with a variety of federal agencies, in a wide range of industries, across the nation as well as abroad.
Maria counsels her clients through every stage of the federal procurement cycle. Her practice includes: asserting and defending bid protests; contract interpretation and performance counseling; the preparation and negotiation of Requests for Equitable Adjustment and Contract Disputes Act (CDA) claims, as well as related litigation before the Boards of Contract Appeals, the Court of Federal Claims and the Federal Circuit; statutory and regulatory compliance counseling; resolution of subcontractor disputes (including the negotiation of liquidating agreements, and the litigation of pass-through claims, Miller Act claims, and sub/prime disputes); contract terminations; suspension and debarment; and all aspects of small business procurement. Maria has substantial experience with construction-related contracting issues in particular, such as defective designs and specifications, express and constructive changes, differing site conditions, delays and disruption; suspensions; and liquidated damages.
Maria is active in a number of industry-related professional associations is a frequent lecturer and author on government contracting and small business procurement topics.
About Your Virtual Host
CAPT David Harvey, PE, SAME DC Post 1st Vice President
CAPT Harvey is a Commissioned Officer of the U.S. Public Health Service and is currently assigned to the Indian Health Service as the Deputy Director of Sanitation Facilities Construction (SFC). He is a registered Professional Engineer and holds both a B.S. and M.S. in Civil Engineering from the University of Maine and a Master of Public Health degree from Johns Hopkins University Bloomberg School of Public Health. In 2019 he was named by Johns Hopkins University as a Bloomberg American Health Initiative Fellow and is currently pursuing a Doctor of Public Health Degree. Read more...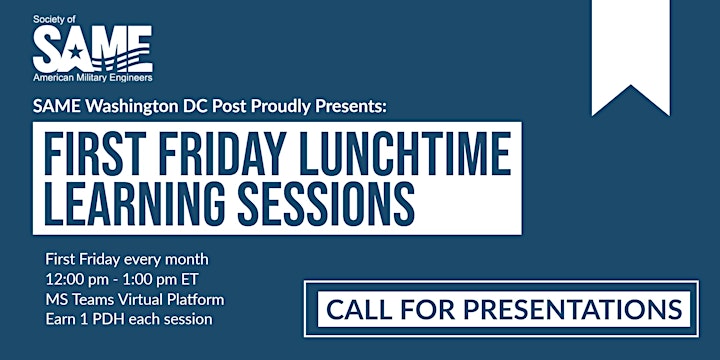 Call for Presentations
Do you have an educational topic you would like to present during our monthly First Friday Lunchtime Learning Sessions?
Presentations will be selected based on how the program will provide high-quality and valuable professional development for the A/E/C community, presentation topics that provide thought leadership and insight into current industry challenges, and solutions that are available beyond your organization's specific product or service. Presentations that promote specific companies, products, or services will not be selected.
Please complete the online form to share your topic and learning objectives with the SAME DC Post Programs committee.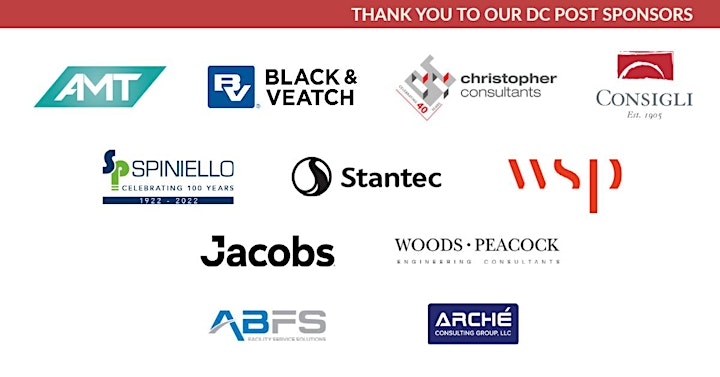 Questions
Please contact the SAME DC Programs Director, Bree Beal at bbeal@hksinc.com.
Sponsorship
This program is sponsored by the SAME DC Post Annual Sponsors. Add your logo and start receiving sponsor benefits today. Contact the SAME DC Sponsorship Director, Michael Galante at michael.galante@taiengineering.com.