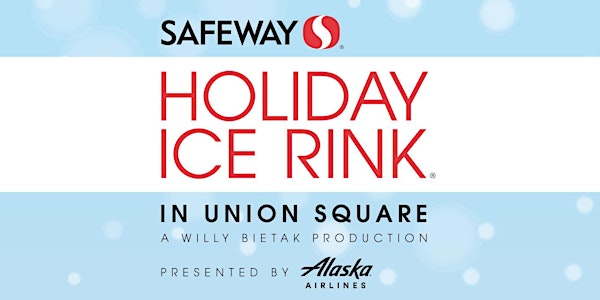 Safeway Holiday Ice Rink in Union Square 2019
Description
Limited number of same-day tickets available at the box office each day. Box office opens daily at 9:45am. We recommend buying online in advance as day-of box office tickets are not guaranteed.
---
PLEASE NOTE: TICKET WILL BE LABELED FROM 10:00AM - THIS INDICATES THE TIME THE RINK OPENS FOR THE DAY. SEE THE FAQS BELOW TO FIND YOUR SPECIFIC PURCHASED SESSION TIME.
---
Lace up your skates and join us at The Safeway Holiday Ice Rink in Union Square presented by Alaska Airlines!
A San Francisco holiday tradition in the heart of Union Square, The Safeway Holiday Ice Rink in Union Square presented by Alaska Airlines offers fun-seekers of all ages a magical adventure beginning November 6, 2019 through January 20, 2020. From families to friends, and couples to colleagues, everyone can enjoy ice skating in San Francisco's iconic plaza surrounded by festive lights and the sights and sounds of the season. Novices and naturals, alike, will love the outdoor ice skating experience in the middle of beautiful San Francisco.
We look forward to seeing you on the ice!
Ice Skating Session Times:
10:00am – 11:30am
12:00pm – 1:30pm
2:00pm – 3:30pm
4:00pm – 5:30pm
6:00pm – 7:30pm
8:00pm – 9:30pm
10:00pm – 11:30pm
---
CHECK OUT OUR SPECIAL EVENTS


*LEARN TO SKATE presented by KAISER PERMANENTE
Every Saturday and Sunday 8:30-9:30am - CHECK-IN 8:00am
Kaiser Permanente invites skaters with little to no experience to the Safeway Holiday Ice Rink in Union Square presented by Alaska Airlines to learn from professional skate instructors every weekend. Lessons are free (including skate rental) to those who sign up in advance. Space is limited to 50 participants per day.
*30th Annual MACY'S TREE LIGHTING Celebration
Friday, November 29 at 6:00-7:30pm
*10th Anniversary DRAG QUEENS ON ICE presented by ALASKA AIRLINES
Thursday, December 5 at 8:00-10:00pm *No 10pm skate session afterward
*SILENT SKATE PARTY
Thursday, December 12 at 6:00-7:30pm and 8:00-9:30pm
*POLAR BEAR SKATE: The San Francisco Edition
Wednesday, January 1 at 2:00-3:30pm
Visit our website to learn about more Special Events: https://unionsquareicerink.com/san-francisco-events/
---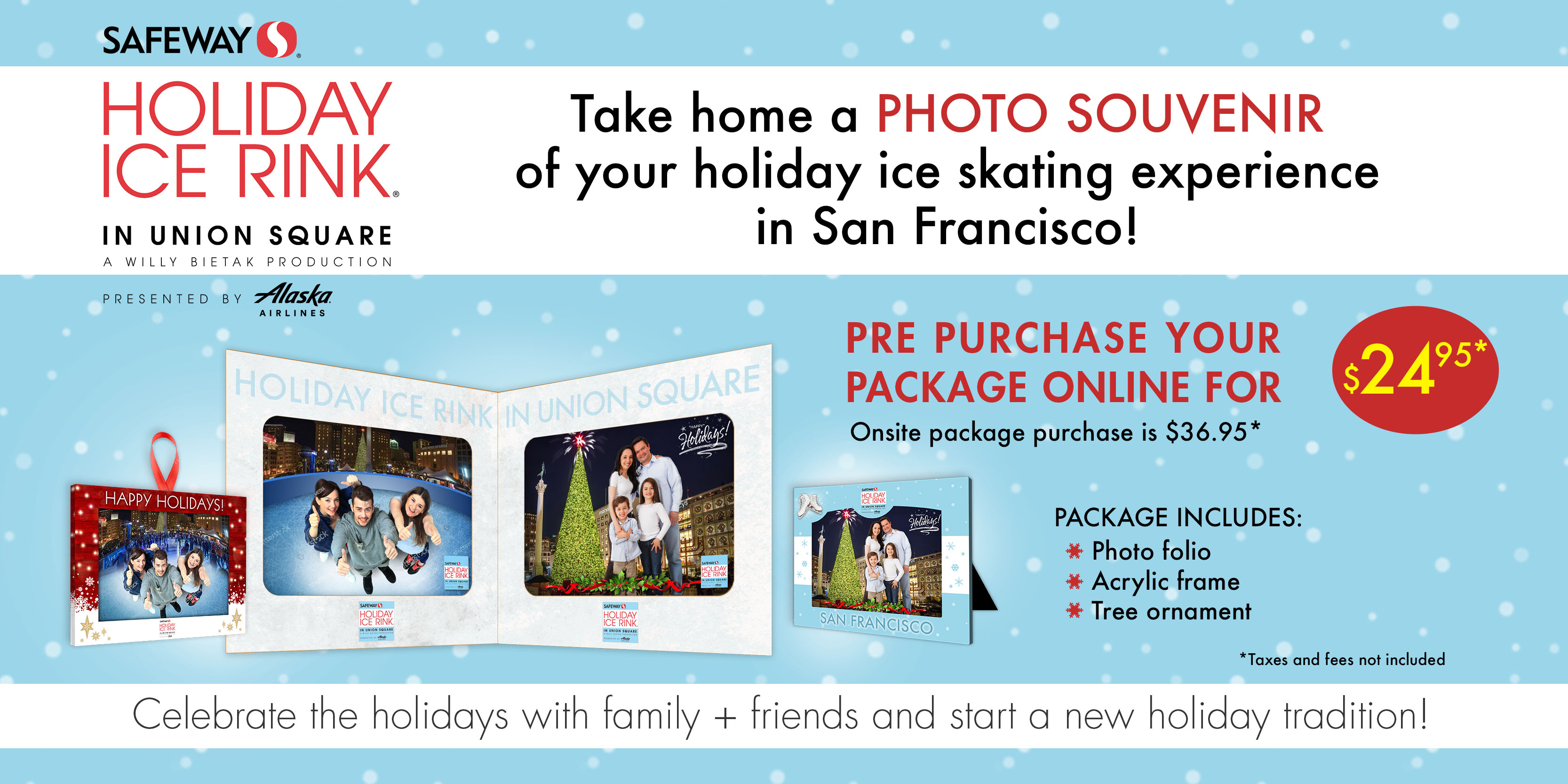 ---
FAQs
Where can I find the session time that I purchased?
*The ORDER SUMMARY section of your ORDER CONFIRMATION EMAIL

*The PDF TICKET attached to your ORDER CONFIRMATION EMAIL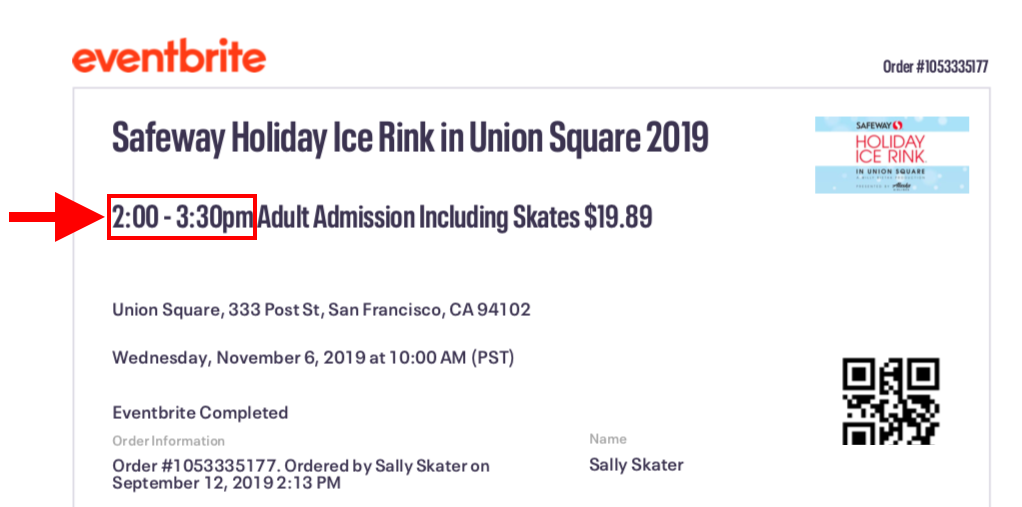 *The DIGITAL TICKET located in your EVENTBRITE APP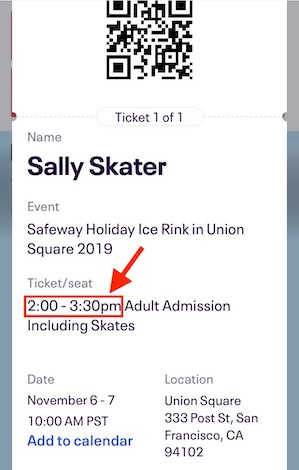 *The DIGITAL TICKET located in your APPLE WALLET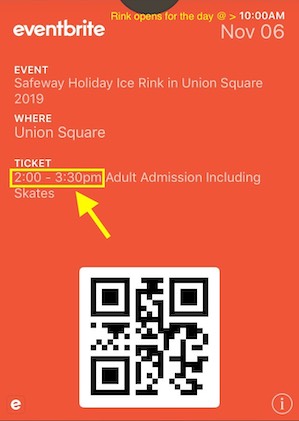 How do I get to the rink?
Located at 333 Post Street in San Francisco, our ice rink sits in the heart of Union Square near the corner of Geary and Powell Streets. Numerous transportation options are available, and we encourage environmentally-friendly considerations such as walking, biking, riding Muni, taking BART or ridesharing.
Drive: If driving, signs lead to Union Square from most area freeways. Area parking garages provide plentiful parking options.
Walk: If walking from North Beach or Chinatown, take Grant Street south through the Chinatown gate to Maiden Lane, then turn right.
Bike: Bike paths are located nearby on both Market Street and Post/Sutter streets. Nearby parking garages offer bike parking.
Public Transit: If taking public transit, the SFMTA's transit trip planner provides the most comprehensive schedules and routes for all options, including:
BART from the East Bay or southern San Francisco. Exit at the Powell Street station
San Francisco Muni bus lines 2, 3 and 76X stop at Union Square
Powell-Mason and Powell-Hyde cable car lines stop in Union Square
San Francisco's historic trolley car "F" line stops nearby at Market and Powell Streets
Fly: If flying to San Francisco to enjoy the magical holiday tradition of ice skating in Union Square, book with our sponsor, Alaska Airlines, for the best service and fares!
Is my ticket transferrable?
Tickets can be transferred through your Eventbrite account up to 24 hours before your session time. You must use your ticket before the end of the season. NO REFUNDS AFTER END OF SEASON.
For detailed instructions on how to transfer tickets, Click Here.
If you are having difficulty, please go to the Help Center Link.
If you are trying to transfer tickets after your session has taken place, please purchase the tickets for your new date and session. Then contact us directly for a refund of your original purchase.
Is there somewhere I can store my belongings while I skate?
Lockers may be rented for $3 and are large enough to hold a couple of pairs of shoes, a medium-size handbag, and a few small purchases.
Are there public bathrooms/restrooms onsite?
Bathrooms are located in the Union Square Parking Garage. Since skates may not be worn outside of the ice rink, we recommend you use the facilities before skating. Your parking ticket from Unions Square Parking Garage will open the door. You may obtain a bathroom key from the skate counter in exchange for your cell phone (as collateral).
What is your rain policy?
We remain open in light to moderate rain but may close in heavy and sustained rain at the discretion of Ice Rink management. No refunds or rain checks will be issued for tickets purchased at the door, but rain checks will be honored for tickets purchased online in advance.
What should I wear to my skate session?
As with most activities in San Francisco, the key to comfortable ice skating in Union Square is to wear layers; the temperature on the ice may range from chilly to warm, depending on the time of day, the number of skaters and the amount of energy one exerts. Mittens and hats always help. We do sell both mittens and socks if you need them.
Figure and hockey skate sizes range from toddler's size 8 to adult's size 15. You may also bring your own ice skates.
Are there skate helpers available for children?
Yes! For beginning skaters UNDER 4 FEET TALL (48"), we offer Skate Helpers for $6 that glide with the skater along the ice and help with balance and control. For safety considerations, Skate Helpers are rented at the discretion of Rink Management. Skaters must be able to stand on their own and push the Skate Helper by themselves.
What is there to eat around Union Square?
For a dining experience, visit our sponsoring restaurant John's Grill located a quick two-block walk from the ice rink.
Are there hotel/lodging/accommodation options near the rink?
Make your Union Square ice skating adventure a special getaway; enjoy a stay at one of our generous hotel sponsors, including Hilton Union Square, Parc-55, Omni San Francisco, Galleria Park Hotel and Grand Hyatt San Francisco.
Can I update my registration information?
Yes! You can update/change your registration information in your Eventbrite account. For details on how to do this, Click Here.