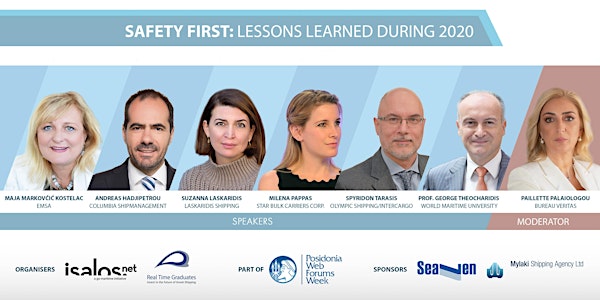 Safety First: Lessons learned during 2020
Join us at an event where we bring together industry experts to discuss why Safety should be the top priority for the shipping industry
About this event
An online event organised on the occasion of Posidonia Web Forums Week
How have recent developments regarding ship inspections affected the shipping industry in terms of safeguarding a management company's safe operation of its fleet?
What are the most valuable lessons learnt for the shipping sector, with regards to the recent spread of the pandemic?
How did the industry manage the psychological support of crews that had faced long delays in their replacement?
Are young mariners sufficiently trained in order to face the safety requirements of today's shipping operations?
Experienced executives from the shipping industry discuss why Safety should still be a top priority for the industry and how Human Performance can be maximized in challenging times.
The digital discussion that will take place on Monday, October 26th 2020 (19:00-20:30 EET).
Confirmed Panelists:
Maja Markovčić Kostelac, Executive Director, EMSA
Andreas Hadjipetrou, Managing Director, Columbia Shipmanagement
Suzanna Laskaridis, Director, Laskaridis Shipping
Milena Pappas, Commercial Director, Star Bulk Carriers Corp.
Spyridon Tarasis, General Manager, Olympic Vision Maritime Company Inc & Vice-Chairman, INTERCARGO
Prof. George Theocharidis, Professor of Maritime Law & Policy, World Maritime University
Moderator:
Paillette Palaiologou, Vice President Marine & Offshore Division, HBSA Zone, Bureau Veritas
Organisers: Isalos.net & Real Time Graduates
Date: 26 October 2020
Time: 17:00 - 18:30 GMT | 19:00 - 20:30 EET (Greece)
For more information please contact: Charis Pappas at info@isalos.net