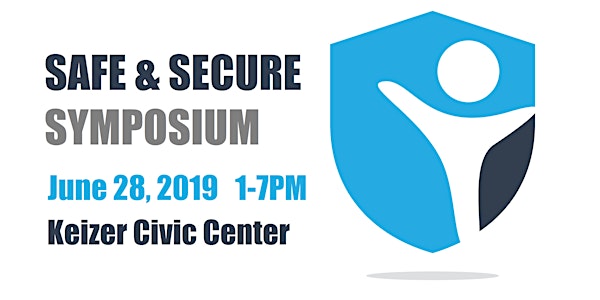 Safe & Secure Symposium
By Creating Opportunities
Date and time
Friday, June 28, 2019 · 1 - 7pm PDT
Location
Keizer Civic Center 930 Chemawa Road Northeast Keizer, OR 97303
Description
SAFE & SECURE SYMPOSIUM
June 28, 2019 1:00 to 7:00 PM
Keizer Civic Center
Free Event for Families of Children with Disabilities
Please enter using the parking lot entrance
Child care will not be provided at this event
Event Sponsors & Partners
Creating Opportunities - Autism Society of Oregon - The Arc Oregon - OHSU Oregon Family to Family Health Information Center - Providence Swindells Resource Center - Willamette Valley Down Syndrome Association - Natural Discoveries with Kathy - Oregon Family Support Network
EVENT SCHEDULE


1:00 PM Welcome
Welcome Remarks
Cheryl Cisneros, Creating Opportunities
1:30 PM Concurrent Training Sessions
Positive Behavior Support: Safe and Effective Crisis Supports
Providing safe and effective support for someone in crisis is not a skill that always comes naturally to us. This workshop is designed to help families strengthen this skillset. We will use the philosophies of positive behavior support and trauma informed care to create a framework for safely supporting people through crisis. The strategies discussed will focus on safety for all, maintaining dignity, and honoring the importance of relationships throughout the crisis cycle. Participants of this interactive workshop will:
Ÿ Learn a framework to help your child de-escalate from challenging behaviors and to safely support them during a crisis
Ÿ Develop strategies to help maintain your own calm and centeredness before, during, and after a crisis
Ÿ Discuss proactive strategies to reduce the risk of someone wandering away from their family
Presenter: Kelli Downey, OTAC/The Arc Oregon
Kelli Downey is a lead trainer with Oregon Training and Consultation (OTAC) a program of The Arc Oregon. She has collaborated with Oregonians across the lifespan to deliver professional behavior services using the Positive Behavior Support framework since 2014. Kelli has over fifteen years of experience working in the field of developmental disability support services. She has a degree in Communication Sciences and Disorders from St. Louis University and is an alumna of the Leadership Education in Neurodevelopmental Disabilities (LEND) trainee program.
Youth & Technology, Children at Risk
The main emphasis of this workshop is to help parents learn about websites, social media and apps to be wary of and other pitfalls facing today's youth. Paradoxically, adults don't always understand the technology being used, while youth may not fully comprehend the consequences of their actions. This workshop will offer insight and resources about Oregon's sex crime laws, parental rights, connections between technology and human / sex trafficking, commonly abused mobile applications, national mobile carrier options, and monitoring tools adults can use to "trust but verify." The program ultimately creates a nexus between sexting, cyberbullying, teen suicide and human trafficking.
Presenter: Lieutenant Trevor Wenning, Keizer Police Department
Trevor Wenning is a police lieutenant with over twenty years' experience in the Keizer Police Department. He currently oversees the Support Division which provides assistance to the Patrol Division and includes evidence processing, the traffic team, the school resource officer unit, facilities, fleet and IT. Lt. Wenning works with communities to educate and inform parents and other adults about the complex and varied situations police encounter in their line of work.
Wandering in Autism
Wandering, or elopement or leaving an otherwise safe place is a behavior of concern for many children on the autism spectrum. We'll look at the some of the reasons behind wandering and ways to support a child who wanders.
Presenter: Tobi Rates, Autism Society of Oregon & Guests
Tobi Rates is the Executive Director of the Autism Society of Oregon. She is also fortunate to be the mother of two wonderful young men, both of whom are on the autism spectrum with varying support needs.
Preventing Suicide with QPR – Question, Persuade, Refer
Just as people trained in CPR and the Heimlich Maneuver help save thousands of lives each year, people trained in QPR learn how to recognize the warning signs of a suicide crisis and how to question, persuade, and refer someone to help. Each year thousands of Americans, like you, are saying "Yes" to saving the life of a friend, colleague, sibling, or neighbor.
Presenter: Victoria Haight, Oregon Family Support Network
Victoria is the statewide training coordinator for the Oregon Family Support Network. She brings over ten years of experience as a trainer and advocate for families of children experiencing disability. As a parent herself, Victoria knows the joys and challenges of raising a child with developmental and other mental health issues. Victoria believes in using a strength based approach for all children and families.
3:30 PM Concurrent Training Sessions
Safety Strategies for Families: Communicating Safety Concerns, Consumer Awareness, and Adaptive Car Seats (45 min)
This plenary will cover topics such as: Communicating your concerns about safety to your physicians | Consumer awareness in safety products | Car seats for kids with special health concerns and behavioral needs | Questions from parents
Bonus Content: Poison Control Resources (10 min) – Vital information about the comprehensive services offered by the Poison Center. Parents will also learn why they need their 'v chip' in their phone.
Featured Presenter: Dr. Ben Hoffman, Pediatrician and National Child Safety Expert
Dr. Hoffman is a nationally recognized injury prevention specialist, and general pediatrician at Doernbecher. He provides comprehensive care to children and teens of all ages, from well-child care to management of complex medical issues. Dr. Hoffman has had guest interview appearances on Good Morning America, NPR, and more, to share information about safety topics such as swimming, firearms, etc. Check out this collection of videos featuring Ben Hoffman!
Guest Presenter: Jennifer Eskridge, Oregon Poison Center
Jennifer Eskridge, MPH, CHES is the Community Outreach Educator at the Oregon Poison Center at Oregon Health & Sciences University in Portland, Oregon. At the Oregon Poison Center Jennifer educates the community about poisons, poison prevention methods and promotes the services of the regional Poison Center.
Bridging the Gap, Adapting Suicide Prevention Strategies
This presentation will focus on adapting traditional suicide risk assessment strategies to clients with non-traditional needs.
Presenter: Caterina Stroud, Marion County Youth & Family Crisis Services
Caterina Stroud is a Clinical Social Work Associate with Marion County Health and Human Services Children's Behavioral Health team where she currently provides ongoing mental health counseling services to children and families. After receiving a Masters in Social Work from Portland State University in 2016, Caterina has worked with the Marion County Psychiatric Crisis Center providing assessment and risk screening services to adults and children in crisis both in the community and through the Juvenile Justice system.
Understanding Safe Relationships
The Circles Curriculum provides information to families and care takers for teaching our children and adults how to be safe by understanding who to talk to about what topics and what level of trust and touch is appropriate for the relationship. The program focus is to learn skills which help avoid bullying and assaults and lead to many healthy safe relationships.
Presenter: Kathy Schnebly, Natural Discoveries with Kathy
Kathy has over 50 years of experience working with children, adults and families who experience Intellectual and Developmental Disabilities in recreational, school and mental health settings. She has presented at local, state and national events. Currently Kathy provides consultation and training to families and agencies related to developmental disabilities.
5:00 PM Concurrent Training Sessions
Setting the Stage for Safety Online
This workshop will give a brief overview of how technology use impacts the brains, relationships, and sense of self in children then move into how we can help them maintain safety online. Special information of how to have hard conversations will be given as will tools for how to assess use and set the stage for healthy use.
Dr. Doreen Dodgen-Magee PsyD
Dr. Doreen Dodgen-Magee is a clinical psychologist and an internationally recognized technology & psychological health expert and author based out of Portland. She maintains an international speaking docket and has recently had her first book (Deviced! Balancing Life and Technology in a Digital World) released. She is passionate about helping parents and children discuss the thorny and beautiful potential of online spaces in non-shaming and affirming ways. Helping children have safe and positive experiences online requires forethought and lots of good discussion.
Planning for a Trip to the Emergency Room
This workshop will review tips and ideas from EMTs, emergency department doctors and nurses, and most importantly, other parents of children who live with special health needs, developmental disability, or mental health challenges. This interactive session will include handouts to help you get prepared.
Tamara Bakewell, Oregon Center for Children & Youth with Special Health Needs
Tamara Bakewell is the Family Involvement Coordinator for the Oregon Center for Children and Youth with Special Health Needs. She manages the Oregon Family to Family Health Information Center and other programs aimed at helping families become strong advocates for their children in health care systems. She serves on Oregon's Emergency Medical Systems for Children Advisory Board and has a special interest in injury prevention for children with and without special health needs.
Rachel Ford, Oregon Emergency Medical Systems for Children
Rachel Ford is the Oregon Emergency Medical Services for Children Program Coordinator. She works with prehospital service agencies and hospitals to strengthen EMS systems through education, training and equipment, to reduce child and youth mortality and morbidity resulting from severe illness or trauma. Before joining the Oregon EMS and Trauma Systems team in 2016, Rachel's employment experiences included working in patient care, a fire district, tribal public health and a hospital system
Disaster Preparedness for People with Disabilities
Disaster preparedness doesn't need to be expensive or intimidating. Come learn the four key things that you can do today to prepare for a major disaster. This information is valuable for all Oregonians, but especially for those who have family members who experience disability. Come with your questions!
Justin E. Ross, Multnomah County Office of Emergency Management
Justin E. Ross is the Community Capacity Specialist/Public Information Manager for the Multnomah County Office of Emergency Management. Justin Ross holds a degree in Emergency Services Administration. Prior to his current role with Multnomah County Justin served as a Disability Integration Advisor for FEMA, and as the Emergency Management Coordinator for the Oregon Office on Disability and Health.
Law Enforcement Response Team Tips for Families
Families will learn about the Pathways to Justice Initiative and the pilot Disability Response Team project in Marion County, and will then have an opportunity to learn what may help when there is law enforcement engagement and what may escalate a situation.
Pathways to Justice is a program designed to improve the justice system's ability to serve people with intellectual and developmental disabilities. This program has been implemented in communities in more than a dozen states and is currently being developed in Marion County. Pathways establishes a local "Disability Response Team" which brings together criminal justice professionals (including police officers, attorneys, judges, victims' advocates) and advocates (self, family, and others) to bridge the gap of information that exists between these groups and develop local solutions.
Jennifer Roy, OTAC/The Arc Oregon and Lieutenant Jay Bergmann, Marion County Sheriff's Office will lead this Question & Answer Session.
Jennifer Roy, MSW, is a program representative and trainer for the OTAC program at The Arc Oregon. Jennifer is a former Services Coordinator and Direct Support Professional, with experience in person-centered planning and individual advocacy. Practice opportunities in her Master of Social Work program allowed Jennifer to gain experience in grassroots organization, policy analysis, and legislative advocacy. Her passions include person-centered practices, cultural responsiveness, and systems-level advocacy. She is currently the lead contact for the Marion County pilot of Pathways to Justice.
6:30 PM Safe & Secure Wrap-Up
Exhibits:
Digital Routines & Safety Lists (Cognitopia)

One-Page Profiles for Emergencies (FACT Oregon)

Emergency Registry (Salem Police Department)

Oregon Emergency Medical Systems for Children

Oregon Poison Center

Adaptive Car Seats

Injury Prevention
About the organizer
Regional Family Network for Polk, Yamhill & Marion Counties