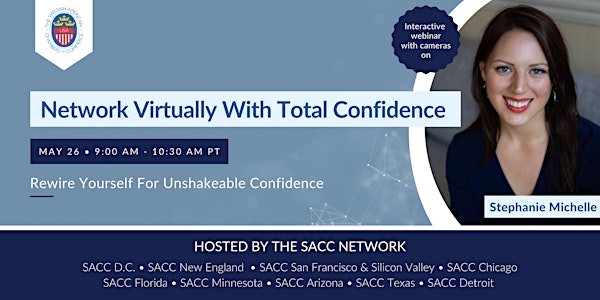 SACC: Network Virtually With Total Confidence – Interactive
Join the SACC network for a virtual networking event and workshop, with practical tips from networking coach Stephanie Michelle!
Refund Policy
Contact the organizer to request a refund.
About this event
Establish your virtual networking skills & make valuable connections within the SACC network! Join us on May 26th for the opportunity to gain new contacts all over the U.S.
In this virtual climate, we really miss the great networking opportunities we have in person.
Therefore, we are nine regional chapters of The Swedish-American Chamber of Commerce co-hosting this virtual networking event!
This way, we open up the opportunity to network over the regional borders of our organization.
We admit it's not completely the same to network virtually as in a face-to-face setting. Therefore we have invited networking expert Stephanie Michelle who will give us valuable tips on how to network online – before practicing ourselves.
The event will last for 90 minutes, with the first half coaching by Stephanie Michelle, followed by the second half's networking. We will use zoom breakout rooms, where participants will be shuffled into groups of 4, 8 minutes apart, which means every person will gain 15 new connections!
Stephanie Michelle is a Forbes-featured leadership & life coach, certified hypnotherapist, and best-selling author of the transformational networking book, Confident Introvert. She has facilitated over 1,000 events and established a fulfilling career helping people generate meaningful connections with themselves and others that catapult them forward in their career and life. To date, Stephanie has helped thousands of people celebrate their strengths, step into their authentic confidence, and make meaningful connections through speaking at places like Harvard University and 1:1 coaching.
Participating chapters:
SACC Arizona
SACC Chicago
SACC D.C.
SACC Detroit
SACC Florida
SACC Minnesota
SACC New England
SACC Texas
SACC San Francisco & Silicon Valley
You are most welcome to join us – we're excited to e-meet you!
Free access for all SACC members.
Not a member yet? Become a member of one of the regional chapters above or join the event as a potential member for $10.
Read more about Stephanie in her channels: