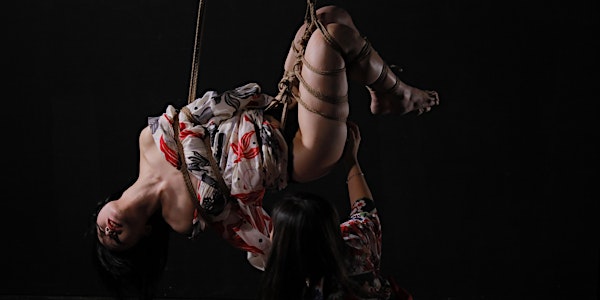 RVA shibari classes and rope sale – Subay from Hong Kong
When and where
Location
private location
Description
Hello friends! Subay from Hong Kong is coming back to RVA this February. We are running these classes for people who are interested in learning the japanese style of rope bondage, and there will be opportunities to buy some top quality ropes and furoshiki from Japan!
**UPDATE**
Special Private Performance and Rope Jam with Subay (HK) and Odys (US)
Date: Feb 11, 2018 (Sun)
Time: 3-7PM
Ticket: $20 per PERSON
Location: Richmond, VA (location will be disclosed to attendees)
Join us for the evening of erotic vulnerability and heart felt expression as we welcome internationally renowned kinbakusi and kinbaku model, Subay, as well as local rigger, @RiggerOdys, of Kinbaku Odyssey. This event will feature two performances with Subay tying her Filthy Fox, followed by Odys tying Kira. We will wrap up the day with casual discussion, the opportunity for open tying and questions with Subay and her bottoms. This is an inclusive event open to any persons 18+ regardless of background. Food and refreshments will be provided, including wine and non alcoholic beverages. If you have any questions or allergy concerns before the event, please contact event coordinator Dani.
A. Classes
1. Advanced class (SOLD OUT)
Date: Feb 10, 2018 (Sat)
Time: 12-6PM
Ticket: $100 per couple
Location: Richmond, VA (location will be disclosed to attendees)
This would be a small group class for advanced students who would like to work on their suspension skills. Content of the class will be catered to individual students.
Remark: Please send a private message to Dani with a brief description of your experience, background, and what specific skills you are interested in learning.
2. Intro to Shibari
Date: Feb 11, 2018 (Sun)
Time: 12-2PM (Rope Jam and Performances will begin at 3)
Ticket: $40 per couple
Location: Richmond, VA (location will be disclosed to attendees)
This would be a class for beginners who are interested in learning japanese style of rope bondage. It will start with a discussion on the background of shibari, intentions and communications, followed by the instructional session which would include techniques of some building blocks in shibari (the first knot, one rope techniques, gote and different ways to tie the legs).
3. Opening booking private class
Feb 8-9, Richmond VA
Feb 12-15, Kinbaku Odyssey in Manassas, VA
Ticket: $160 per couple (2 hours), $75 for each additional hour
B. Registration for classes
https://www.eventbrite.com/e/subayrva-tickets-40964773741
* Additional Taxes and Eventbrite Fees of 7.6% added to ticket price
** No refunds, extreme circumstances considered. Tickets are transferable. This is so that Subay can make affordable travel arrangements accordingly.
C. Rope and Furoshiki Sale
Private message with orders and payments via paypal by Jan 31, 2018
1. Ogawa Jute 6mm from Japan (in sets of 3, 6, 8 or custom)
Raw $12 a hank
Treated (with horse grease) $28 a hank
2. Furoshiki 75cm x 75cm
$30 each
D. Enquiries
For more information, questions about private classes, orders for rope and accessories, or any other concerns please contact Subay's host Dani via DM on instagram or fetlife @Via_Aeterna.
---
Subay's Bio
Subay (緒本子) is a kinbakushi and kinbaku model based in Hong Kong. She teaches and performs internationally - HK, Singapore, Philippines, Shanghai, Europe, and USA. She founded and owns Kokoro Studio, the first and only kinbaku studio in HK. She also founded and runs the Hong Kong Shibari Festival, a yearly festival gathering rope lovers throughout Asia.
Her first encounter of kinbaku was in Tokyo where she met and gained inspirations from Yukimura-sensei. Her journey later included Kanna-san, Kasumi-san and Ren-san, amongst others, as teachers. Today, her kinbaku is most influenced by Naka-sensei, whom she continues to study with.
To Subay, kinbaku is about exploring fantasies, creating a story with emotions, connecting the hearts and extending compassion. She gives a feminine and inclusive approach to eroticism and semenawa - her kinbaku is soft but intense, and allows space and freedom for the rope bottom to explore their inner selves.
Most of Subay's teaching is one to one in private sessions, so this workshop provides a rare opportunity to learn from her in an intensive workshop setting. Her teaching is full of content for both tops and bottoms - explaining not just the technical, but also the reason - the heart - of why we tie what we tie.
Subay's Contact:
Email: subay@kokorostudiohk.com
Facebook: www.facebook.com/subaykinbakuhk
Instagram: www.instagram.com/subaykinbaku
Twitter: www.twitter.com/subaykinbaku