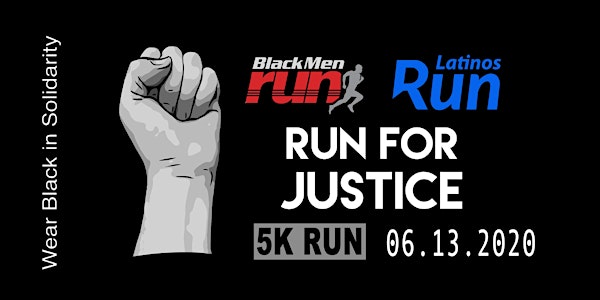 Run For Justice - Virtual Run
Join us for our annual RUN FOR JUSTICE (VIRTUAL RUN) Saturday June 13th 2020
About this event
RUN FOR JUSTICE (VIRTUAL RUN) SATURDAY JUNE 13TH 2020
We understand this is an important time in our history and we must all get involved and stand up against police brutality and take action to end the racism that threatens a person's freedom. ✊🏽
Black communities and communities of color continue to face an increase in inequality and injustice.
We are asking the running community to join us virtually for a 5k Run as we #RUNFORJUSTICE and work together to try to find ways to eliminate all forms of hatred, bigotry and racism around the world.
Let's continue to celebrate "virtually" the eclectic colors of our community, embracing all the diversity that makes us rich, vibrant, and unique. We will all wear black shirts in protest and solidarity.
EVENT: RUNFORJUSTICE
DATE: SATURDAY JUNE 13TH
DISTANCE: ANY
TYPE: VIRTUAL RUN (RUN FROM ANYWHERE)
TIME: ANY
*** A virtual run is an event that can be run (or walked) from any location you choose. You can run, jog, or walk on the road, on the trail, on the treadmill, at the gym, or on the track. You get to run at your own pace and time it yourself.
Runners 🏃🏾‍♀️ Skaters Bikers 🚴‍♀️ Walkers are welcome! Please bring out the youth!
And don't forget to share your Poster
#BlackLivesMatter #RunForJustice #Community #Colors #Artists #Athletes #Activists #YouHaveThePower #WorldDayForInternationalJustice #WDFIJ2020 #WhatAreYouFightingFor
DRAG AND DROP BIBS BELOW DIRECTLY TO COMPUTER FOR PRINTING OR VISIT LATINOSRUN.COM TO DOWNLOAD