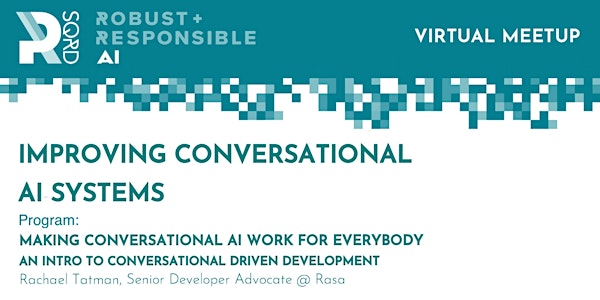 Rsqrd AI: Improving Conversational AI Systems
[Virtual] Rsqrd AI - How continuously bringing humans into the development process improves conversational AI systems!
About this event
It's extremely difficult to anticipate all the ways a user might want to interact with an open-ended conversational interface. The good news is that you don't have to. Conversational driven development is a framework that can be used to both improve the developer experience and create more inclusive, robust conversational interfaces. Join us with Rachael Tatman, Senior Developer Advocate @ Rasa, where we'll walk through the conversational driven development process and its benefits and drawbacks!
Join us on zoom: https://zoom.us/j/94487446996
Agenda
5:00 pm: Welcome & Housekeeping
5:20 pm: "Making Conversational AI Work for Everybody: An Intro to Conversational Driven Development" (Rachael Tatman @ Rasa)
Hosted By: Rsqrd AI