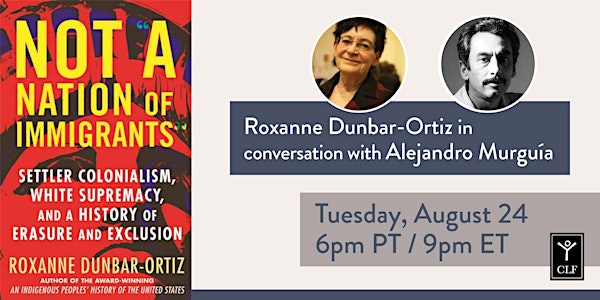 Roxanne Dunbar-Ortiz in conversation with Alejandro Murguía
Roxanne Dunbar-Ortiz in conversation with Alejandro Murguía
About this event
Roxanne Dunbar-Ortiz in conversation with Alejandro Murguía
celebrating the launch of her new book
Not A Nation of Immigrants: Settler Colonialism, White Supremacy, and a History of Erasure and Exclusion
published by Beacon Press
Debunks the pervasive and self-congratulatory myth that our country is proudly founded by and for immigrants, and urges readers to embrace a more complex and honest history of the United States.
Whether in political debates or discussions about immigration around the kitchen table, many Americans, regardless of party affiliation, will say proudly that we are a nation of immigrants. In this bold new book, historian Roxanne Dunbar-Ortiz asserts this ideology is harmful and dishonest because it serves to mask and diminish the US's history of settler colonialism, genocide, white supremacy, slavery, and structural inequality, all of which we still grapple with today.
She explains that the idea that we are living in a land of opportunity—founded and built by immigrants—was a convenient response by the ruling class and its brain trust to the 1960s demands for decolonialization, justice, reparations, and social equality. Moreover, Dunbar-Ortiz charges that this feel good—but inaccurate—story promotes a benign narrative of progress, obscuring that the country was founded in violence as a settler state, and imperialist since its inception.
While some of us are immigrants or descendants of immigrants, others are descendants of white settlers who arrived as colonizers to displace those who were here since time immemorial, and still others are descendants of those who were kidnapped and forced here against their will. This paradigm shifting new book from the highly acclaimed author of An Indigenous Peoples' History of the United States charges that we need to stop believing and perpetuating this simplistic and a historical idea and embrace the real (and often horrific) history of the United States.
Roxanne Dunbar-Ortiz grew up in rural Oklahoma in a tenant farming family. She has been active in the international Indigenous movement for more than 4 decades and is known for her lifelong commitment to national and international social justice issues. Dunbar-Ortiz is the winner of the 2017 Lannan Cultural Freedom Prize, and is the author or editor of many books, including An Indigenous Peoples' History of the United States, a recipient of the 2015 American Book Award. She lives in San Francisco. Connect with her at reddirtsite.com or on Twitter @rdunbaro.
Alejandro Murguía is the author of Southern Front and This War Called Love (both winners of the American Book Award). His non-fiction book The Medicine of Memory highlights the Mission District in the 1970s during the Nicaraguan Solidarity movement. He is a founding member and the first director of The Mission Cultural Center. He was a founder of The Roque Dalton Cultural Brigade, and co-editor of Volcán: Poetry From Central America. Currently he is a professor in Latina Latino Studies at San Francisco State University. He is the author of the short story "The Other Barrio" which first appeared in the anthology San Francisco Noir and recently filmed in the street of the Mission District. In poetry he has published Spare Poems, and this year a new collection Native Tongue. He is the Sixth San Francisco Poet Laureate and the first Latino poet to hold the position.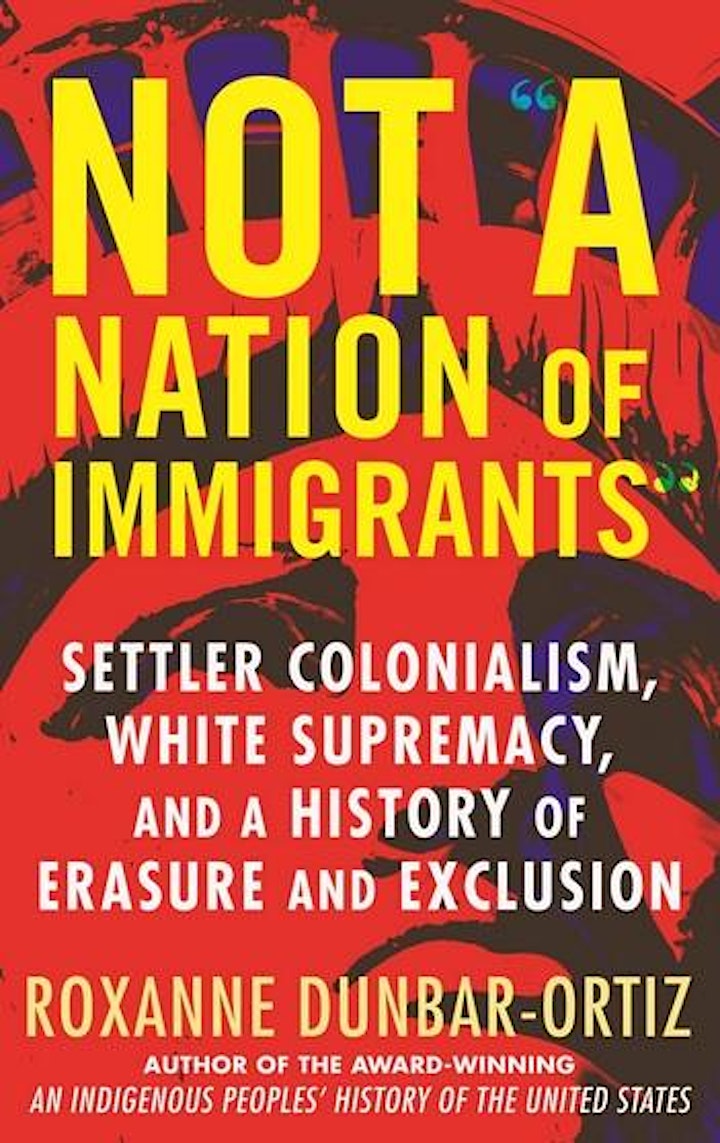 Praise for Not A Nation of Immigrants
"In this book, a precious gift drawn from an amazingly rich life and a prodigious life of learning, Roxanne Dunbar-Ortiz urges us to disavow the violence of the US settler nation-state, its discursive erasures of native peoples and its material relations of dispossession. The struggle for workers' rights and working-class solidarity, she reminds us, involves the fight against capitalism, imperialism, and colonialism for the liberation of all peoples."
—Gary Y. Okihiro, author of Third World Studies: Theorizing Liberation
"Not 'a Nation of Immigrants' challenges to the core one of the most dominant narratives about the United States, as a country founded by and welcoming for immigrants. Dunbar-Ortiz's captivating and accessible historical account forces a reckoning with the various layers of the US imperialist project, from territorial control to economic and political influence at the expense of Black populations, migrants, and Indigenous peoples. This myth-shattering book addresses one of the most pressing challenges of our time by demonstrating the implications of White supremacy across time, across groups and spaces, and the connections between them. If there is hope for transformation, it is through the careful, systematic work that this book exemplifies by examining the roots of racism and structural inequality, and bringing forward alternative narratives and movements. It is a must-read."
—Alexandra Délano, chair and associate professor of global studies, The New School
"Roxanne Dunbar-Ortiz has produced a remarkable, engrossing, and readable reexamination of US history. She unites an analysis of the construction of 'race' and racism, with the construction of settler colonialism, demonstrating both the historical inaccuracy as well as the strategic blind spot created by thinking of the USA as a 'nation of immigrants.' But she does more. Dunbar-Ortiz links the construction of the US as a racial settler state with the growth of US imperialism, decisively demonstrating that global expansion was not accidental nor a matter of policy alone, but the direct outcome of the DNA of the racial settler state."
—Bill Fletcher Jr., trade unionist and author of "They're Bankrupting Us!" And Twenty Other Myths About Unions
"What do the Iroquois or Navajo think of the Statue of Liberty? With characteristic grit and brio, Dunbar-Ortiz demonstrates how profoundly the settler colonial history of the United States and the ideology of 'white nativism' have shaped both immigration policy and immigrant identity."
—Mike Davis, author of Prisoners of the American Dream
"Roxanne Dunbar-Ortiz is a one-woman wrecking ball against the tower of lies erected by generations of official and television historians—people who make a living glorifying slave traders and exterminators of Native Americans."
—Ishmael Reed
"This book is meticulously researched and written with eloquence and passion. With it, Roxanne Dunbar-Ortiz, one of our preeminent radical historians, once again delivers a powerful and provocative indictment of settler colonialism and white nationalism, which were foundational in building this country. It could not be more timely. A must-read history for our troubling present."
—Barbara Ransby, author of Making All Black Lives Matter
"Roxanne Dunbar-Ortiz's incisive book Not 'a Nation of Immigrants' challenges the multicultural myth of US nationalist triumphalism and, instead, powerfully exposes settler colonialism, wars of conquest, and white nationalism as central pillars of immigration. This is a must-read to finally discard unquestioning settler American liberalism and patriotism."
—Harsha Walia, author of Border and Rule: Global Migration, Capitalism, and the Rise of Racist Nationalism
"Historian Roxanne Dunbar-Ortiz rightly argues that the United States is not 'a nation of immigrants' but, more accurately, a nation of colonizers. A must-read."
—Nick Estes (Lakota), author of Our History Is the Future
"We are here because you were there. Roxanne Dunbar-Ortiz methodically unravels the pernicious myth of 'a nation of immigrants,' standing in the way of collective well-being on this continent and beyond."
—Manu Karuka, author of Empire's Tracks: Indigenous Nations, Chinese Workers, and the Transcontinental Railroad
"Once again, Roxanne Dunbar-Ortiz demonstrates why she is one of the foremost historical scholars we have today, and Not 'A Nation of Immigrants' is her most crucial offering yet, opening new insights on this country's sordid history of systemic oppression, exclusion, and erasure. If we look honestly at ourselves, as human beings occupying this specific slice of space and time together, we see that Dunbar-Ortiz is giving us a thoroughly researched and genuine road map for what we can become, if we dare. Vital reading for anyone with two eyes, a brain, and a beating heart."
—Tim Z. Hernandez, author of All They Will Call You
"Simply put, if you read this book and learn its lessons, you will have to change everything you think about the history of the United States and the terms we use to fight for justice. It's your call, but I suggest you put the book in your basket and head for the check-out counter right now."
—Walter Johnson, author of The Broken Heart of America: St. Louis and the Violent History of the United States
"From being deeply shaken and disturbed, to ultimately feeling exhilarated and optimistic by Dunbar-Ortiz's conclusion and 'call to arms,' this is a paradigm-shifting work. Dunbar-Ortiz eviscerates 'the benevolent version of US nationalism' by showing how the United States has always sought to enlist its new arrivals as accomplices to colonial conquest and mass murder. There is a reckoning on every page of this liberating book."
—Patrick Higgins, anti-imperialist historian and activist
"Placing settler colonialism at the center, Dunbar-Ortiz untangles the meaning of immigration in a settler state based on the elimination of the Native population. The book traces a 'self-indigenizing narrative' by which white immigrants laid claim to the country, turning an aggressive white nationalism into the foundation of US identity. European immigrants became American, and became white, Dunbar-Ortiz shows, by adopting the country's settler identity. In a tour de force that takes readers from the American Revolution to nineteenth-century New Mexico to contemporary Appalachia to Hamilton and Donald Trump, she shows how different groups of immigrants assimilated into a settler identity that perpetuates US racism and militarism. The book also makes clear that a superficial 'multicultural' approach to revising US history still fails to tackle the heart of the problem: colonialism. You will never look at US history the same way after reading Not 'A Nation of Immigrants.'"
—Aviva Chomsky, author of Undocumented: How Immigration Became Illegal
Sponsored by the City Lights Foundation