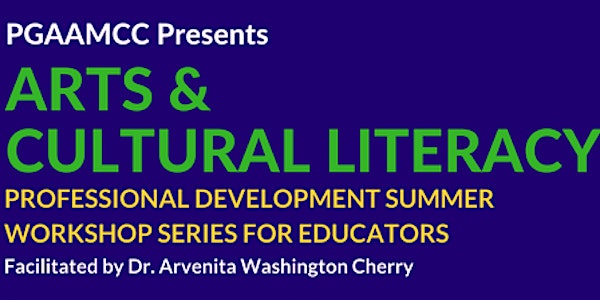 Room to Grow: Correcting and Redirecting Microaggressions in the Classroom and Beyond
When and where
Location
Prince George's African American Museum and Cultural Center 4519 Rhode Island Avenue North Brentwood, MD 20722
Description
Join PGAAMCC for a Professional Development Summer Series designed for educators who would like to increase their knowledge in Cultural Literacy and Anti-Racist Practices. This 3-part series, led by Dr. Arvenita Washington-Cherry, will:
Explore how racism and cultural insensitivity manifest in our everyday lives, our classrooms, popular culture, and online.
Empower participants with the tools to counter problematic narratives; facilitate productive, non-harmful conversations with students; and ensure that classrooms are safe, non-triggering spaces for learning.
Participants will learn the ways that technology can be helpful vs. harmful and how to incorporate culturally literate, anti-racist practices into their work as educators in an ever-changing, digital world.
Registrants may register for one or all of the sessions; they will serve as stand-alone workshops as well as part of a cohesive series that addresses different facets of cultural competency.
You are registering for:
Room to Grow: Correcting and Redirecting Microaggressions in the Classroom and Beyond
Monday, August 13, 2018
10am-2pm




To register for:
Creating Safe Spaces: Safeguarding your Classroom Against the Replication of Trauma
Monday, July 2, 2018
10am-2pm
pdcreatingsafespaces.eventbrite.com


To register for:
Trigger Warning: The Intersection of Cultural Competence and Digital Literacy in the Classroom
Monday, July 23, 2018
10am-2pm
pdculturaldigitalliteracy.eventbrite.com


*Note: a minimum of 15 attendees must be pre-registered for each session to take place. In the event that registration does not meet this minimum, attendees will be refunded their ticket cost in full or may also request the ticket cost to be transferred and applied to a different session.