Role of Science and Technology as a Catalyst for Social Change
Join NAAAP, CAPAW, OCA, SASE, and APIAScholars as we learn from Forbes' 30 Under 30 Scientists and Time's Kid of the Year, Gitanjali Rao.
About this event
Gitanjali Rao was recognized as America's Top Young Scientist and received an EPA Presidential award for inventing her device "Tethys"—an early lead detection tool. Gitanjali is also the inventor of "Epione"—a device for early diagnosis of prescription opioid addiction using genetic engineering, and "Kindly"—an anti-cyberbullying service using AI and Natural Language processing.
She was honored as Forbes "30 Under 30 in Science" in 2019 and TIME's "Top Young Innovator"  and "TIME Kid of the Year" for her innovations and STEM workshops she conducts globally, which has inspired over 40,000 students in the last two years across four continents. In her sessions, she shares her own process of innovation that can be used by students all over the world. She is an experienced TED speaker and often presents in global and corporate forums on innovation and the importance of STEM.
Gitanjali is the author of the book "Young Innovator's Guide to STEM", which guides students, educators, or teachers with a prescribed 5 step innovation process.
Co-sponsored by NAAAP, Center for Asian Pacific American Women, OCANational, Society of Asian Scientists and Engineers, and APIA Scholars.
IMPORTANT NOTE: The Zoom link for joining the session will be sent to all registered individuals no later than 3 days before the event, May 24.
Organizer of Role of Science and Technology as a Catalyst for Social Change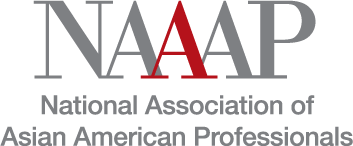 The National Association of Asian American Professionals is a non-profit organization that cultivates and empowers Asian & Pacific Islander leaders through professional development, community service, and networking.
As the largest and fastest growing API professionals association, NAAAP continues to provide its members with the tools and resources to further career advancements and to empower Asians and Pacific Islanders to become great leaders as well as valuable employees.
In order to achieve our goals, NAAAP offers a diverse range of professional development programs on the local and national level, engages its membership in community service and organizes professional networking events. These may range from a series of panels, workshops and seminars, and web-based sessions and networking.
Learn more about NAAAP at: http://www.naaap.org/