Description
Role Models ist eine Reihe von monatlichen Events und wöchentlichen Podcasts, bei der wir die besonderen Geschichten und Erfahrungen von inspirierenden Frauen einfangen und teilen. 2015 von Isabelle Sonnenfeld und David Noël gegründet, haben über 100 erfolgreiche Frauen bereits ihre ganz persönliche Geschichte zu ihrem Werdegang, den Erfahrungen auf dem Weg und der Rolle von Vorbildern interviewt.
Role Models Gründer*in Isa und David werden in Edition #42 ein Gespräch (auf Deutsch) mit Lea-Sophie Cramer für den Role Models Podcast aufzeichnen.
Lea-Sophie Cramer (*1987) ist Gründerin und Gesellschafterin von AMORELIE, der Marke für das Liebesleben. Ende 2019 tritt sie als CEO zur Seite und wechselt in den Beirat von AMORELIE. Für 2020 hat Lea-Sophie Cramer ihr "Year of Learning" geplant, in dem sie nach neuem Input und Inspiration sucht und sich Zeit für neue Fähigkeiten, Erfahrungen und Projekte nimmt.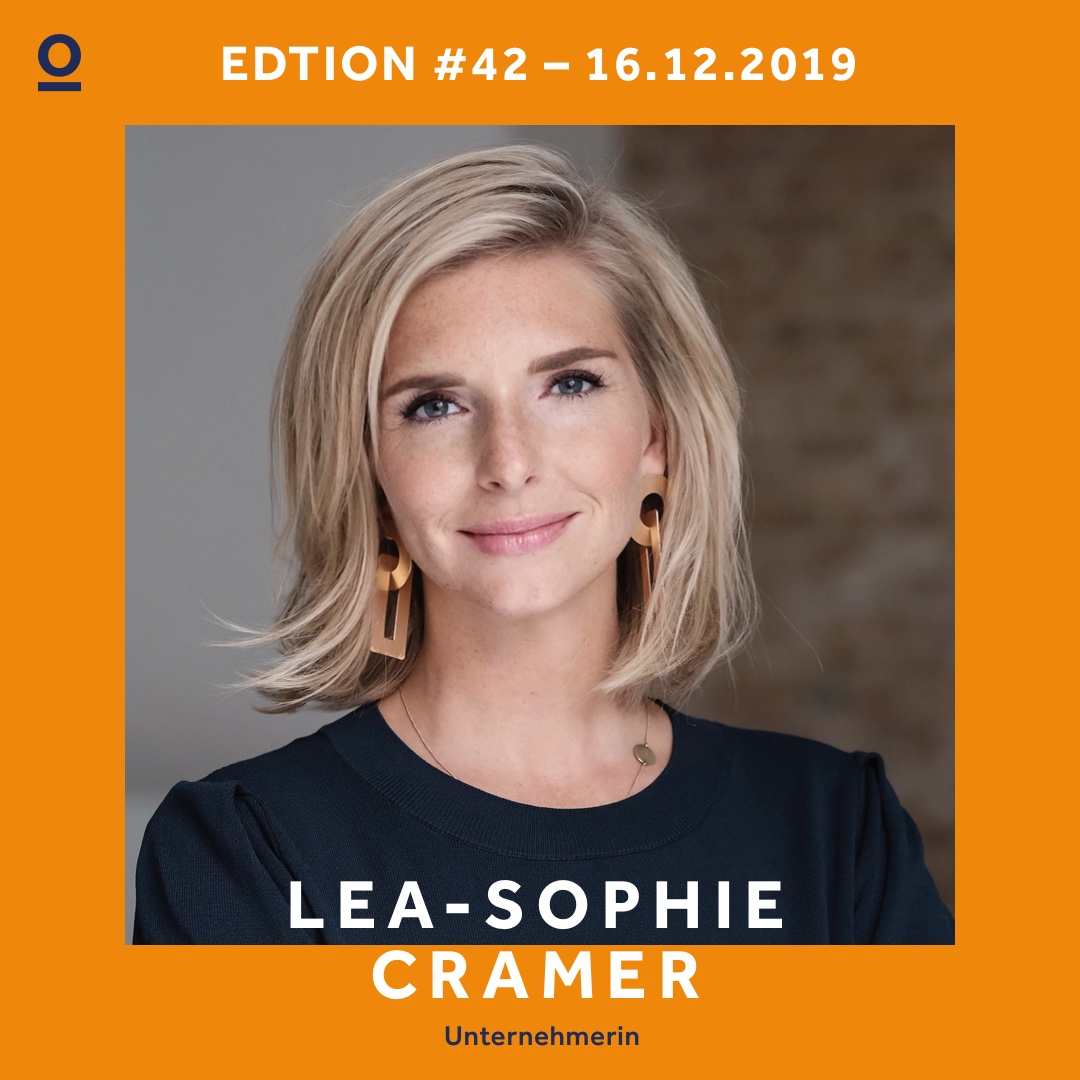 Die Berlinerin und zweifache Mutter hat AMORELIE 2013 mit Sebastian Pollok gegründet - getrieben von der Vision, Produkte für das Liebesleben zu enttabuisieren und stattdessen als großartigen Bestandteil eines offenen und modernen Lebensstils zu integrieren. Als eine der führenden Marken für das Liebesleben hat AMORELIE eine gesamte Industrie in die Mitte der Gesellschaft gerückt und dazu beigetragen, dass der Umgang mit Themen wie Sinnlichkeit und Sexualität selbstverständlich geworden ist. AMORELIE beschäftigt heute 140 Mitarbeiter im Herzen Berlins und ist in 15 Märkten aktiv.
Neben AMORELIE engagiert sich Lea in der Gründerszene, indem sie in Start-Ups investiert und mit ihrer Expertise unterstützt. Dafür gründete sie 2014 zusammen mit anderen Business Angels die Starstrike Ventures GmbH, um ihre Gründungserfahrung weiterzugeben. Als Verwaltungsrätin bei Conrad Electronics verbindet sie seit 2014 die Expertise der New- and Old-Economy. Mit ihrer Initiative #growdiverseboards setzt sie sich für mehr Diversität in Aufsichtsräten ein.
Lea-Sophie Cramer wurde vom Bundeswirtschaftsministerium als "Vorbild-Unternehmerin" ausgezeichnet und in die Capital "40 unter 40" und Forbes "30 unter 30" als führende Jung-Unternehmerin in Europa gewählt.
Mehr über Lea-Sophie Cramer:
Instagram: https://www.instagram.com/leasophie123

Wir danken unseren Partnern She's Mercedes und Google für die Unterstützung von Role Models. Vielen Dank!
Melde dich für den She's Mercedes Newsletter an, um Geschichten von starken Frauen zu erhalten, die inspirieren. Folgt She's Mercedes auf Facebook, Instagram und Pinterest.
Location Sponsor: Google Berlin
Programm:
18:30 - Einlass
19:00 - Fireside Chat und Aufnahme des Role Models Podcasts mit Lea-Sophie Cramer
20:15 - Q&A
21:00 - Ende
Mehr Informationen zu Role Models:
Organizer of Role Models – Edition #42: Lea-Sophie Cramer