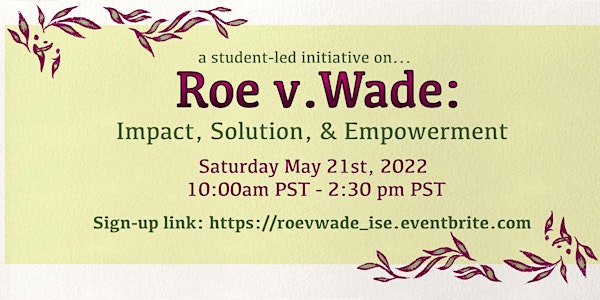 Roe v Wade: Impact, Solution, and Empowerment
An opportunity for activists to unite and discuss what is at stake for Roe v. Wade, as well as its implications within reproductive justice
About this event
This event is a Student-led initiative, open to all community members who are passionate about reproductive justice. This event is an opportunity for activists, organizations, and the greater community to come together and discuss what is at stake for Roe v Wade, and its place within the Reproductive justice movement. This event is sponsored by the UW Alene Moris Women's Center, as well as the Center for Studies in Demography & Ecology at the University of Washington.
We are excited to introduce our guest Keynote speaker, Débora Oliveira-Couch, from Surge Reproductive Justice.
Please join this event, to attend workshops from organizations and speakers from a variety of organizations:
Senior Attourney Kim Clark from Legal Voice
Surge Reproductive Justice
Pro-Choice Washington
More information about the workshops and speakers will be updated shortly.
If you have any questions, please contact us at wcvpp@uw.edu