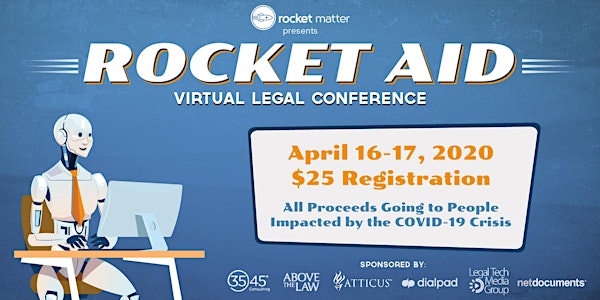 Rocket Aid: A Charitable Virtual Conference for Lawyers
Description
Learn how to thrive in a remote environment, network with other lawyers, and help those affected by COVID-19.
Rocket Matter's highly interactive and engaging live conference will feature some of the top thought leaders in legal technology and business. At Rocket Aid, you can attend all the sessions you want, or you can also spend all day enjoying live, video networking with lawyers from all over the country.
All registration fees will be donated directly to United Way's Covid-19 Fund as well as Probono.net and Feeding America, a charity network of more than 200 food banks.
The content will cover cutting-edge topics on running an online practice, ways to generate more revenue, and embracing modern tools that will help law firms adapt and thrive in a changing world. Topics will include:
Covid-19 and Law Firm Operations: What are We Learning?
Remote Lawyering Overview: The Tools You Need to Work from Home
How to Increase Profits and Sanity by Running a Lean Law Firm
When Clients Can't Access Their Checkbook: Getting Up to Speed with Electronic Payments
Media Roundtable: What Leading Journalists Suggest About Messaging and Pitches during Coronavirus
A 12-Month Plan for Going Paperless
Cybersecurity for the Remote and Mobile Lawyer
Panel Discussion: Remote Technology Do's and Don'ts
Panel Discussion: Staying Sane While Working Remote
Mini-session: An Economic Outlook for Lawyers During and After COVID
Mini-session: Setting Up an Ergonomic Home Office
Sponsors of Rocket Aid include 3545 Consulting, Above the Law, Atticus, Dialpad, Legal Tech Media Group, and NetDocuments, who are helping with the content, promotion, and execution of the virtual conference.