Event Information
Location
Slate Studio
2517 Penn Avenue
Pittsburgh, PA 15222
Refund policy
Contact the organizer to request a refund.
Eventbrite's fee is nonrefundable.
The Pittsburgh Robotics Network (PRN) invites you to attend our Live Speaker Event.
About this event
Robotics Industry Insights: Robotics in AgTech
In-Person Speaker Event
Hosted By The Pittsburgh Robotics Network
Thursday, February 10th, 12:00PM EST
Slate Studios, 2517 Penn Avenue (Strip District)
11:30am - Doors Open
12:00pm - Panel Discussion
1:00pm - Networking, Grab & Go Lunch
1:30pm - Conclusion
Pittsburgh is the Robotics Capital of the World and the birthplace of autonomous robotics. Our region's robotics companies are trailblazing a new generation of autonomous products, solutions and services to solve real-world problems across all industries.
This in-person panel discussion will feature prominent robotics business leaders in the AgTech industry. These executive leaders will share their perspectives on industry challenges, commercialization strategies, customer success approaches, state of the industry, what 'not' to do, and lessons learned. There will be time at the end of the panel discussion to network with the speakers and other attendees to meet each other, ask questions, learn more and strengthen our community connections. We hope you will join us as this will be a valuable and exciting event!
Meet Our Panelists

Co-founder and CTO/COO
Fifth Season co-founder and CTO/COO Brac Webb is dedicated to solving some of the world's most pressing problems, notably using high-tech agriculture. At Fifth Season, he built and is responsible for optimizing a unique robotics and AI system that's key to a viable business model and Fifth Season's mission. Since Fifth Season's inception, Brac has been instrumental in growing the company by leading the development and operations group, which includes expertise in food science, horticulture science, software and hardware engineering, supply chain and operations of Fifth Season's first 60,000 sq. ft. vertical farm in Pittsburgh's Braddock neighborhood. The data and success from this original farming operation have helped the team create a fully-automated and replicable system that can exist in any urban area. Brac's approach to sustainable and efficient systems also gives him a knack for architecting company structure to set the foundation for smart growth. He received his undergraduate degree and master's degree from Virginia Tech in electrical engineering.
Fifth Season is pioneering a new era of truly fresh food. We aim to decentralize the fresh food supply chain, produce a lot of fresh food more efficiently in smaller spaces, and meet cravings for just-harvested, regionally-grown ingredients and inspired meals. Fifth Season's robotics system is automated from end-to-end and run by proprietary software, which leads to superior unit economics, product depth, and scalability. We've employed rigorous software principles to develop our processes and systems, and in doing so solved the industry's most technical challenges including labor costs, density (lbs/fixed cost), and energy tracking.

Co-founder & CEO
Brandon Contino is the co-founder and CEO of Four Growers. Four Growers is a YCombinator S18 company that has built harvesting robots for greenhouse farms. If you eat cherry and grape tomatoes, you may have already consumed produce harvested by Four Growers. Prior to Four Growers, Brandon has built autonomous drones, developed his own algorithm for optimizing solar panel power production, and built a novel IoT water quality sensor to improve water monitoring resolution. Brandon is passionate about using technology to help improve the human condition.
Four Growers is developing harvesting robots for greenhouses, starting with the harvesting of tomatoes. There is a massive problem in our food supply. Farms are experiencing labor shortages. This means that farms are either paying 3x the normal rate for harvesters, having their tomatoes left unharvested and rotting on the vine, or completely shutting down their operations. Four Growers is solving this problem by creating a solution that provides both automated harvesting and plant analytics. Because of the value we provide, we have filled our paid beta with a customer who will outfit their entire farm with our technology once we reach set metrics.

Mark is CEO of Bloomfield, AI-driven AgTech company. He was previously cofounder and CEO RoadBotics, a venture-backed an AI platform used for infrastructure assessment. He was cofounder and Chairman of kWantix, a quant energy hedge fund, cofounder and CEO of kWantera, a GE Ventures-backed energy trading company and CEO of Think Through Learning, a venture-backed online tutoring company and US Managing Director of ANGLE Technology, PLC, a UK-based venture capital firm and consultancy.
Earlier in his career, Mark was the Director of Government Relations for Texas Instruments and held policy positions as a Senior Policy Analyst in The White House Office of Science and Technology Policy in the Administration of George H. W. Bush. He was also staff assistant to late U.S. Senator John Heinz was a management consultant with Booz Allen.
Mark is an Adviser to MIR Ventures in Palo Alto and an Executive Director and Adviser to Cascadia Capital in Seattle. He also has dual appointment as an Adjunct Professor at Carnegie Mellon University. Mark holds a PhD in Public Policy the Schar School of Policy and Government at George Mason University. Mark also serves on the board of the Regional Industrial Development Corporation of Southwestern Pennsylvania as well as Allies for Children.
Plants need constant attention, which is why growers inspect their crops to ensurepredictable, well-timed harvests as well as protect them from pests and disease. The main inspection methods now available to growers, whether for row crops like wheat, corn or rice, or specialty crops, such as grapes, apples and flowers, are drones andhuman visual inspection. Yet, both have important limitations. Drones cannot see below the canopy, which is problematic for specialty crops, where the fruits, leaves, shoots, etc. must be observed directly. Human inspection, on the other hand, is not scalable, subjective and often unreliable.
Bloomfield cost-effectively overcomes the limitations of both methods and provides direct line-of-site pixel-level inspection using RGB imaging and AI to automatically assess the health and performance of each and every plant in a grow, regardless of plant type, location or number. The result is more predictable and higher yields. Specialty crop growers across North and South America as well as the EU use Bloomfield's Flash (licensed from and developed by Carnegie Mellon University) cameras which are easily mounted on any type of vehicle available to that grower to inspect any type of crop as often and as much as they need. The result is early and precise yield prediction, well-timed harvest and early detection of and protection from infestation and disease. In a sense, every single plant is monitored from seed through harvest, creating an unprecedented level of transparency in the life of every grower's plants.
Bloomfield was spun out of the Robotics Institute at Carnegie Mellon in 2019 and iscurrently inspecting some of the largest and most prestigious wine and table grapesacross 17 vineyards in the US, France and Italy, along with a blueberry grow in Peru.The company has several partnerships with some of the worlds largest fruit vegetable producers and marketers. In addition, it has an active development collaboration with Kubota, one of the world's largest farm equipment providers. Further, Bloomfield has a grant from NASA to develop a version of its cameras that will ultimately assess plants currently growing in the International Space Station.
EVENT FAQs
COVID-19 Guidelines
All attendees will need to show proof of vaccination via mobile device image or vaccine card upon arrival. (Final dose of Pfizer, Moderna or J&J must have been received at least 14 days prior to event date.) Entry to the event will not be permitted for those who do not provide the documentation as required above.
All attendees will be required to wear a mask for the safety of others within our community.
Parking
Limited street parking is also available nearby in marked spaces (avoid any restricted, unmarked or alley parking as you will be towed.)
Refreshments
Complimentary grab and go lunch will be provided with your ticket.
Contact Information
For registration, ticketing and general event logistics questions: Bradley Jox, Events Manager, brad@robopgh.org
For member, partner or sponsorship questions: Jennifer Apicella, Program Director, jenn@robopgh.org
SPECIAL THANKS TO OUR LEADING SPONSORS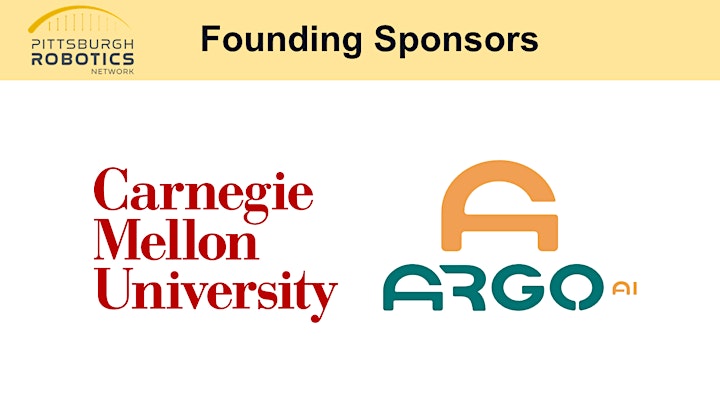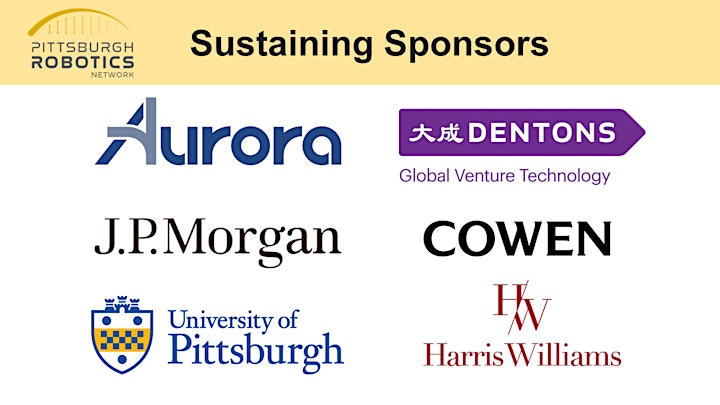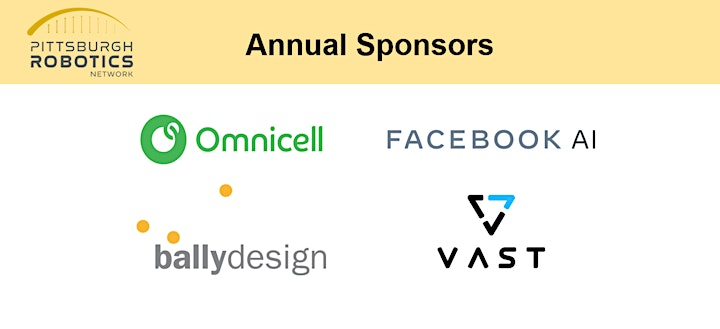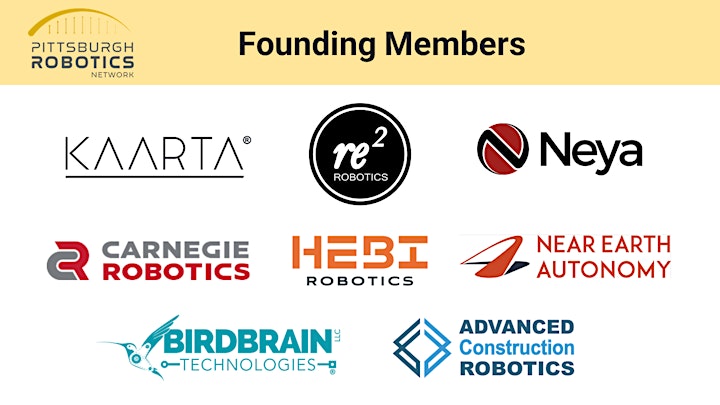 Date and time
Location
Slate Studio
2517 Penn Avenue
Pittsburgh, PA 15222
Refund policy
Contact the organizer to request a refund.
Eventbrite's fee is nonrefundable.