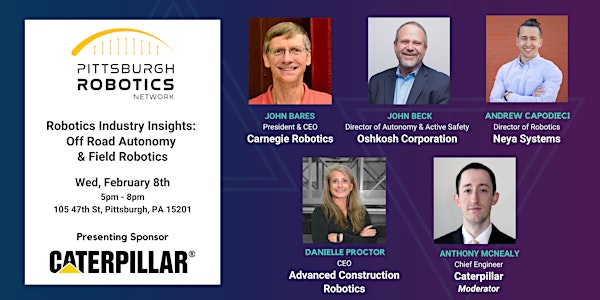 Robotics Industry Insights: Off Road Autonomy & Field Robotics
The Pittsburgh Robotics Network invites you to attend this insightful panel discussion and networking event.
When and where
Location
Caterpillar Pittsburgh Automation Center 105 47th Street Pittsburgh, PA 15201
Refund Policy
Contact the organizer to request a refund.
Eventbrite's fee is nonrefundable.
About this event
Robotics Industry Insights: Off Road Autonomy & Field Robotics
In-Person Speaker Event
Hosted By The Pittsburgh Robotics Network
Wednesday, February 8, 2023
Caterpillar Pittsburgh Automation Center (Lawrenceville)
AGENDA
5:00pm - Doors Open, Networking
5:30pm - Panel Discussion
6:30pm - Networking Reception
8pm - Conclusion
Pittsburgh is the Robotics Capital of the World and the birthplace of autonomous robotics. Our region's robotics companies are trailblazing a new generation of autonomous products, solutions and services to solve real-world problems across all industries. This in-person panel discussion will feature prominent robotics business leaders for off-road autonomy and field robotics solutions.
Join us for a thought-provoking industry panel discussion on the current challenges, opportunities, and future outlook for field robotics and off-road autonomy. Our panel of experts will provide valuable insights on the state of the industry, commercialization strategies, and customer success approaches. Attendees will gain a deeper understanding of both the business and technical challenges faced by companies in these sectors, as well as the strategies and approaches they are using to overcome them and bring new products to market. This event will also provide a platform for attendees to network with industry professionals and learn from their experiences. Don't miss this opportunity to stay informed and stay ahead of the curve in the rapidly evolving areas of off-road autonomy and field robotics.
There will be time at the end of the panel discussion to network with the speakers and other attendees to ask questions, learn more and strengthen our community connections. We hope you will join us as this will be a valuable and exciting event!
Featured Panelists:
John Bares, President and CEO, Carnegie Robotics
John Beck, Director of Autonomy & Active Safety, Oshkosh Corporation
Andrew Capodieci, Director of Robotics, Neya Systems
Danielle Proctor, Chief Executive Officer, Advanced Construction Robotics
Moderator:
Anthony McNealy, Chief Engineer, Caterpillar, Inc
THANK YOU TO OUR EVENT SPONSORS

Event Presented By
With 2021 sales and revenues of $51.0 billion, Caterpillar Inc. is the world's leading manufacturer of construction and mining equipment, off-highway diesel and natural gas engines, industrial gas turbines and diesel-electric locomotives. For nearly 100 years, they have been helping customers build a better, more sustainable world and are committed and contributing to a reduced-carbon future. Their innovative products and services, backed by their global dealer network, provide exceptional value that helps customers succeed. Caterpillar does business on every continent, principally operating through three primary segments – Construction Industries, Resource Industries and Energy & Transportation – and providing financing and related services through their Financial Products segment.
Caterpillar is a leader in innovative tech, robotics, and autonomy, and has been for over 30 years. They have cutting edge technology running on autonomous equipment today – at 18 sites on 3 continents – making real change in the world.
To learn more, please visit https://www.caterpillar.com

Neya Systems, a leader in advanced off-road autonomy and high-level multi-robot mission planning, provides innovative solutions for unmanned ground, aerial, and surface vehicles. As a full-stack autonomy developer, they offer low-level control, perception, safeguarded teleoperation, full autonomy, and multi-agent mission planning, which allow their customers to autonomously control and navigate vehicles through challenging terrain, limited visibility, and GPS-denied environments.
By leveraging a robust combination of AI, machine learning, and other digital technologies, Neya provides innovative solutions to the most challenging problems through unique mechanisms that dramatically reduce integration costs and complexity while improving navigation accuracy.
To learn more, please visit https://neyarobotics.com

Black Ice is a management consultancy that works with early- to mid-stage companies as fractional team members. The principals have held CEO, CFO, COO and CMO positions in previous companies before forming Black Ice in 2018. Since its inception, Black Ice has worked with multiple companies in Pittsburgh's tech sector. Our services include business planning, financing strategy, financial models, all aspects of funding prep and support, marketing strategy, channel strategy and marketing executions. Their firm has worked in a variety of technology domains including robotics, devops, life sciences, MSP / MSSP, commercial drone data collection and data services, manufacturing software and energy services.
To learn more, please visit https://blackicestrategies.com

President and CEO, Carnegie Robotics
John Bares received his Ph.D. in Civil Engineering from Carnegie Mellon University (CMU) in 1991 and holds multiple U.S. patents. He has received honors including the 2010 National Defense Industry Association Ground Robotics Technology Innovator of the Year award.
Bares worked for Mitsubishi Heavy Industries in Japan prior to joining the faculty of CMU in 1994. At CMU, he led the Dante II program that developed a rappelling robot to explore the inner crater of an Alaskan volcano. In 1997 he assumed the Directorship of CMU's National Robotics Engineering Center (NREC). Bares was also instrumental in creating NREC's "Robotics Academy" which educates K-12 students and teachers.
In 2010 Bares founded Carnegie Robotics LLC (CRL). In 2015 Bares stepped aside from CRL to be the founding Director of Uber's Advanced Technologies Center. 20 months later, Uber launched its self-driving passenger service in Pittsburgh, and Bares returned to the helm of CRL.

Director of Autonomy & Active Safety, Oshkosh Corporation
John Beck is the director of autonomy & active safety within Global Technology, Advanced Products Engineering at Oshkosh Corporation. He has responsibility for the company's autonomous vehicle and advanced driver assistance systems developments and technology partners.
Beck has led Oshkosh's efforts to develop active safety, advanced driver assistance systems and autonomous solutions including its TerraMax unmanned ground vehicle system, working with academic and industry technology partners to support government organizations such as the Defense Advanced Research Projects Agency (DARPA), Naval Surface Warfare Center, Office of Naval Research, Robotics Technology Consortium, National Advanced Mobility Consortium, Joint Ground Robotics Enterprise, the U.S. Marine Corps Warfighter Lab, the U.S. Army Combat Capabilities Development Command Ground Vehicle Systems Center (CCDC GVSC) and the US Army Product Manager Heavy Tactical Vehicles.

Director of Robotics, Neya Systems
Hailing from CMU's Robotic Institute, Andrew has over a decade of experience researching the unique technical and practical challenges in building reliable and effective off-road autonomous systems.
Throughout his career, Andrew has performed and managed applied research in all areas of the robotics stack, including kinodynamically-feasible path planning in congested spaces, traversability estimation in off-road terrain, vegetation filtering, and negative obstacle detection.
In his current role at Neya Systems, Andrew focuses on transitioning the company's state-of-the-art autonomy research into fieldable, robust capabilities that deliver value to both the warfighter and commercial off-road spaces. Andrew has led numerous multi-million-dollar programs at Neya, including the company's work on GVSC's Combat Vehicle Robotics program and programs to develop autonomous construction and mining vehicles for the commercial sector.

Chief Executive Officer, Advanced Construction Robotics
Danielle Proctor joined the Advanced Construction Robotics, Inc. team in 2020 as Director of Business Development and was named Chief Executive Officer in 2021, bringing over 25 years of technology, construction, new product development, and operational leadership experience. Danielle directs business strategy and operations, making ACR's robots a commercial reality in the field.
Danielle got her start at the beginning of the software boom, working in product management and business development at Management Science Associates and FreeMarkets. At the age of 28, she founded Amelie Construction & Supply, a construction firm providing structural rehabilitation, erection, and foundation services where she served as President & CEO. Danielle continued to pursue her passion of being involved with start-ups by forming several smaller ventures as well as providing consulting and private funding to companies during their critical formation stages until finding the perfect fit of launching new products into the construction industry with ACR.
Danielle obtained a B.S. in Industrial Management from Carnegie Mellon University.

Moderator
Chief Engineer, Caterpillar
Anthony McNealy is the Chief Engineer for Automation & Autonomy within the Integrated Component & Solutions Division of Caterpillar. Anthony is accountable over a global division of highly talented team members delivering state of the art autonomous and safety products in the off-road heavy mobile industrial equipment market supporting both Mining and Construction Industries. His role includes envisioning and executing an enterprise strategy to greatly simplify and enable a low-cost modular autonomy platform to achieve service and support ecosystem and customer experience expectations. Prior to this role, Anthony introduced the most technologically advanced Next Generation Hydraulic (NGH) Excavator Platform to production with significant commercial success, including release of evolving technology feature sets on a regular basis. Two key technologies that Anthony worked to introduce onto the Excavator Platform include standardization of low-cost electrohydraulic implements and low-cost inertial measurement units. Anthony holds a Computer Engineering degree from Rose-Hulman Institute of Technology.
EVENT FAQs
Parking
There is ample parking available on-site to all attendees in the rear parking lot behind the Tech Forge building (free). Entry to this lot is located off of 38th Street, or by driving around to the back of the Tech Forge office building (behind the CAT office building.)
Onsite Arrival
This event is located right on 'Robotics Row' at the Caterpillar Pittsburgh Automation Center, 105 47th St, Pittsburgh, PA 15201 in the Tech Forge office complex in Lawrenceville. Upon arrival, follow signs to enter the building using the side entrance. Register at the event check-in desk, and receive your printed name badge.
Refreshments
Complimentary beer, wine, drinks, and food will be provided.
Dress Code
There is no required dress code for this event (smart casual or business casual is recommended.)
Contact Information
For questions, please reach out to events@robopgh.org
Photo & Video Disclaimer
Video footage and/or photos will be taken during this event, which may or may not include your recognizable image. Please be advised, by registering for this event, you permit the Pittsburgh Robotics Network (PRN) to use the images in print, digital or web-based formats in publications or other media material produced, used or contracted by the PRN for promotional and/or archival purposes.
SPECIAL THANKS TO OUR PREMIER PARTNERS

Pittsburgh robotics companies are leading the future of robotics - not just locally, but globally. Partnered with 100+ regional robotics organizations, the PRN brings these organizations together for events, networking and other initiatives. The PRN also supports these organizations by bringing well-deserved visibility to their work - visibility that is critical to the success both of these organizations and our region as a whole.
Sponsorship can offer your business significant benefits. Contact us today!