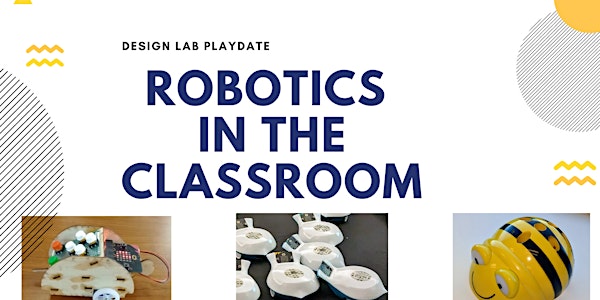 Robotics in the Classroom
Come play with robots and learn how you can to use them to bring engaging and impactful activities your classroom!
Location
UVA School of Education and Human Development (Ridley 300) 405 Emmet Street South Charlottesville, VA 22904
About this event
Virginia Standards of Learning call for computer science to be integrated within content areas for K-8 grades. Come and try out robotics with engaging and impactful activities to help you bring CS into your classroom! We will provide food, robots, and experts to help you on your robotics journey.
We will run this session twice:
10:45am-12:15pm
6:00pm-7:30pm
The Design Lab playdates are designed for K-12 pre- and in-service educators and other adults who work with youth during and after school. They are an opportunity to get hands-on with the wide variety of resources available from the UVA School of Education Design Lab in an environment where trying things out and learning from our mistakes is encouraged.