Description
Join Capital Factory at DreamWeek for special interactive panel discussions & breakouts! In line with DreamWeek's mission- to celebrate humanity by creating environments for civil and civic engagement to embrace ideas and dreams for the common good- we're focusing on highlighting the journeys of underrepresented entrepreneurs.

As part of our Texas Startup Manifesto, we're chartering entrepreneurs, investors, mentors and corporate innovators from across Houston, Dallas, and Austin on a roadshow to network with each other, participate in mentor speed dating sessions and attend panel discussions in the Alamo City.


Important note: All guests will need to bring a form of identification.
The Accenture San Antonio Intelligent Operations Center is an ITAR compliant facility and contains confidential client information. As part of their standard security process, they require all guests to the facility to show a valid form of government issued identification as well as sign a Non-Disclosure Agreement when visiting their office.
RSVP'S FOR THE EVENT HAVE CLOSED. IN ORDER TO ATTEND YOU MUST HAVE AN RSVP.
WHAT TO EXPECT
12:00 PM - 1:00PM - Complimentary Lunch; Accenture & Capital Factory Welcome Remarks
1:00 PM - 3:00 PM - Epic Office Hours (Startups by Application Only)
1:00 PM - 3:00 PM - Design Thinking Workshop led by Accenture with Jodi Robinson (Accenture) and Landon Jenkins (Accenture)

A 2-hour ideation and interactive session for varied professionals in a collaborative environment to solve challenges in creating more Diversity and Inclusion advocation within the community. Limited Capacity
3:00 PM - 4:00 PM - Elevating Underrepresented Voices in Tech & Innovation Panel + Q&A with Cassandra Alford (Accenture Federal Services), Cat Dizon (Active Capital), Eduardo Bravo (CityFlag), Danielle Gunter (SA YES), moderated by Romanita Matta-Barrera (San Antonio Works)
Learn about the journeys of a local investor, founder, corporate professional and community leader as they discuss the importance of working with and providing opportunities to underrepresented voices in tech and innovation.
4:00 PM - 4:45 PM - Networking, Coworking, Professional Headshots, & Light Snacks
WHAT ARE EPIC OFFICE HOURS?
A series of lightning-speed mentoring sessions with serial entrepreneurs, corporate executives, and investors. Connect with your local community and receive valuable feedback on your venture! Submit your application here.

A few days before the event, you will receive confirmation if you have been accepted to participate.

SPEAKERS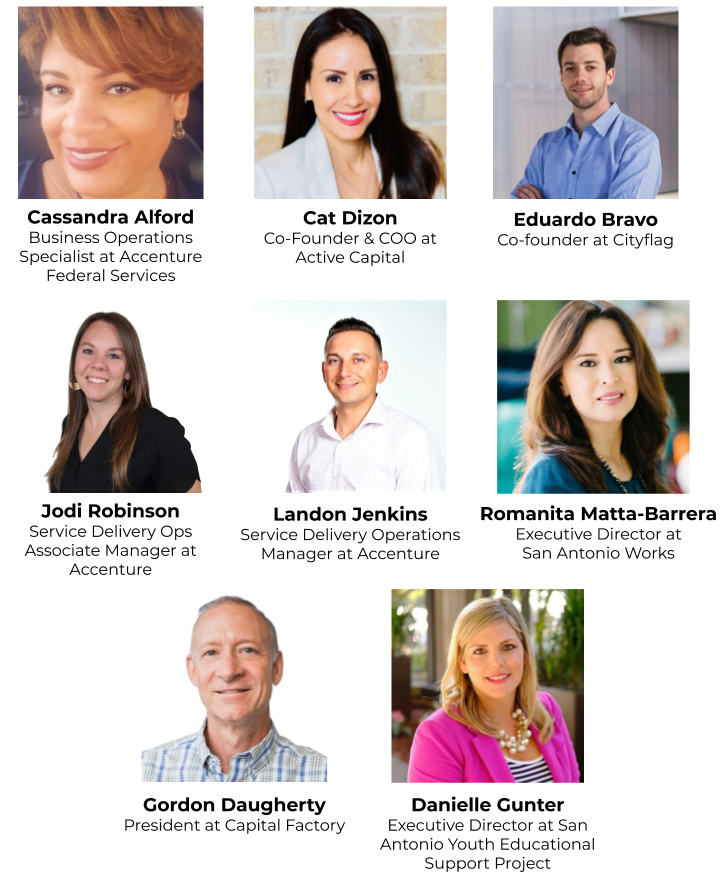 SPECIAL THANKS TO...