Roadmap To Recovery – Navigating Behavioral Health Resources open house
Did you know we have more than a DOZEN organizations here in Cobb County ready to help anyone dealing with Addiction or Mental Health
About this event
The Marietta Police Department would like to formally invite you to attend a ROADMAP TO RECOVERY community gathering Tuesday night September 10, 2019 from 6:00 PM until 9:00 PM. The meeting will take place in the seminar room at the Marietta High School.
As your local law enforcement, we are often asked who people in crisis can turn to for help. Did you know there are more than a dozen organizations right here in Cobb County that specialize in topics including but not limited to: Addiction, Recovery, Intervention and Mental Health? Several of these services are free or have sliding payment scales based on individual insurance or ability to pay. Some organizations are geared toward the individual in crisis, others include support groups for families of someone in crisis. You never know when you may need this information. We encourage everyone to attend and help spread the word about these amazing organizations right here in our own community. Representatives from more than (15) Cobb County organizations will be present to speak one-on-one with you to explain their services and answer questions.
The Cobb Overdose Prevention Effort (C.O.P.E.) House (custom trailer) will be onsite for tours. Each tour will be hosted by someone in recovery who will teach you warning signs that someone you know may be struggling with addiction. The information you learn could save someone's life.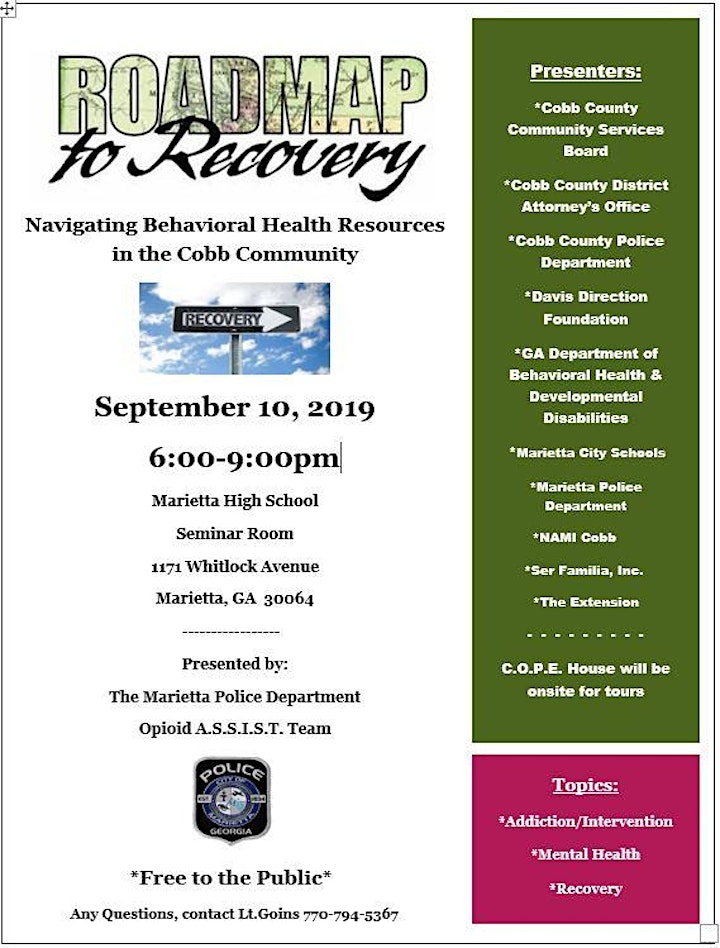 Organizer of Roadmap To Recovery – Navigating Behavioral Health Resources open house