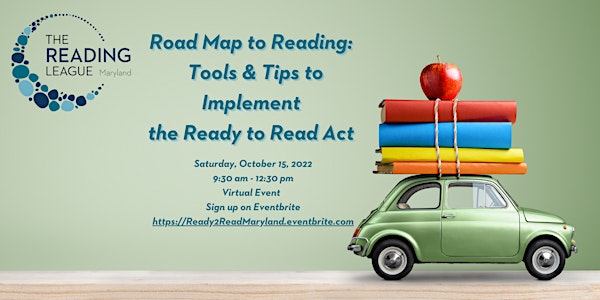 Road Map to Reading: Tools & Tips to Implement the Ready to Read Act
Road Map to Reading: Tools & Tips to Implement the Ready to Read Act (In-Person Event at UMD-College Park
About this event
This hybrid event has been changed and is now a virtual-only event.
To register for this virtual event, please sign up using this Virtual Eventbrite link. https://Ready2ReadMaryland.eventbrite.com
The Reading League Board of Directors was looking forward to the opportunity to meet you in person. Given the low registration numbers for the in-person portion of this event, however, the Board felt the information would be better conveyed to the entire audience in an online format.
Thank you for your flexibility and your support of this event. We hope it will be beneficial to you and your students.
Maryland's Ready to Read Act helps teachers identify at risk students early, so that effective reading instruction can be provided to prevent reading difficulty. The Ready to Read Act can also tell a school system if the core reading instruction needs to be tweaked or changed.
Topics include:
Learning which reading skill each screening measure evaluates and understanding what the results tell us about our students' foundational reading skills.
Analyzing individual and grade-level screening data to inform instructional and curricular decisions for students and classes.
Understanding the requirements of the Ready to Read law and regulations so your school and districts are in compliance.
Who Should Attend:
K-3 teachers, reading specialists, literacy coaches, school and central office administrators
Virtual Event:
This event will be a virtual workshop via Zoom
Presenters:
Kelli Cummings, Ph.D. Associate Professor of Special Education, University of Maryland, College Park
Dr. Cummings' research interests lie at the intersection of data-based decision making and intensive intervention planning. She conducts studies to evaluate and improve the reliability, validity, and accuracy of assessment tools that are used to evaluate student progress.
Gail Green, M.Ed. Former English Language Arts Coordinator, MSDE
Gail was the English Language Arts Coordinator at the Maryland State Department of Education. As the ELA Coordinator, Gail supervised the roll out of The Ready to Read Act in Maryland. Before working at MSDE, Gail worked for a local school system as a teacher, reading specialist and administrator.
Karleen Spitulnik Board member of The Reading League Maryland
Karleen worked with educators and advocates for two years to pass The Ready to Read Act. Since that time, she has been working to help implement the law so more children become proficient readers.
Event Sponsor:
The Reading League Maryland would like to thank Dean Kimberly Griffin and the University of Maryland's College of Education for supporting this event by providing an in-person location as well as video capabilities.
The Reading League Maryland:
We are continuing to grow. Please join our private Facebook group