About this Event
Friday, November 15th, we will be opening our doors at our regular time of 12:00 pm, 'till late. Enjoy live music, eats, cocktails & good times along Fort Lauderdale's New River! During this special happy hour launch event, enjoy $1 Wharf lagers, & $3 wine by the glass, from 4-7pm.
Happy Hour Specials (from 4:00 pm - 7:00 pm):
- $1 Wharf lagers
- $3 wine by the glass
------
Enjoy Live Music, Eats, Cocktails, & Good Times!
EATS BY: Even Keel, Hou Mei, Lunchroom, Mojo Donuts, & The Piefather
DRESS CODE: Proper Dress Attire Required. Venue reserves the right to deny entry at doorman's discretion.
DOORS OPEN: 12:00 pm, till late
The Wharf is a 21+ venue. Children accompanied by parents, & leashed dogs welcome before 6pm. Walk-ups welcome!
RSVP, & make a note. Don't miss the boat. "Sea" you Friday... it's Happy Hour!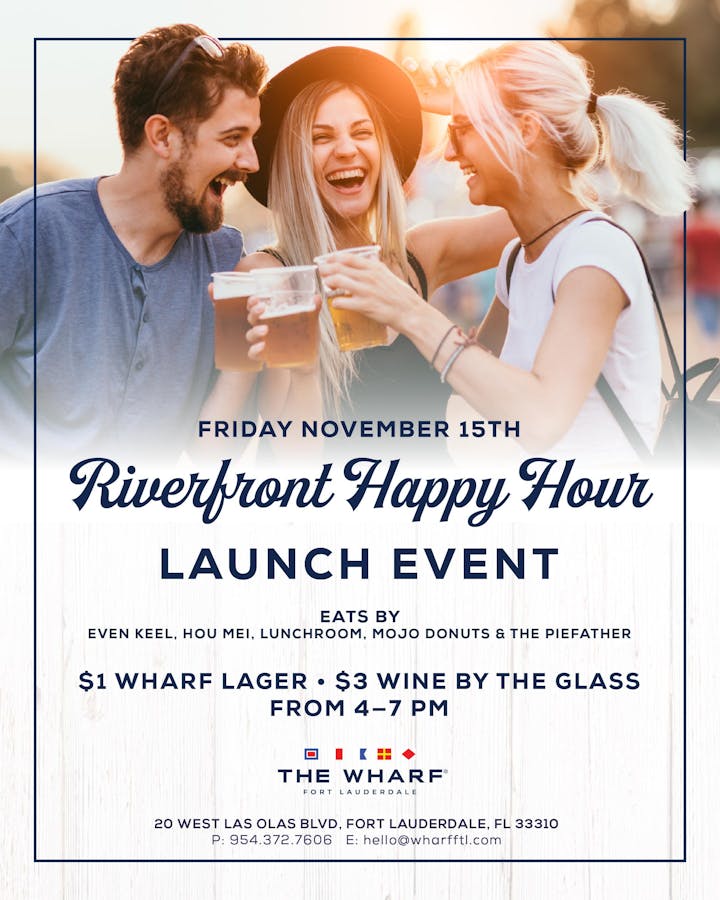 #WHARFFTL DROPS ANCHOR THE SECOND WEEK OF NOVEMBER
The town is abuzz with the new event space, open on Fort Lauderdale's New River.
The Wharf, a multi-use, pop-up event space on the historic Miami River, is thrilled to announce plans for a second waterfront location along Fort Lauderdale's New River on the bustling Las Olas Boulevard opening later this year.
Since opening in 2017, The Wharf has solidified its standing as Miami's premier venue for creative events. To date, the 30,000-square-foot venue has served more than one million patrons, including locals and visitors to the city, and has served as an open-air gathering space for lovers of food, music and culture. Like the Miami location, The Wharf Fort Lauderdale will be multifaceted and offer plenty of space to kick back and enjoy the waterfront views while enjoying the different bar options and sampling bites from some of the most sought-after food trucks and chefs in the area.
The Wharf's founder, Emi Guerra, has partnered with CEO of Merrimac Ventures, Dev Motwani, and CEO of Barreto Group, Rodney Barreto, to bring the new project to life. "We have seen the way The Wharf Miami has resonated with both locals and visitors and how it has helped to elevate and drive attention to the area it now calls home, so we jumped at the chance to create something equally as dynamic in Fort Lauderdale," says Guerra. The Wharf Fort Lauderdale will bring the same dynamic scene to Broward County's waterways, enhancing the area's reputation even further as a hub for vibrant culture, innovative culinary arts, and creative energy. "We are excited to create a venue that will further activate the Riverwalk and will be a great spot for families, locals and tourists to enjoy and explore the Riverwalk district," says Dev Motwani, CEO of Merrimac Ventures. "We are confident that this new development will help to further solidify Fort Lauderdale's place as South Florida's next big dining, entertainment and arts destination."
"This is an incredible time for the Fort Lauderdale community," says Rodney Barreto, CEO of Barreto Group and Chairman of the Miami Super Bowl Committee. "I have no doubt that The Wharf Fort Lauderdale will be a dynamic destination for families and friends to enjoy live music, great food and the spectacular views of the New River."
The Fort Lauderdale iteration of The Wharf is located at 20 West Las Olas Blvd. near downtown and will be situated on 1.25 acres of property on the city's historic Riverfront, where both locals and tourists alike currently gather for the best of the area's dining, entertainment and nightlife.
Follow on social - Instagram: @WharfFtl and on Facebook: The Wharf Fort Lauderdale