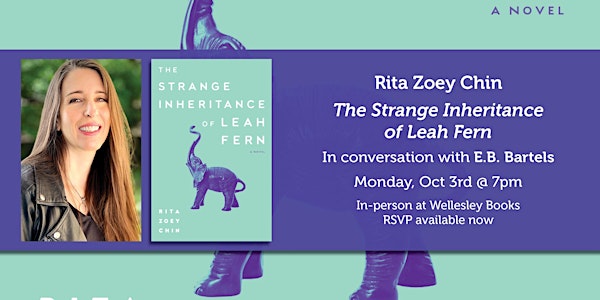 Rita Zoey Chin presents "The Strange Inheritance of Leah Fern"
Zoey will be in conversation with E.B. Bartels, author of "Good Grief: On Loving Pets, Here and Hereafter"
When and where
Location
Wellesley Books 82 Central Street Wellesley, MA 02482 United States
About this event
If you would prefer to RSVP by phone, you may call Wellesley Books at 781-431-1160.
Books will be available for purchase at the event. Please note that you must purchase your copy of the book from Wellesley Books in order to have the author sign it at the event.
Please note that we cannot issue refunds within 48 hours of the event.
COVID Protocols
• Attendees must wear masks at all times during the event.
• Attendees must present proof of COVID-19 vaccination along with a picture I.D.
ABOUT THE BOOK
A luminous story about a fiercely lonely young woman's quest to uncover the truth behind her mother's disappearance.
Born in a carnival trailer, Leah Fern begins her life as the "The Youngest and Very Best Fortune Teller in the World," taking strangers' hands and feeling the depths of their emotions. Her mother Jeannie Starr is a captivating magician, but not always an attentive mother, and when Leah is six, Jeannie upends their carnival life with an unexpected exit. With little fanfare and no explanation, she leaves her daughter at the home of Edward Murphy, a kindly older man with whom Leah shares one fierce wish: that Jeannie Starr will return to them.
After fifteen years as a small-town outcast, Leah decides to end her life on the occasion of her twenty-first birthday. But the intricate death ritual she has devised is interrupted by a surprise knock on her door. Her mysterious neighbor, the curmudgeonly and reclusive art photographer Essie East, has died and left Leah a very strange inheritance. Through a series of letters, Essie will posthumously lead Leah on a journey to nine points on the map, spanning from South Carolina to Canada to the Arctic Circle—a journey that, the first note promises, will reveal the story of Leah's mother.
Driven by a ferocious resurgence of hope, Leah embarks on this bizarre treasure hunt, Essie's ashes in a jeweled urn in the passenger seat of her truck. Along her way, she visits islands, libraries, diners, and defunct ice cream parlors, meeting a charming cast of eccentric characters and immersing herself in wonders of the natural world.
An enchanting novel about the transcendent powers of the imagination, the magic of the threshold between past and present, and the courage it takes to love. The Strange Inheritance of Leah Fern explores the unlikely, at times adversarial, and ultimately redemptive relationship between a young woman who has forgotten how to live and a dead woman who summons her to remember.
ABOUT THE AUTHOR
Rita Zoey Chin is the author of the widely praised memoir, Let the Tornado Come. She holds an MFA from the University of Maryland and is the recipient of a Katherine Anne Porter Prize, an Academy of American Poets Award, and a Bread Loaf waiter scholarship. She has taught at Towson University and currently teaches at Grub Street in Boston, as well as at retreats and conferences near and far. Her writings have also been published by Guernica, Tin House, and Marie Claire.
ABOUT THE MODERATOR
E.B. BARTELS is a former Newtonville Books bookseller and a GrubStreet instructor, with an MFA from Columbia. Her writing has been published in Catapult, The Rumpus, The Millions, and The Toast. She lives in the Greater Boston area.