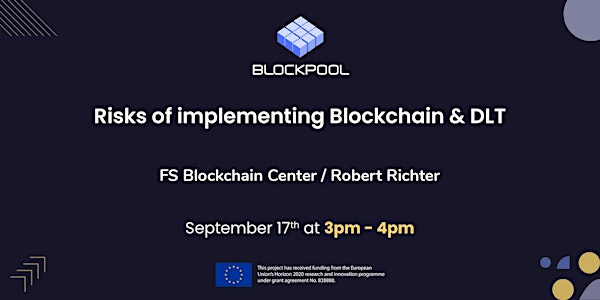 Risks of implementing Blockchain & DLT
This presentation is part of the Blockpool online Bootcamp on September 17 -18, 2020.
About this event
As of the Blockpool program research has been conducted on the risks companies face when implementing Blockchain and Distributed Ledger Technologies. The findings of this research will be presented in this session.
Following the presentation of the results the session will be opened up to feedback and comments of the audience.
Speaker
Robert Richter (Frankfurt School Blockchain Center)
Bootcamp agenda
Tap on the links for more information about other events within the framework of the Blockpool Bootcamp: https://bit.ly/338Dwn9
Location, Date, Ticket
Location: Zoom (access data will be emailed shortly before the start of the event)
Date: Sep. 2020 15:00 (CET)
Language: English
Registration required via Eventbrite; dial-in via zoom (installation required); maximum number of participants: 300.
Disclaimer: This project has received funding from the European Union's Horizon 2020 research and innovation programme under grant agreement No 828888.