About this Event
Join Founder and Director, Dr. Kent Davis-Packard, as we dedicate a new program to the advancement of women globally.
Partnering with the United Nations and featuring Her Excellency Roya Rahmani, the first woman Ambassador of Afghanistan to the United States.
Other speakers will include award-winning Syrian poet Nada Odeh.
The program will end with an inspiring live musical performance and a rooftop reception.
Free and open to the public.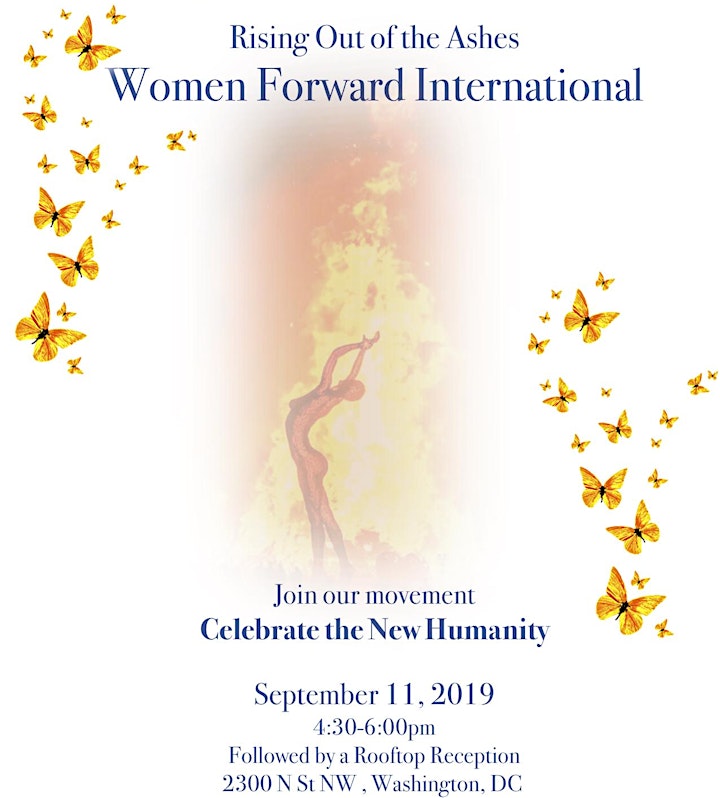 Announcing Women Forward International's website!
ACTION-ORIENTED RESEARCH between renowned universities, international governments, corporations, and non-profit organizations
Decision-making frameworks designed for FULL PARTICIPATION OF WOMEN
Opportunities for THE NEXT GENERATION OF LEADERS to claim and make real change
A language for creating change that steps beyond business and economics to INCLUDE THE ARTS
A reorientation to power in relationship - COLLABORATION OVER HIERARCHY
THE POWER OF ART
TO ADVANCE WOMEN
TO ADVANCE HUMANITY
PROGRAM: 4:30 - 6:00pm
ROOFTOP RECEPTION with Music and food to follow: 6:00 - 7:00pm
ATTIRE: Business
THE ASPEN INSTITUTE
Follow us on Twitter @Women4Word
Follow us on FaceBook @WomenForwardInternational
Parking:
Colonial Parking Garage located @ 2300 N St NW Washington, DC 20037
or
Lot 292 located @ 1221 24th St NW Washington, DC 20037
or some street parking with meter