RISE UP CITIZEN DEVELOPER :: FREE Lunch & Learn Event :: May 22nd, 2018

Tuesday, May 22, 2018 from 11:30 AM to 1:00 PM (EDT)
Event Details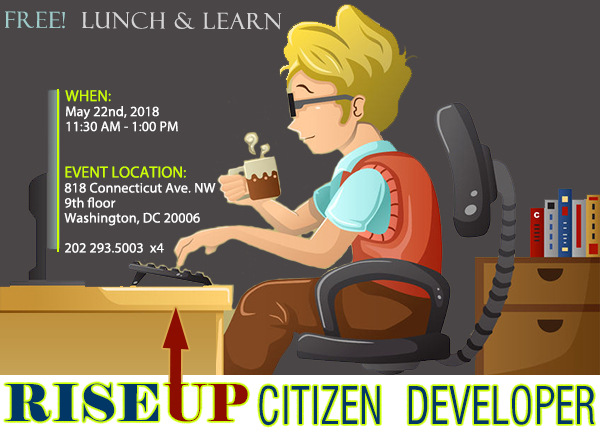 The Process Automation Consulting Division of MadWolf Technologies, is pleased to invite you and your colleagues to our, FREE Lunch & Learn session: RISE UP CITIZEN DEVELOPER.
The Citizen Developers are taking over. A growing, highly motivated class of workers is using no code / low code technology to build software solutions that can bypass the traditional IT process, changing the way organizations operate.  Come and learn how we define a Citizen Developer as:
"a user who creates new business applications for consumption by other employees within the company by using development and runtime environments sanctioned by corporate IT."
Also known as a "business user" or a "power user," Citizen Developers are making use of advancements in development platforms and cloud computing services to broaden the end-user application development cycle.  Software development can be carried out by almost anyone with only a little technical know-how. This is unleashing a new generation of business coder, along with a matching wave of grassroots applications that solve long-neglected problems in the enterprise.  For your continued success as leaders you must learn to support and embrace the Citizen Developer in your environment!.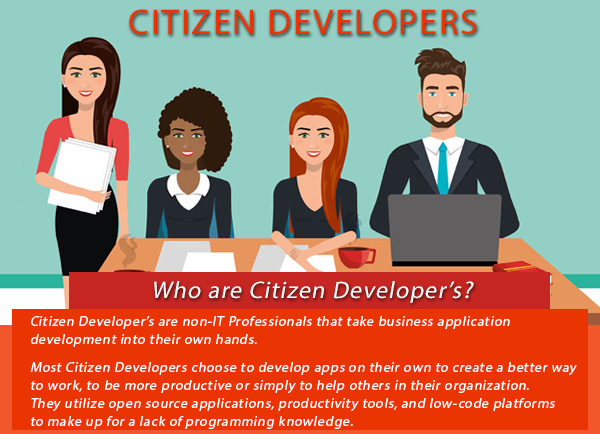 Please plan to attend: RISE UP CITIZEN DEVELOPER.

Register today and learn how you and your organization can utilize and empower your own Citizen Developer.
Enjoy a great lunch while we all get to know each other and have an open discussion about the concept of the Citizen Developer.

Then participate in a lively professional round table discussion of what makes a Citizen Developer successful.  This discussion will be led by a panel of three professionals who will lead an engaging discussion to help foster the concept of the Citizen Developer.

Finally, be prepared to see one such tool that truly empowers your Citizen Developer!  Leave with information, concepts, ideas and even tools to help you start empowering your Citizen Developer immediately.

 
This is an event that you would not want to miss!

Register today!
Please join us on: Thursday, May 22nd, 2018 11:30 AM - 1:00 PM
818 Connecticut Ave NW 9th floor
Washington, DC 20006
202-293-5003 X4 
NOTE: Please use a  valid company email to register.
            Due to SPAMERS, No gmail, yahoo or hotmail will be accepted.
Save This Event
When & Where

MadWolf Technologies
818 Connecticut Ave NW
#950
Washington, DC 20006


Tuesday, May 22, 2018 from 11:30 AM to 1:00 PM (EDT)
Add to my calendar
RISE UP CITIZEN DEVELOPER :: FREE Lunch & Learn Event :: May 22nd, 2018