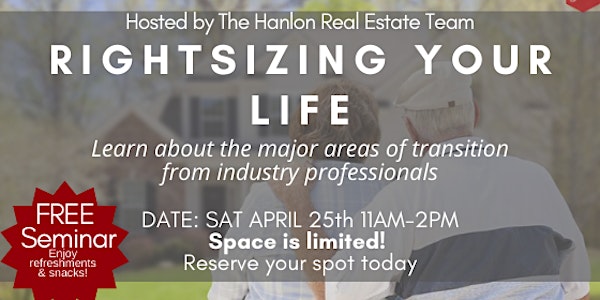 Rightsizing Your Life: A Downsizing Seminar
Discover the opportunities that are available to you or a loved one when ready to transition from the family home!
When and where
Location
7145 West Credit Avenue Building #3 Corner of Derry Rd West Mississauga, ON L5N 6C6 Canada
About this event
Join us to learn about the different steps involved from industry professionals including:
4 real estate agents will discuss opportunities in their local markets.
A real estate lawyer to explain wills and estate planning.
Investment and retirement planners from RBC, to discuss what to do with your equity once you sell and how to protect your hard-earned assets.
A representative from The Village of Erin Meadows will cover the different options available for retirement living.
Transition specialists (Move by Design), will do a presentation about how to prepare your home when transitioning.
Unwanted furnishings & household items - with Habitat for Humanity
See you there!
The Hanlon Real Estate Team
Shirley, Stephen, Trina, Sean, Peter, Andrew, Lisa, Pamela and Chrystallina