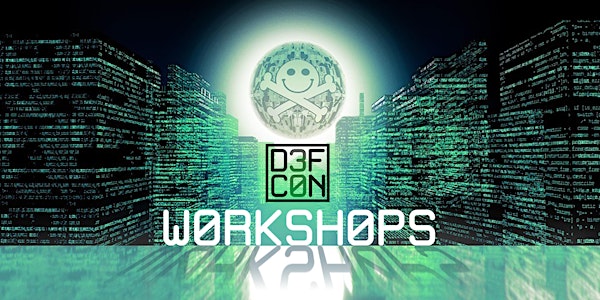 Richard - Introduction to Software Defined Radios and RF Hacking
Thursday PM - Elko Richard - Introduction to Software Defined Radios and RF Hacking
When and where
Location
Harrah's Las Vegas 3475 South Las Vegas Boulevard Las Vegas, NV 89109
About this event
This class is a beginner's introduction to practical Software Defined Radio (SDR) applications and development with an emphasis on hands-on learning. If you have ever been curious about the invisible world of radio waves and signals all around you, but didn't know where to begin, then this workshop is for you. Students can expect to learn about basic RF theory and SDR architecture before moving on to hands-on development with real radios. The instructor will guide students through progressively more complicated RF concepts and waveforms, culminating in a small capstone exercise. For this workshop, you must provide your own laptop and SDR. You can either purchase a RTL-SDR dongle kit which includes an antenna, small tripod, and a receive-only USB SDR for this class beforehand and bring it to the conference, or use a commercial SDR you already own. VMs will be made available to students to download before class, along with an OS setup guide for those that prefer a bare-metal install. The VM/OS will have all the required drivers and frameworks to interface with the radio hardware. My intent for this class is to lower the barrier of entry associated with RF hacking, and for that reason I would like to emphasize that the workshop is geared toward beginning students; DEF CON attendees who already have experience with SDRs will likely find this course too simple.
Pre-requisites:
No specific knowledge is required
Materials or Equipment Required:
Laptop capable of running a VM (or a bare metal install of Ubuntu).
Software Defined Radio and antenna. There are a lot to choose from, but the most common are:
RTL-SDR
HackRF
PlutoSDR
LimeSDR
BladeRF
Ettus USRP
NOTE: If Students already own a SDR and antenna they can bring that, the OS image will be able to handle any of the commercial-off-the-shelf SDRs that hobbyists use.
If they don't own a SDR, they can buy one, I recommend the RTL-SDR kit:
https://www.rtl-sdr.com/buy-rtl-sdr-dvb-t-dongles/
https://amzn.to/2nIKFcT
These are receive-only SDRs with an antenna+cable in a kit that costs about 40 dollars; the workshop will be built around this SDR (although they can use any hobbyist SDR).