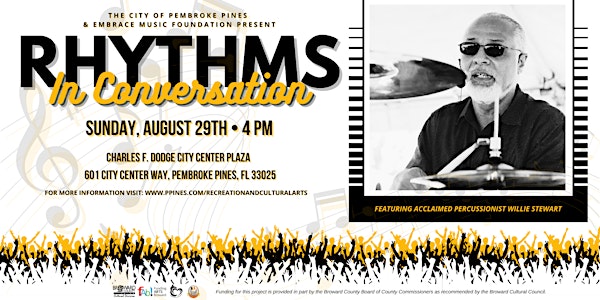 Rhythms In Conversation
Join us on Sunday, August 29th for a FREE musical event featuring Grammy-Award-winning percussionist Willie Stewart!
When and where
Location
Charles F. Dodge City Center Pembroke Pines 601 City Center Way Pembroke Pines, FL 33025
About this event
The City of Pembroke Pines invites you to join us on Sunday, August 29th at 4 PM for a FREE musical event featuring acclaimed percussionist Willie Stewart, formerly of Grammy-Award winning reggae ensemble, Third World!
Rhythms in Conversation, is an interactive, motivational percussion workshop designed to promote stress reduction while encouraging harmony and unity. As essential to its structure as percussion instruments, its tools include joy, laughter, and movement; lots of uplifting fun through music-making and rhythm. Rhythms in Conversation engages and empowers our communities at large.
Willie will act as your energetic guide and workshop leader, taking you on a musical journey in his inimitable style that guarantees stress-busting fun!
This family-friendly event is free and open to the public.
Seating on the plaza will not be provided, attendees are encouraged to bring their own seating (or yoga mats). While the event will be held outdoors on the City Center plaza, COVID protocols and procedures will be observed.
A limited number of percussion instruments will be available to distribute, but attendees may bring their own and join in. Participants at all levels of expertise are encouraged. Attendees will be invited to sing and dance along, or just sit back and groove.
For additional information, visit www.ppines.com/recreationandculturalarts