Film Screening with Weaving Spirits Festival Curators and Dr. Jennifer Lisa Vest
About this event
Weaving Spirits Festival of Two-Spirit Performance co-presents (Re)Weaving with Two-Spirits. This virtual screening will feature Dr. Jennifer Lisa Vest's ​​"(Re)Counting (Wo)Man," a one-person show that explores indigeneity, sexuality, queerness, history, ancestral traditions, anti-black racism, and strategies of survival in a mixed media tapestry of poetry, storytelling, images, and film.
A 4-minute short film about Two-Spirit elders speaking to youth about suicide prevention.
We are glad to return to tenderloin, the heart of Yelamu's (SF's) Trans Cultural District, where Two-Spirits have always been part of the trans and genderqueer community.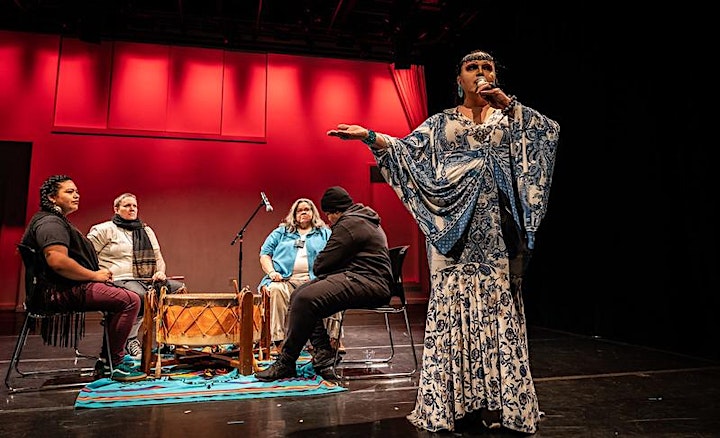 Experience the virtual screenings of the first Two-Spirit performance festival in the heart of Yelamu (SF).
We are…
Weaving the ways of the past into the loom of the present…
Embracing sexuality and our full selves in performance…
creating our own visibility
Weaving Spirits features local and national Native American artists whose offerings range from traditional music to experimental performance and drag.
We will screen two more of year 1's performances in October and November.
Spring 2022 will bring the return of our live performances, workshops, and community circles.
Suicide Prevention TwoSpirit Elders sharing their experience Urban Indian Health Institute a division of the Seattle Indian Health Board, credits to Yazzie Studios
Weaving Spirits is supported by grants from the San Francisco Arts Commission and from the Alliance for California Traditional Arts, in partnership with the Walter & Elise Haas Fund, the William and Flora Hewlett Foundation, Grants for the Arts, and The California Endowment.

WEAVING SPIRITS IS PART OF THE 2021 COUNTERPULSE FESTIVAL. LEARN MORE AT COUNTERPULSE.ORG/FESTIVAL2021
ABOUT THE ARTISTS
Weaving Spirits Festival of Two-Spirit Performance is glad to co-present another event with CounterPulse.
Jennifer Lisa Vest (Mikasuki Seminole)
Dr. Jennifer Lisa Vest is a mixed blood Florida Mikasuki Seminole poet, philosopher, performance artist, and healer from Chicago. She has curated, directed, and performed in numerous mixed media shows throughout the US. She founded Daughters of the Dream, and Diva-Nation (DC). The Four Corners Collective (SF) and co-founded the Native Media Collective (Oakland). She helped to write and produce the film Who Owns the Past, starred in the short film, Dos Almas/Two-Spirit and formulated the genre of Philo-Poetics. Her poetry has been published in several journals and anthologies and she has performed her work worldwide.
Landa Lakes (Chickasaw)
J Miko Thomas, Weaving Spirit's co-curator, is a Chickasaw writer, musician, and artivist. As drag persona Landa Lakes she's founded two houses, Brush Arbor Gurlz in 2014, and the House of Glitter in 2015, and is the Westcoast Mother of the Vogue House of Lauren, International. Honors include a KQED LGBT Local Hero Award, and the national pageant title of Jewel of the Galaxy. She was publicly elected as the 36th Grand Duchess of San Francisco. Landa serves on BAAIT-S's Board and co-founded the first and largest Two-Spirit Powwow and is the President of the Grand Ducal Council of San Francisco. She is the Mother of the Brush Arbor Gurlz (BAGz), a Native drag house named for brush arbor gathering spaces of Southeastern tribes used for social occasions. The BAGz can be found performing around the US and Canada, often introducing audiences to Native politics for the first time.
Photos from the 2020 Weaving Spirits Festival by Robbie Sweeny
COUNTERPULSE IS COMMITTED TO MAKING OUR EVENTS ACCESSIBLE TO ALL!
PLEASE EMAIL INFO@COUNTERPULSE.ORG WITH ANY ACCESS NEEDS. THANK YOU!
Organizer of (Re)Weaving with Two-Spirits
CounterPulse is building a movement of risk-taking art that shatters assumptions and builds community. We provide space and resources for emerging artists and cultural innovators, serving as an incubator for the creation of socially relevant, community-based art and culture. CounterPulse acts as a catalyst for art and action; creating a forum for the open exchange of art and ideas, sparking transformation in our communities and our society. We work towards a world that celebrates diversity of race, class, cultural heritage, artistic expression, ability, gender identity & sexual orientation. We strive to create an environment that is physically and economically accessible to everyone.