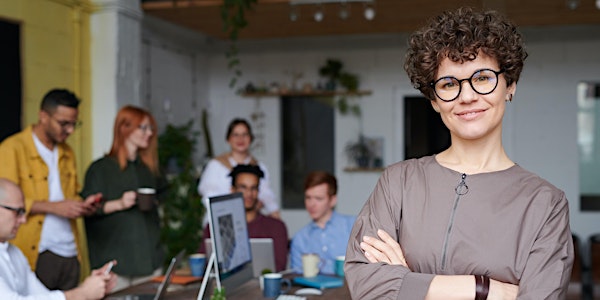 Rethinking the Manager Role: Creating Workplaces Where People Thrive
When managers focus on creating a great environment, the people they lead and support can do great things!
About this event
We believe managers--and their teams--will be more effective, more successful, and find more satisfaction when they focus on creating a great environment. An environment where doing great work is the easy path, not a road strewn with obstacles.
Unfortunately, most managers receive little to no training. What training they do receive relies on ideas that date back centuries. Those ideas don't fit for knowledge work (and may not fit for any humane work). Join us, Esther Derby, Ebenezer Ikonne, Johanna Rothman and Faye Thompson, as we discuss how to bring management into the modern age. We'll talk about creating humane environments where people can do their best work and meet organizational goals.
*************************************************************************************
Esther Derby draws on four decades of experience leading, observing, and living organizational change. She works with a broad array of organizations. Her clients include both startups and Fortune 500 companies.
Based on experience and research, her approach blends attention to humans and deep knowledge of complex adaptive systems.
Esther has been called one of the most influential voices within the agile communities when it comes to developing organizations, coaching teams, and transforming management. Her work over many years has influenced coaches and leaders across many companies.
Esther started her career as a programmer. However, over the years she's worn many hats, including business owner, internal consultant, manager, and team leader. From all these perspectives, one thing was clear: individual, team, and even organizational success depends greatly on the work environment and organizational dynamics. As a result, she's spent the last twenty-five years helping companies shape their environment for optimum success.
Her formal education includes an MA in Organizational Leadership and a certificate in Human Systems Dynamics. Connect with Esther on Twitter (@estherderby) and LInkedIn (https://www.linkedin.com/in/estherderby/) and YouTube (https://www.youtube.com/c/EstherDerbyIsHere)
Ebenezer Ikonne is a practitioner-academic (pracademic) with over 20 years in product development. He is currently a product and engineering leader at Cox Automotive. Ebenezer started his technology career as a network engineer and software developer. He later transitioned into product development leadership and management and has held middle- to senior-level leadership and management positions in large organizations, small corporations, and startups.
Ebenezer has extensive experience leading organizational change and understands the complex challenges leaders face in demanding product development contexts. His experience, coupled with his education, provides him with a unique perspective on how 21st-century product development leaders can become more effective.
Ebenezer is passionate about fostering a positive workplace where people thrive. He regularly speaks on issues relating to leadership, followership, organizational culture, business strategy, product management, and software development. He publishes content both on LinkedIn and at eikonne.wordpress.com. He has also written for the Cutter Consortium. Ebenezer's aptly named YouTube channel "Joy at Work" (http://www.youtube.com/c/JoyatWork) provides practical tips on how anyone can experience joy at work.
Ebenezer is the author of the book "Becoming a Leader in Product Development: An Evidence-Based Guide to the Essentials" which is available from Apress and Amazon.
You can reach Ebenezer on LinkedIn (http://linkedin.com/in/ebenezer-ikonne) and Twitter (@eikonne).
Johanna Rothman, known as the "Pragmatic Manager," offers frank advice for your tough problems. She helps leaders and teams learn to see the simple and reasonable things that might work. Equipped with that knowledge, they can decide how to adapt their product development.
With her trademark practicality and humor, Johanna is the author of 19 books about many aspects of product development. Her most recent books are the Modern Management Made Easy series. Find the Pragmatic Manager, a monthly email newsletter, and her blogs at jrothman.com and createadaptablelife.com. Connect with Johanna on Twitter (@johannarothman) and on LinkedIn, https://www.linkedin.com/in/johannarothman/.
With more than twenty years of project delivery experience, Faye Thompson is a consultant coach and scrum master. With a focus on an agile mindset and continuous improvement, she has had a positive impact in the financial services, healthcare, advertising, automotive, aviation and retail industries. Passionate about using innovative solutions to drive business value, she supports workgroups as they transform themselves into highly engaged and energized teams. Faye enjoys serving on the board of directors for the Central Ohio Agile Association and as President of the Women in STEMM Alumni Society of The Ohio State University. She spends her free time volunteering as an emergency medical responder for the American Red Cross.